A Culture of Curiosity
How the Law School Supports Students as Scholars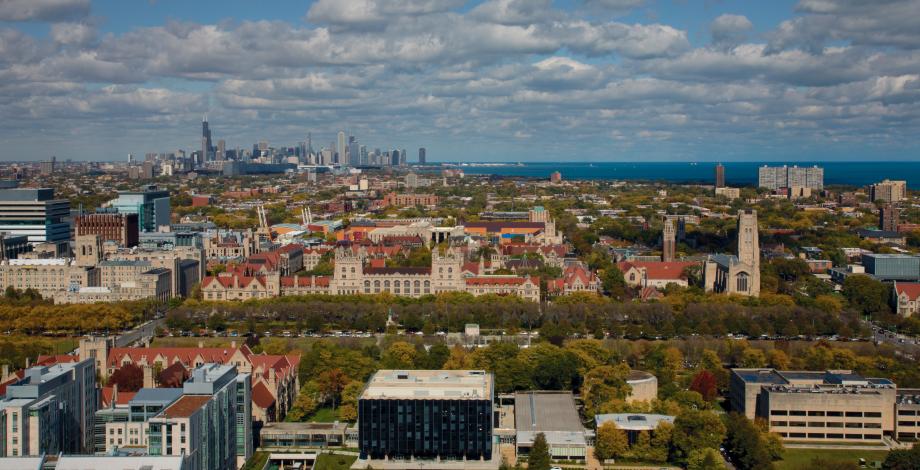 During her first two years on campus, Jamie Luguri, '19, noticed that although others shared her interest in psychology and law, no one seemed to be approaching it as a trained psychologist. That changed when Roseanna Sommers joined the Law School in 2018 as a Harry A. Bigelow Teaching Fellow and a lecturer in law.
"From the beginning, I've been interested in using the techniques, methods, and insights from psychology to study the law, to critique the law, to understand the law, and hopefully one day improve law and policy," explained Sommers, who had been a classmate of Luguri's in the doctoral program at Yale University, where both women earned PhDs in psychology and Sommers simultaneously earned a JD.
When the two women reconnected in Chicago at the beginning of Luguri's 3L year, they decided to channel their mutual excitement into a new venture: the Law School's Psychology and Law Studies Lab (PALS Lab), an interdisciplinary workshop for students and faculty from the Law School and across the Midway. Luguri already was developing her own psychology-and-law research, including an experiment to better understand how people evaluate different modes of constitutional reasoning, a project she undertook as part of the Law School's yearlong Canonical Ideas in American Legal Thought seminar. The PALS Lab was an intellectually energizing next step—and a chance to draw on the Law School's rich culture of interdisciplinarity, rigorous critique, and collegiality.
"The faculty here are all amazingly supportive," said Luguri, a Kirkland & Ellis Scholar who said she found encouragement for a number of projects.
The PALS Lab is one in a growing number of opportunities for students to develop and present their own research under the guidance of faculty and in conversation with their peers—a process that trains them to think like scholars, creative lawyers, and engaged citizens.
Last year, a student working toward his doctorate in juridical science revived the Junior Scholars Colloquium as a forum for JSD candidates and Law School fellows to share their work with colleagues on a wide array of legal issues. In December, a second-year JD student pursuing research on "the right to be forgotten" received the second annual Ernst Freund Prize in Law and Philosophy, a research fellowship established by Professor Martha C. Nussbaum to encourage JD students at the Law School and PhD students in the Department of Philosophy to engage in law and philosophy scholarship. And last spring, the student-run Chicago Journal of International Law (CJIL) chose to feature original scholarship by student members of the journal when it hosted its first symposium.
"There's been a real a groundswell [in these opportunities] in recent years," said Professor William Hubbard, who participated in the CJIL symposium and collaborated on the Junior Scholars Colloquium. "And we'll continue to find ways to welcome student interest in academia. The creative exercise of developing one's own take on a question—beyond summarizing the law—is useful for lawyers, the best of whom know how to be creative in their approach to problem solving."
Extracurricular support for student research, of course, isn't new—for years, Law School faculty have pulled back the curtain on workshop culture and nurtured students' interest in independent research. A series of "mini-WIPs" held several years ago gave students a chance to critique faculty scholarship much in the way professors do at weekly "work in progress" lunches. Nussbaum, the Ernst Freund Distinguished Service Professor of Law and Ethics, features presentations by Law School and other UChicago graduate students in addition to faculty panels and a performance at the biannual Law and Literature conference; several of the students' papers have appeared in the volumes published after the conferences. And Law School faculty have long been willing collaborators and mentors when individual students approach them with new ideas they wish to explore through independent projects or robust discussion.
Professor Sonia Katyal, '98, now the Haas Distinguished Chair at UC Berkeley and codirector of the Berkeley Center for Law & Technology, credits Nussbaum, as well as former Law School professors Mary Becker, Catharine MacKinnon, and Lawrence Lessig, with deeply inspiring the kind of scholar and teacher she would become. Katyal hadn't known as a law student that she wanted to be a professor, but the support she received from faculty, both academically and personally, laid a solid foundation.
Her professors instilled an "intellectual rigor that forced you to grapple with all sides of an argument; you learned to think beyond politics and sound bites, and think instead about incentives and policy," she said. Their compassion and personal support made a difference, too. Katyal said she struggled as an openly LGBTQ woman of color at a time when stigmas still prevailed, but the hours she spent chatting in Nussbaum's office "are some of my most favorite memories from Law School, and they kept me afloat."
"Today, I spend an extra bit of time looking for students who might need mentoring, but who don't always know how to ask for it—I was one of those people, too," Katyal said. "I would not be an academic without any of these mentors, and the unswerving faith that they offered helped me to become a law professor."
Student research, in turn, can also benefit professors: for instance, "Katyal's research on disgust and shame has contributed in a significant way to several books of mine," Nussbaum said.
At the Law School, the story of students as scholars is one of collaboration and insatiable curiosity, much of it powered by students' desire to turn their current pursuits into tools that will help them forge their way in legal academia and legal practice—and, perhaps, make a difference in how we think about the law and society.
"It is important for people to have critical thinking skills and to be able to stand apart from the law and to evaluate the law," said Aziz Huq, the Frank and Bernice J. Greenberg Professor of Law. Scholarly research, he added, offers a promising way for students to cultivate their own ideas and perspectives, unencumbered by the needs of a client.
"Being a lawyer often means subscribing to a particular outcome because that's what your client needs," Huq said. "It's useful to have a chance to focus your inquiry where what you care about is the right answer with respect to the law. Lawyers have a particular responsibility to ask such questions, given their central role in American public culture."
Nussbaum, too, has long emphasized the value in such work. Academic writing—and critical feedback from instructors—can help law students develop essential skills, including "a capacity for reflection and deliberation, and a curiosity about the complexities of life," Nussbaum wrote in a 2003 University of Chicago Law Review article, "Cultivating Humanity in Legal Education." In 2013, she and Lecturer in Law Charles Wolf, '75, a retired Chicago lawyer, wrote an op-ed in Bloomberg that emphasized cross-disciplinary study as critical for legal education. Nussbaum and Wolf, who were arguing against the idea of two-year law degrees, pointed to the legacy of Ernst Freund, the chief architect of the University of Chicago Law School's cross-disciplinary approach to legal education. Freund saw the value of cross-disciplinarity not just for the legal profession but for society.
Lawyers, Nussbaum and Wolf wrote, "need to understand how society works if they aspire to be independent thoughtful leaders of their chosen profession, rather than passive followers of custom."
Investing in the Now and the Next
Faith Laken, '20, the most recent recipient of the Ernst Freund Prize in Law and Philosophy, which Nussbaum created with a portion of her 2016 Kyoto Prize, saw a chance to engage in this type of critical evaluation of the law when she applied for the fellowship in 2018. Her project focuses on the legal and philosophical underpinnings for establishing a right to be forgotten, an emerging practice in which people ask search engines to essentially bury undesirable online mentions by removing certain URLs from search results.
"I'm interested in academia, and I knew it would be a great experience to develop a paper like this," Laken said.
Each Freund Prize recipient takes at least one and often two courses in their nonprimary discipline as they develop their project. Laken used both an independent study with Ben Laurence, lecturer in human rights in the University of Chicago's Department of Philosophy, and the Law School's yearlong Canonical Ideas in American Legal Thought seminar to advance her study. She is supervised by both Nussbaum and Eric Posner, the Kirkland and Ellis Distinguished Service Professor of Law, and she will work with them to finalize a draft with the goal of publishing in an academic journal.
The fellowship allowed her to dig deep into an idea that intrigues her, and Laken is grateful for the high level of investment from faculty.
"It's been very rewarding to read new pieces of scholarship, then discuss my ideas with faculty who take my insights seriously," she said. "The fellowship has definitely been one of my favorite parts of law school."
Taylor Coles, '18, who shared the inaugural Freund Prize with a PhD candidate in the Department of Philosophy, said his Freund fellowship set the stage for his postgraduation endeavors: a clerkship last term on the US Court of Appeals for the Ninth Circuit and, beginning this fall, a PhD program in philosophy at the University of Pittsburgh. For his Freund paper, Coles explored competing views of textual interpretation and the idea that the meaning of terms like "cruel and unusual punishment" in the law might depend on what moral philosophy has to say about concepts like cruelty.
"The Freund Prize provided me with an ideal opportunity to work on a significant, long-term research project to explore several themes for future published research," said Coles, who was a Rubenstein Scholar and member of the University of Chicago Law Review. "It also provided a firm foundation from which to launch my doctoral studies and informed my personal statements when I applied to PhD programs."
Reaching across Disciplines
For Luguri and Sommers, creating a truly interdisciplinary workshop was essential. They intentionally structured the PALS Lab to look more like a psychology lab than a traditional law workshop. The difference, Luguri explained, is in the timing.
"In law, you usually have a paper, and people read it before they come," she said. "You present for a little bit and then people ask you questions, which is useful if you've already got something written. In psych research, often you need the most feedback at the beginning of your project, before you even run something or after you run one study and you need to figure out what to do with it next." Half- or quarter-baked ideas are welcome, she adds.
From the beginning, Luguri and Sommers sought to reach both across the Midway and up the floors of the Law School. During its inaugural year, PALS participants included students and faculty from the Booth School of Business as well as from the Law School. Looking ahead, Luguri hopes that JD student involvement will continue to grow, too.
"People often have really great questions, even if they don't have training in psychology," she said.
Presenters come to PALS Lab at various stages in their careers. Several law faculty members and Booth PhD candidates and postdocs have shared their work over the course of the year, as did Meirav Furth-Matzkin, the John M. Olin Fellow in Law and Economics. Sommers presented her work on the psychology of consent, a project that linked both her dissertation and more recent research undertaken while here at the Law School. In April, she and a coauthor published an op-ed in the New York Times on the subject.
Luguri presented to the PALS Lab twice last academic year. During fall quarter, she sought to brainstorm next steps for her research on public perception of constitutional reasoning, the paper she initially developed in the Canonical Ideas class. During winter quarter, she and Lior Strahilevitz, the Sidney Austin Professor of Law, presented a joint project on the effectiveness of dark patterns, the ways in which digital platforms design interfaces to nudge certain behavior.
"Feedback can really shape the rest of a project," Sommers said, and that was true for the study by Luguri and Strahilevitz. Their presentation to the PALS Lab group came before they ran their study, and input from the group ultimately informed how they decided to structure it. In turn, their data collection effort informed a May 2019 report issued by the Privacy and Data Protection Subcommittee of the Booth School's Stigler Center Committee for the Study of Digital Platforms.
Making Space for Junior Scholars
Filippo Lancieri, a JSD candidate with a master's degree in economics and experience as an antitrust lawyer in Brazil, was also motivated to create avenues for young scholars when he set out last year to revamp an informal colloquium started by an earlier generation of JSD candidates.
Lancieri found in Hubbard a faculty collaborator who was willing to help him rethink the colloquium, which in past years met only when a student wanted to present. They drew inspiration from Chicago's "quintessential" workshop culture, including the law and economics workshop and the Work in Progress (WIP) weekly lunches that feature faculty scholarship.
"This approach is really, really valuable," Lancieri said. "If you want to set up a school that is committed to scholarship and good academia, workshops are definitely something you want. They raise the bar for all the scholars around."
The Junior Scholars Colloquium (JSC) now meets every two weeks during lunch, and fellows and JSD candidates sign up in advance to present. Faculty presence is intentionally kept to a minimum so junior scholars can present early work without feeling some of the pressure that may come from having experienced faculty in the room. Hubbard does attend, as has Richard Badger, who recently retired as associate dean for graduate programs, and Aican Nguyen, the director of the Law School's international programs, which funds the JSC and runs the International Immersion Program.
Lancieri is pleased that the discussion generated within the JSC largely replicates the breadth of questions generated in faculty workshops. It's a reflection, he said, of the diverse and far-reaching interests of the JSD students and fellows who attend.
"Participants have very different areas of expertise," he said. "So presenters are asked questions from different points of view. Those normally challenge their assumptions and help improve their work."  
Looking to the Future
Like the Junior Scholars Colloquium, the Chicago Journal of International Law's inaugural symposium also took inspiration from Chicago's strong workshop culture. The symposium, held in March, featured three presentations of original research by second-year JD candidates; a keynote address by Diane Wood, chief judge of the US Court of Appeals for the Seventh Circuit; and a lunch lecture by Adam Chilton, professor of law and Walter Mander Research Scholar. The student presentations were followed by questions and comments from an audience that included a dozen faculty and 30 students, staff, and members of the public.
"Our hope is that we are not only equipping students with the skills for academic careers, but providing them spaces where they can be mentored and see themselves at the front of the classroom someday," said Laurel Hattix, '19, the 2018–2019 editor in chief of the Chicago Journal of International Law.
That was music to Hubbard's ears. As a student at the Law School, Hubbard, '00, attended the law and economics workshop, where he interacted with faculty such as William Landes and Richard Posner, and found it "very inspiring" to be exposed to faculty research. Now, Hubbard is eager to find ways to introduce students to the Law School's workshop culture early in their law school career.
"A lot of students when they attend a workshop are surprised and intrigued by the nature of the interactions among the faculty," he said. "When students see their professors' work getting torn apart by their colleagues in a friendly way, it's an encouraging and eye-opening experience and can make academic life feel a bit less out of reach."
Organizers of the Junior Scholars Colloquium have high hopes for its future. Lancieri plans to expand current outreach efforts to JD students and possibly host a conference for JSD students. He also recognizes that existing opportunities for JD students—such as the long-running Legal Scholarship Workshop taught by Lisa Bernstein, the Wilson-Dickinson Professor of Law—are "ultra-valuable"; his aim is for the JSC to provide additional depth for students interested in academia.
"With the colloquium, part of the process is that people with similar interests can start writing and researching together. This would be the ideal next step," he said. "It takes time, but we're also talking with the school about how to build up a legacy. We hope [JSC] goes on and becomes institutionalized and valuable for everyone."
Roseanna Sommers hopes that the PALS Lab will be a place where JD students can be inspired to explore their interests.
"If there is a psychological component to a question a student may have pursued in a seminar paper or through clinical work that may be illuminated by data, we want to empower them to go collect that data," she said. "This could be a place where they can seek feedback on how to do it."
That spirit of encouragement tracks Luguri's overall impression of the institutional support for student research. She remembers Deputy Dean Richard McAdams, the Bernard D. Meltzer Professor of Law, reaching out to her after a class on city policing and encouraging her to develop her reaction papers into a theoretical paper.
Without that kind of nudge, "maybe some people would feel like they don't have anything to contribute to academia," Luguri said. "But all the professors here really try to make students feel like they have something valuable to contribute."