Breaking down Barriers and Building Businesses: IJ Clinic Celebrates 20th Anniversary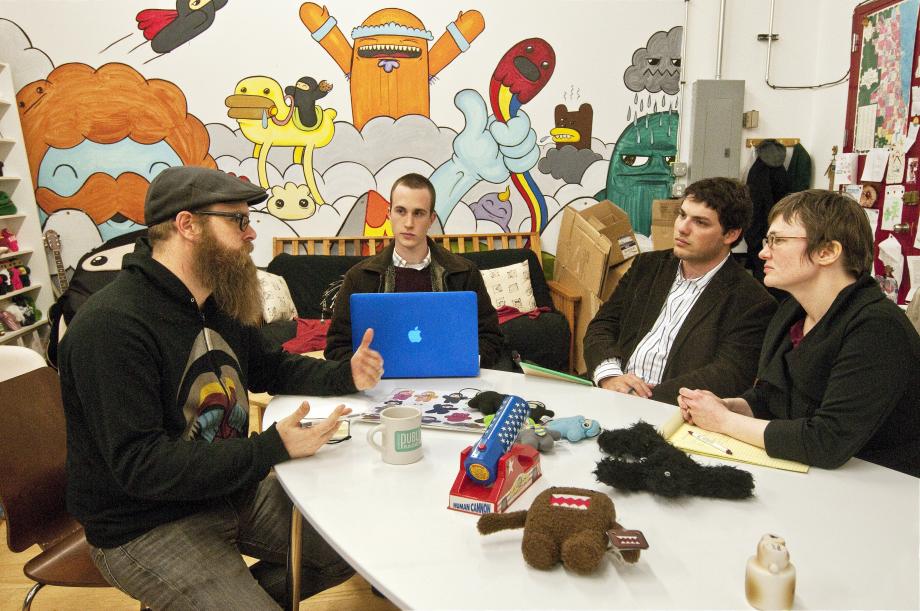 In August of 1997, Mark Chenoweth and Jim Ho, both '99, were having a casual conversation on the beach when they had an idea that would later become the Law School's Institute for Justice Clinic on Entrepreneurship.
It was the summer after their 1L year, and Chenoweth and Ho were working in California and planning to attend a weeklong public interest litigation program at the Institute for Justice in Washington, DC, later that month. They were drawn to the program at IJ—a public interest firm dedicated to promoting economic liberty that continues to be the umbrella organization for the IJ Clinic today—in part because they were interested in getting a free-market perspective on public interest law.
"As we read the materials preparing for the program in DC on the beach one weekend, I said to Jim, 'Why not have something like this at the University of Chicago?'" Chenoweth said. "And the more we talked about it, the better we liked the idea."  
This year marks the 20th anniversary of the IJ Clinic, which since its inception has represented more than 240 clients, helped legalize street vending in Chicago, and given a voice to a previously underrepresented entrepreneurial community. By battling the regulations that can obstruct aspiring business owners, the clinic has supported entrepreneurs in Chicago and beyond, all while offering students the chance to solve real problems for real people.
"The IJ Clinic is a booster, advisor, and watchdog for low-income entrepreneurs in Chicago, and we engage law students in the work at every stage," said Elizabeth Kregor, director of the IJ Clinic. "Teams of law students are working directly with low-income entrepreneurs to help them plan for the future, solve problems as they arrive, and build a really solid foundation for their businesses."
Throughout their week at IJ, Chenoweth and Ho thought about how the Law School would benefit from a clinic that allowed students to represent low-income entrepreneurs. Near the end of the program, they approached IJ's founding director, William H. "Chip" Mellor, and presented him with their idea.
"We thought that a clinic that helped folks to break through different barriers to setting up a business would be both very beneficial to people on the South Side of Chicago, where we didn't see a lot of economic opportunity, and would be valuable to our fellow students," Chenoweth said.
Mellor loved the idea, and back at the Law School, Chenoweth and Ho began conversations with Douglas Baird, who was the dean from 1994 to 1999, and Richard Epstein, James Parker Hall Distinguished Service Professor Emeritus of Law, about the structure and role of the clinic. At Baird's suggestion, the founders agreed that the new clinic would focus on contract negotiation and transactional law.
Once they had a plan, Chenoweth wrote a letter outlining the clinic's goals and put a copy in every faculty mailbox. Chenoweth and Ho also organized a lunch talk that invited Mellor and other IJ staff to discuss the proposed clinic, answer questions, and allow the Law School community to hear directly from some of IJ's past clients. The meeting took place in the largest classroom and was standing room only, Chenoweth said.
"By the time that everyone was filing out, probably over an hour later, I think folks' questions had been answered," Chenoweth said. "We didn't really see any strong opposition after that. It was more a question of figuring out the various steps that needed to be taken to bring this idea to fruition."
Patricia Hureston Lee, a corporate lawyer with teaching and entrepreneurial experience, was hired shortly afterward as the clinic's founding director. Lee was excited to lead the clinic in part because she felt the real-world, transactional experience students would get was something missing during her own time as a law student. Lee had grown up on the South Side of Chicago and recognized how much the surrounding community would benefit from no-cost legal services and entrepreneurial guidance.
"Because I had lived on the South Side, I knew that there were songwriters, musicians, carpenters, and caterers," said Lee, who is now an Associate Professor of Law at Saint Louis University Law School. "There was a whole understated entrepreneurial community that wasn't getting the legal services it needed. That's why I was so happy about what the University of Chicago did along with the Institute for Justice to create this program."
Ho remembers being grateful that the Law School was willing to take a chance by putting resources and energy into a legal clinic that differed from the others at the University of Chicago and at law schools across the country.
"Mark and I both chose to attend the University of Chicago Law School because of our passion for the rule of law and the free market," Ho said. "We were eager to find an alternative to the legal culture that tends to dominate most law schools, and so we were delighted that the Law School welcomed our interest in providing alternative clinical options for its philosophically diverse student body."
***
Throughout the IJ Clinic's 20 years, it has helped bakers, carpenters, home service providers, and countless other clients get their businesses off the ground. Kregor has been the clinic's director for 14 years, and one memory that stands out is the joy she and students in the clinic felt when their client, Damita McCoy, secured a license for her home care agency. McCoy would not have otherwise been able to afford the legal counsel needed to navigate the licensing process, and the IJ Clinic worked with her for years to make her business idea a reality.  
In addition to working with entrepreneurs to build their businesses through long-term client relationships, the clinic also keeps tabs on the challenges future entrepreneurs might face and lobbies against unnecessary legal barriers.
"It's difficult, if not impossible, for entrepreneurs to keep an eye on all of these issues and then to advocate for themselves in the midst of trying to start a business," Kregor said.
An important milestone for the clinic was the creation of the South Side Pitch in 2014—a contest that invites South Side entrepreneurs to pitch a business idea and compete for a chance to win prize money to fund that business. Another pivotal moment in the clinic's history was the publication of Regulatory Field, a study identifying the laws that could unnecessarily burden low-income entrepreneurs and at the same time lacked any tangible rationale, Kregor said.
"The study has been consulted over the years since then as kind of a blueprint for change," she said. "We've had the opportunity to talk to people in the mayor's administration in Chicago and people in the governor's administration in the State of Illinois. They're trying to follow our advice and make changes on behalf of low-income entrepreneurs."
Regulatory Field is what first caught the attention of the Street Vendors Association of Chicago, beginning the years-long battle to change the laws that once prevented street vendors from selling anything other than whole produce or packaged frozen desserts. Thanks to the clinic's efforts, as of 2015, pushcart vendors can now sell their wares throughout Chicago and thus take the first step in starting a business in the simplest, most affordable way possible.
"Students were involved in studying the code and writing amendments to the code that we would propose," Kregor said. "They talked to aldermen, talked to officials in the health department, and did the long, slow work that's required to change minds and push bureaucrats to say 'yes' instead of 'no' to something new."
Getting the technical experience of choosing the right language in a contract or negotiating strategically, Kregor added, is just one part of what students learn representing real people dealing with the high stakes of starting a new business.
"On top of those technical skills, they're developing professional judgment," Kregor said. "They're developing the ability to help a client identify the path forward, and learning how to counsel a client about decisions that are sometimes challenging to make and sometimes very emotional."
Kristin Bisely, '18, joined the IJ Clinic because she wanted to get hands-on transactional experience and at the same time give back to the city where she lived. She saw firsthand the impact of offering free legal services to those in need during a particular instance when she learned that a third party was trying to take advantage of one of their clients.
Once the IJ Clinic got involved, Bisely said, "It was just a complete 180. The third party ended up compensating our client and everything turned out in our client's best interests. It was big to see that a small interaction could have had such a horrible outcome for our client if they didn't have legal counsel—their business could have been really hurt, or even destroyed."
When Chenoweth looks back on the steps they took to ensure that their idea would become a reality, he remembers the moment that the clinic was given an office in the new Arthur Kane Center for Clinical Legal Education, which opened in 1998. With their own space among the other clinics, he said, they felt that everything was in place and that they were a part of the community.
"We had the initial idea and then a whole lot of help, both inside and outside the Law School, to bring it about," Chenoweth said. "For that to continue 20 years hence and to hear about all of the people it's helped along the way has just been wonderful."