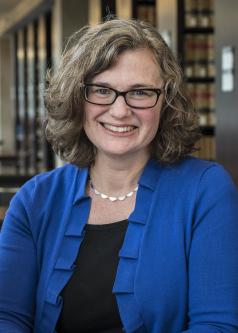 Clinical Faculty
Full Time Teaching Faculty
Lecturers in Law
Elizabeth Kregor
Director of The Institute for Justice Clinic on Entrepreneurship, Lecturer in Law
Biography
Elizabeth Kregor received her BA magna cum laude in comparative literature from Yale University. She attended law school at the University of Michigan, where she served as managing editor of the Michigan Law Review. After graduating, Ms. Kregor clerked for the Hon. Bruce M. Selya on the US Court of Appeals for the First Circuit.
Ms. Kregor practiced law with Sidley Austin Brown & Wood for several years, with a focus on intellectual property litigation. In the fall of 2003, she joined the IJ Clinic on Entrepreneurship. As director, she leads initiatives to advise and advocate for low-income entrepreneurs in Chicago. She teams up with students to provide general counsel for courageous, catalytic, and creative small businesses. She also examines, exposes, and reforms the policies that affect lower-income entrepreneurs, and under her guidance, the IJ Clinic advises local lawmakers and drafts legislation to advance economic liberty.
Education
The University of Michigan Law School
JD, magna cum laude, May 1999
Clarence Darrow Scholar - three-year, full-tuition merit scholarship
Certificate of Merit awards in torts and unjust enrichment courses
Order of the Coif
Staff and managing editor, Michigan Law Review
Yale University
BA, magna cum laude in comparative literature, May 1996
Phi Beta Kappa
Hajo Holborn Prize - for the best undergraduate essay on a topic in German public affairs
Bianca Maria Calabresi Prize - for the best Senior Essay in Comparative Literature
Experience
The University of Chicago Law School
Lecturer in Law and Director of the Institute for Justice Clinic on Entrepreneurship, 2003-present
Sidley Austin Brown & Wood
Associate, Chicago, IL, and New York, NY, 2000-2003
Hon. Bruce Selya, First Circuit Court of Appeals
Judicial Clerk, Providence, RI, 1999-2000
Professor Hanoch Dagan, Michigan Law School
Research Assistant, Ann Arbor, MI, 1998-1999
Solomon R. Guggenheim Foundation
Intern with the General Counsel, New York, NY, summer 1998
Publications
"How Do You Formalize a Tamale?: How to Ease Street Vendors' Transition out of the Shadow Economy," 7 UC Irvine Law Review 453 (2017).

cu

"Innovation and Inequality: Conservative and Libertarian Perspectives," 39 Harvard Journal of Law and Public Policy 39 (2016).

cu

"Food Trucks, Incremental Innovation, and Regulatory Ruts," 82 University of Chicago Law Review Dialogue 1 (2015).

cu
"Opinion: Aldermen, give us a sign Chicago will be vibrant, not vacant," Chicago Tribune, July 20, 2021.

www

"Time for Chicago to Return the Love from Street Vendors," Crain's Chicago Business, January 3, 2020 (with Daryl James).

www

Space to Work: Opening Job Opportunities by Reducing Regulation, (Institute for Research on Labor and Employment). 2013).

www

"Chicago Entrepreneurs Reveal Holiday Wishes," Chicago Daily Law Bulletin, December 23, 2011, at p. 5.

Regulatory Field: Home of Chicago Laws: Burdensome Laws Strike Out Chicago Entrepreneurs, (Institute for Justice City Study Series). 2010) (with Emily Satterthwaite).

www

"Is Chicago Really the City That Works?," Chicago Tribune, July 17, 2009, at p. 21.
Other Activities
Volunteer, Poetry Center of Chicago
Volunteer, Apollo Chorus of Chicago