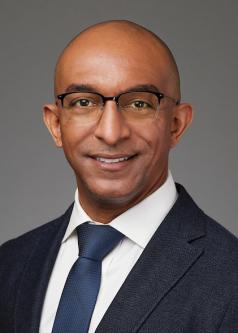 Academic Faculty
Full Time Teaching Faculty
Daniel Abebe
Vice Provost, Harold J. and Marion F. Green Professor of Law, Walter Mander Teaching Scholar, Associate Member of the Department of Political Science, Faculty Affiliate of the Center for the Study of Race, Politics, and Culture
Biography
Daniel Abebe's scholarship focuses on the relationship between the constitutional law of US foreign affairs and public international law. He is currently Vice Provost at the University, and the Harold J. and Marion F. Green Professor of Law and Walter Mander Teaching Scholar at the Law School. His research has been published in the University of Chicago Law Review, the Supreme Court Review, and the Virginia Journal of International Law in the areas of foreign affairs, human rights law, international institutions, and institutional design. He has also written about international water law, China and climate change, and cyberwar.
Professor Abebe's current research projects include examining the President's authority to withdraw the US from a treaty; evaluating ethnic federalism as a form of constitutional design; and considering the impact of dejudicialization in international politics. Professor Abebe is a member of the American Law Institute and a faculty affiliate of the Center for the Study of Race, Politics, and Culture at the University of Chicago.
Professor Abebe earned a BA from Maryville University of St. Louis, a PhD in political science from the University of Chicago, and a JD from Harvard Law School. He clerked for Judge Damon J. Keith of the US Court of Appeals for the Sixth Circuit and later worked at Cravath, Swaine & Moore LLP. Before joining the faculty, Professor Abebe was a Bigelow Teaching Fellow and Lecturer in Law at the Law School.
Professor Abebe teaches Property, Foreign Relations Law, Conflict of Laws, Public International Law, and Legal Issues in International Transactions.
Education
The University of Chicago
PhD in Political Science, June 2013
MA in Political Science, June 2006
Harvard Law School
JD, June 2000
Maryville University
BA, summa cum laude in Political Science, May 1997
Experience
The University of Chicago Law School
Deputy Dean, 2016-2018
Harold J. and Marion F. Green Professor of Law, 2016-present
Professor of Law and Walter Mander Teaching Scholar, 2013-2015
Assistant Professor of Law, 2008-2013
Bigelow Teaching Fellow, 2006-2008
Cravath, Swaine & Moore LLP
Corporate Associate, New York, NY, 2001-2003
The Honorable Damon J. Keith, United States Court of Appeals for the Sixth Circuit
Law Clerk, Detroit, MI, 2000-2001
Publications
"The Ethiopian Constitution and Ethnic Federalism," in From Parchment to Practice: Implementing New Constitutions, Tom Ginsburg & Aziz Z. Huq eds. (2020).

www

"Why Comparative International Law Needs International Relations Theory," in Comparative International Law, Anthea Roberts, Paul B. Stephan & Pierre-Hugues Verdier eds. (Oxford University Press, 2018) (with Mila Versteeg).

cu
"Between East and West (reviewing Conflict in Ukraine: The Unwinding of the Post-Cold War Order, by Rajan Menon and Eugene B. Rumer)," The New Rambler, July 20, 2015.

www

"Making the Beautiful Game Beautiful Again," Chicago Tribune, June 7, 2015 (with William A. Birdthistle).

www

"I.C.C.'s Dismal Record Comes at Too High a Price," New York Times Room for Debate, December 12, 2014.

www
Presentations
"The Dejudicialization of International Politics," Workshop on the Judicialization of International Politics, Northwestern Law School, April 29, 2016 (with Tom Ginsburg)
"International Human Rights Law in Africa: Are Courts Effective?," Human Rights

Program,

University of Virginia Law School, November 2015; University of Chicago Law School, August 2015
"Cyber Regulation, International Politics,

and Institutional Design," National Security:

The Impact of Technology on the Separation of Powers, University of Chicago Law School, June 2015
"International Relations Theory and Comparative International Law," Sokol Colloquium on Comparative International Law, University of Virginia Law School, September 2014
"Egypt, Ethiopia, and the Nile: The Economics of International Water Law," International Law Colloquium at Loyola University School of Law, February 2014; Conference on International Law and Economics at the University of Chicago Law School, November 2013
"Rethinking the Costs of International Delegations," International Law Colloquium at Arizona State University College of Law, January 2013; Wharton-Colorado International Law Workshop at the University of Colorado Law School, September 2012 (Discussant and presenter)
"The Global Determinants of U.S. Foreign Affairs Law," Work-in-Progress Seminar at the University of Chicago Law School, May 2012
"Rethinking International Delegations," Duke–Harvard Foreign Relations Law Workshop: The Political Economy of U.S. Foreign Relations Law, November 2010
"The Pashtunwalli: An Economic Analysis," Symposium on Governance and Power at the University of Chicago Law School, October 2010 (Discussant)
"Rational Treaties and Constitutional Design," Rational Choice and Constitutional Design Conference at the University of Chicago Law School, September 2010 (Discussant)
"Climate Change and Internal Heterogeneity," American Law and Economics Association Annual Meeting at the University of San Diego School of Law, May 2009
"The Two Chinas and the Problem of Global Warming," Chicago's Best Ideas at the University of Chicago Law School, January 2009 (with Jonathan Masur)
"Medellin's New Paradigm for Treaty Interpretation," Expanding Foreign Relations Law: Constitutional and International Perspectives at the Vanderbilt Law School, September 2008 (commentator)
"A Nation Divided: Eastern China, Western China, and the Problem of Global Warming," International Legal Theory Colloquium at the Georgetown Law School, October 2008
"Not Just Doctrine: The True Motivation for Federal Incorporation and International Human Rights Litigation," Work-in-Progress Seminar at the University of Chicago Law School, August 2007
"A Discussion on the Merits of U.S. Involvement in Darfur," the University of Chicago Law School and the University of Chicago Law School Black Law Students Association, November 2006 (Debate with Professors Eric Posner, Jide Nzelibe, and Matthew Lippman)
Memberships and Professional Affiliations
Member, American Law Institute, 2017-present