South Side Community Gathers at LSA's First Annual Impact Initiative Dinner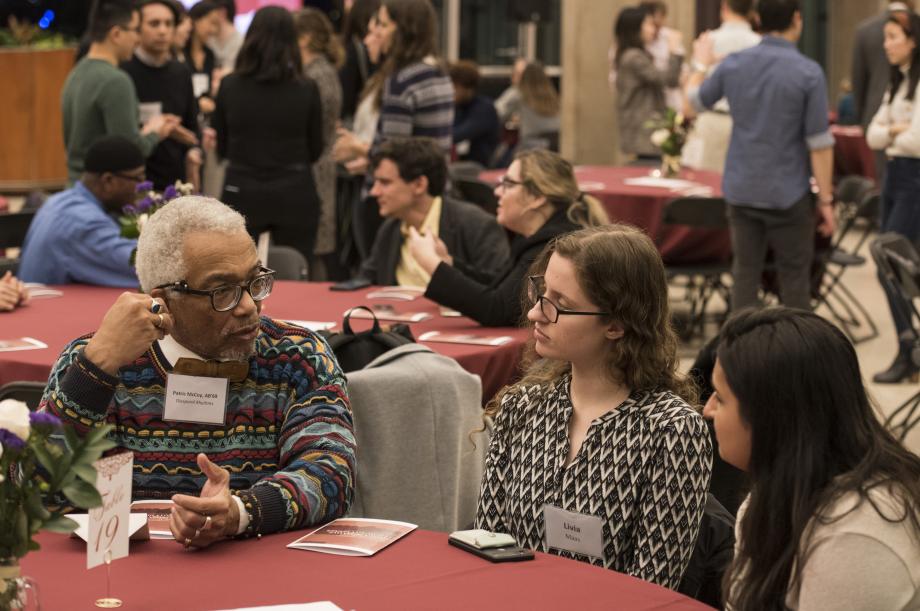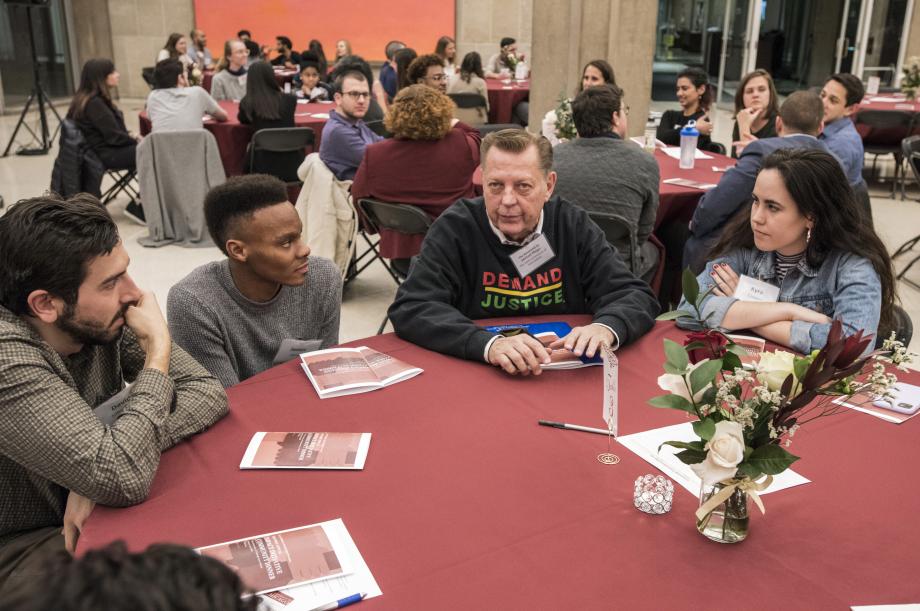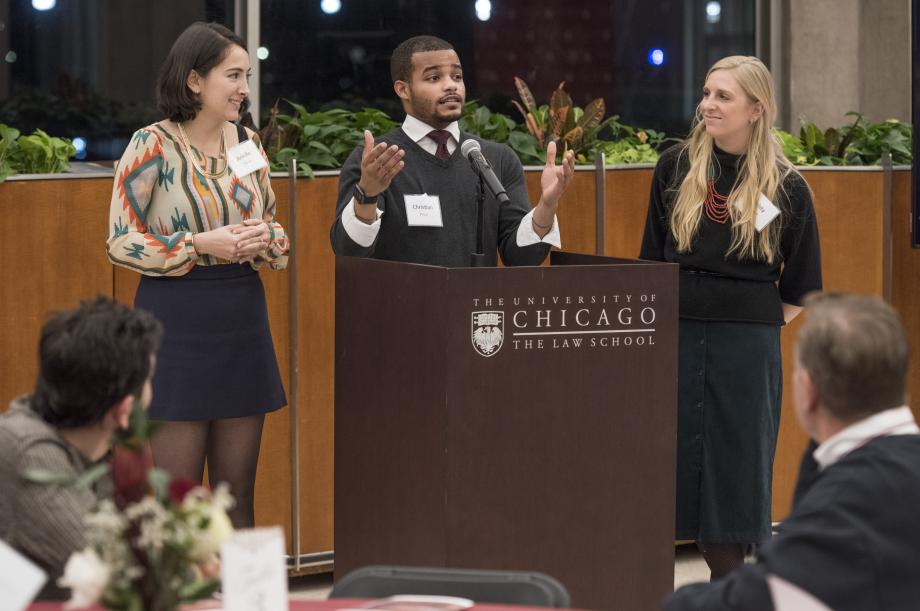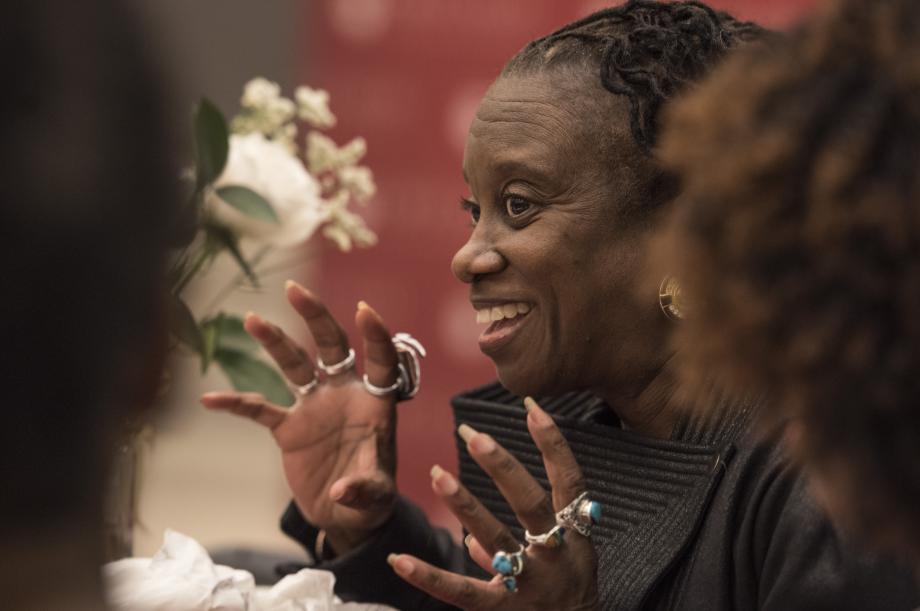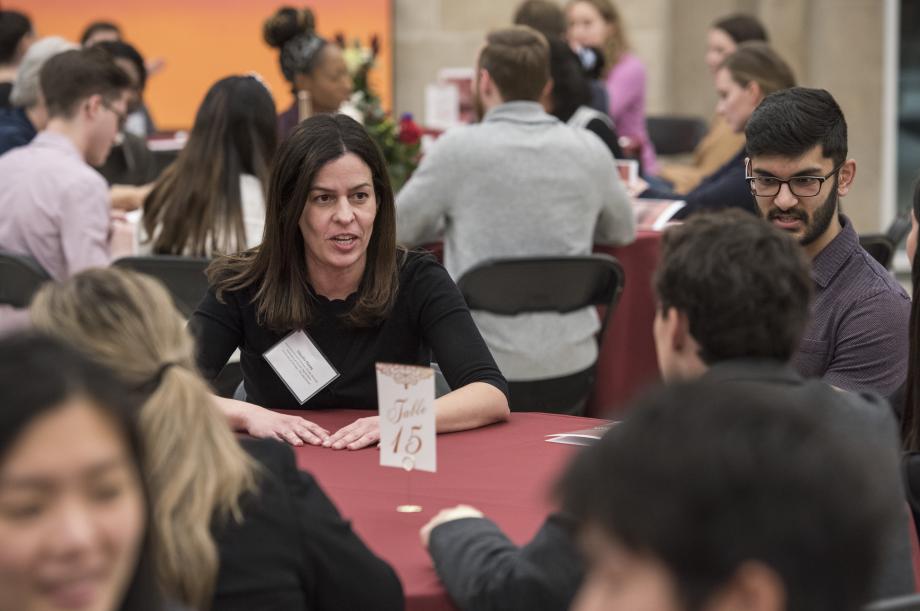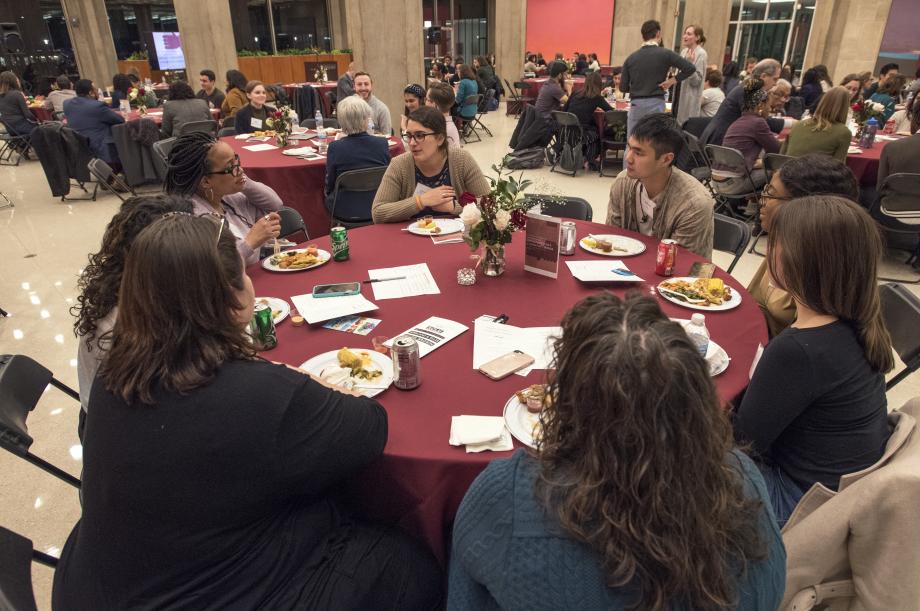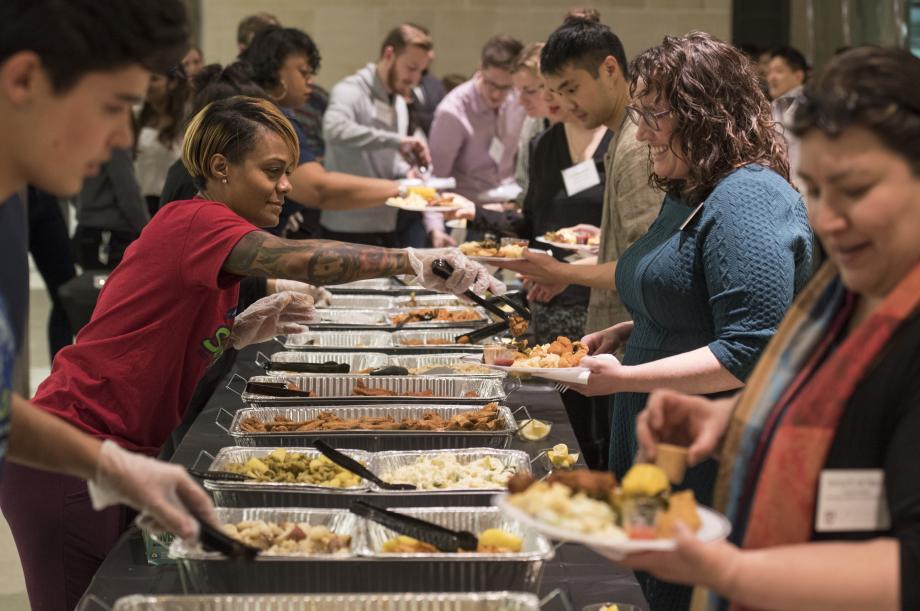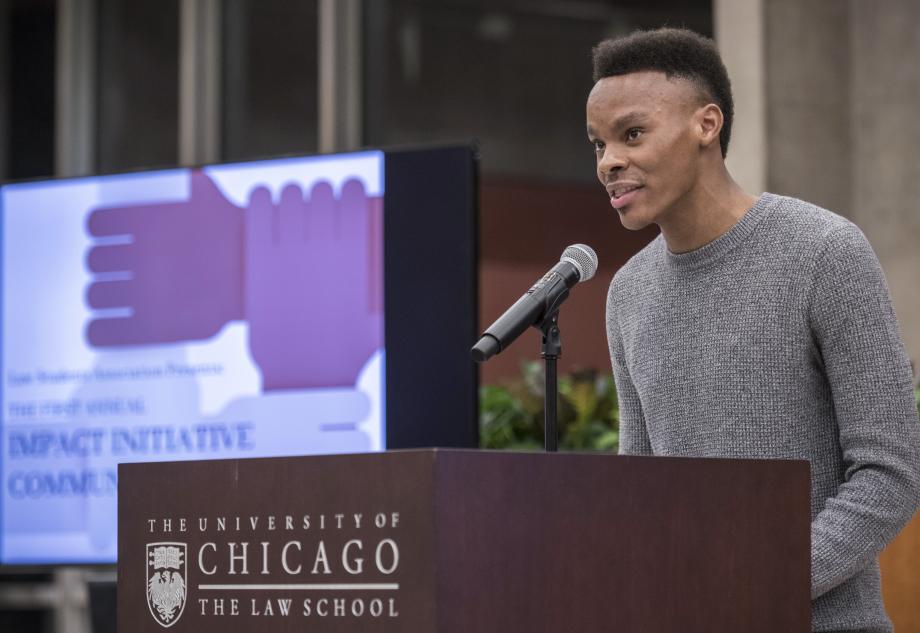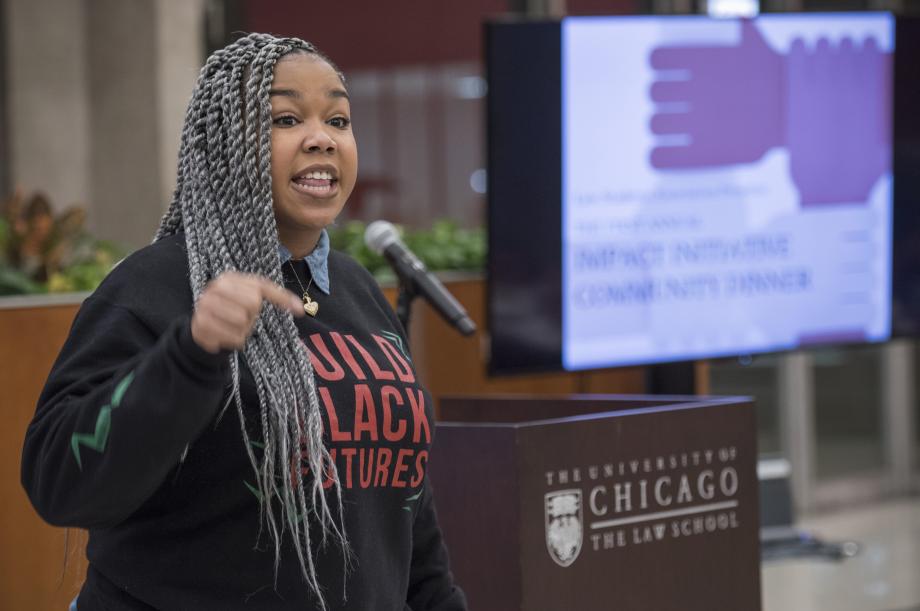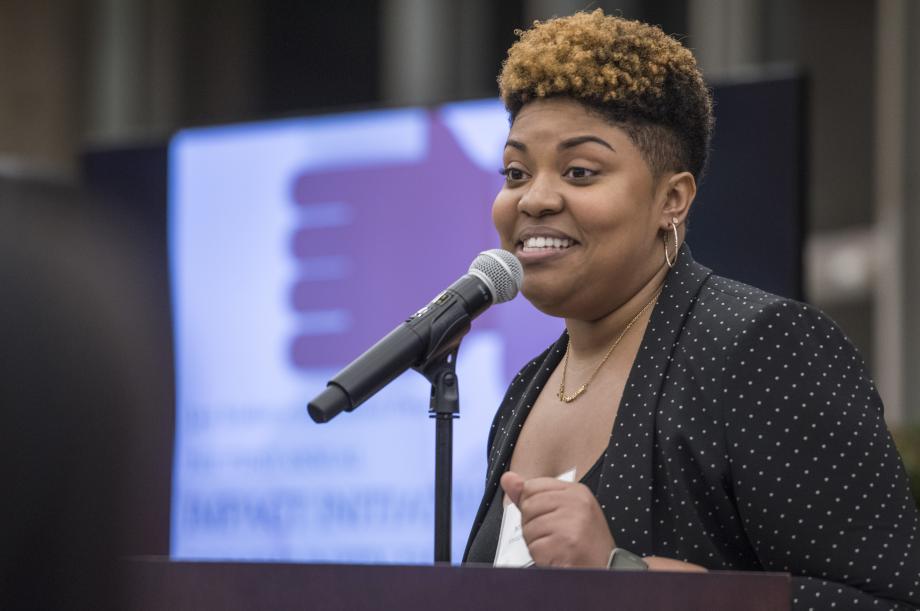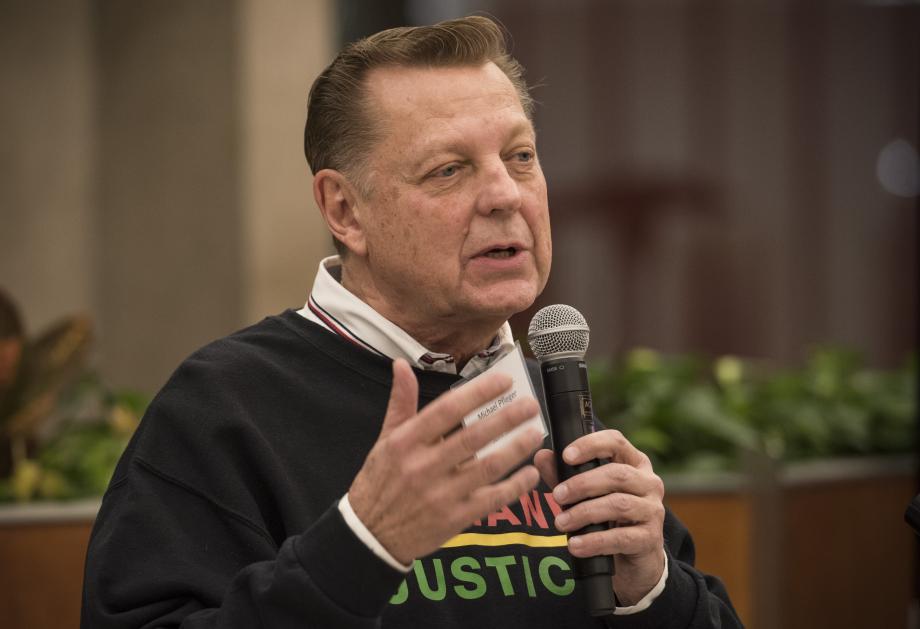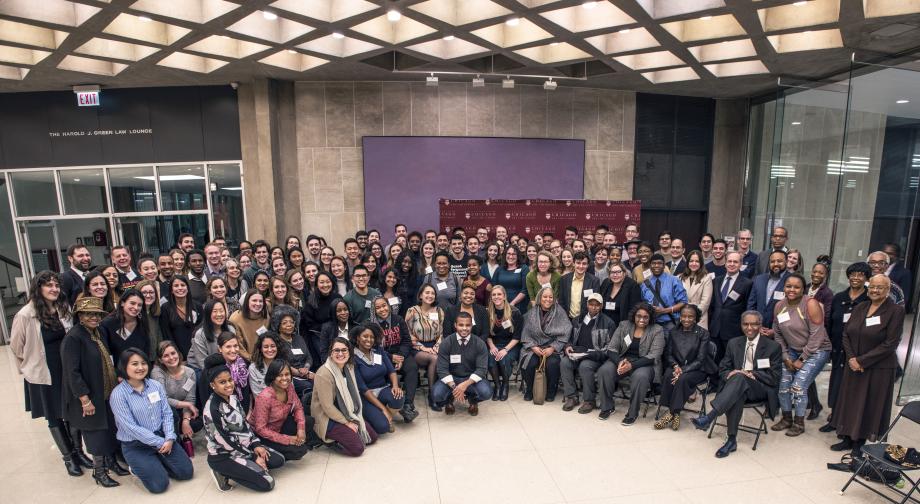 Nearly 200 members of the Law School and surrounding South Side communities gathered in the Green Lounge on January 29 for the first annual Impact Initiative Community Dinner, a student-organized event designed to build and strengthen relationships between South Side leaders and the Law School community. The event, an initiative of the Law Students Association's Diversity and Inclusion Committee, created an opportunity for students, faculty, and staff to have meaningful conversations with community leaders, many of whom challenged them to consider their impact on the community and to expand their engagement.
Arielle Yoon, '20, Christian Price, '21, and Christy Crouse, '21, planned the event to kick off an initiative that will include civic engagement training and opportunities for students to attend South Side community events. The idea grew from a desire to offer new ways for students to connect with people of different backgrounds, question their own beliefs, and expand their understanding of other people's experiences, Yoon said.
Throughout the event, community leaders shared personal stories about their lives and experiences on the South Side. Each table had trained facilitators—faculty, students, and staff from the University's Office of Civic Engagement—who led discussions on a variety of issues. Facilitators sparked conversation with questions such as, "How often do you spend time with people who are of a different class, race, or background from you?" and "Is there anything that you want UChicago community members to know about the South Side?"
Vanetta D. Roy—the owner of Surf's Up South Shore, a local restaurant aimed at rebuilding a thriving culture of Black-owned businesses in South Shore—catered the event. She served fried shrimp, fried okra, shrimp and grits, and other dishes that drew widespread praise from attendees.
Guests heard from several speakers. In what Crouse called "an unforgettable beginning of the night," James Jones, '22, shared his story of growing up on the South Side. Jones, a 1L representative for the Law School's Black Law Students Association, spoke of his upbringing, early interactions and perceptions of the University of Chicago, and what he believes needs to be done to improve and strengthen the relationship between the school and community. 
Spoken-word poet Kwyn Townsend Riley, "Kwynology," performed two poems—"Windy" and "Black Girl Magic"—about her experience growing up in Chicago. Drawing on events in Chicago's history, like the shooting of Laquan McDonald, Kwynology's words and performance offered a glimpse into the experience of South Siders. 
Michelle Rashad, Englewood native and executive director of Imagine Englewood If, spoke about lack of investment in the South Side and health disparities between the South Side and North Side. Rashad also gave historical context to the current issues facing the community.
The Rev. Dr. Michael Pfleger urged students to get involved in the community and reflected on the many effects the University of Chicago has on the surrounding neighborhoods. He spoke about the challenges of gun violence, gang activity, unsatisfactory policing, and lack of investment in his community. He and Saint Sabina Church, where he is senior pastor, have a variety of programs to help alleviate these problems.
"Father Pfleger's call to action was a powerful ending to the evening," Crouse said.
Added Price: "Each speech of the night was moving, and ended with a standing ovation."
The organizers said they were deeply grateful for the support of the community leaders and the interest shown by the Law School community.
"It exceeded what I dreamed the event could be—all of us were on Cloud Nine that night," Yoon said. "People left the dinner energized and excited to get more involved in the community. Our next steps will give them the chance to do that."