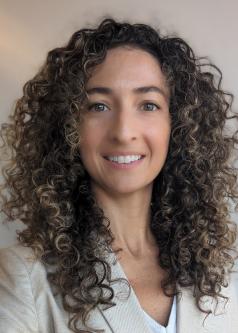 Bigelow Fellows
Fellows
Lecturers in Law
Michele Krech
Harry A. Bigelow Teaching Fellow, Lecturer in Law
Biography
Michele Krech's research interests lie at the intersection of international and transnational law, global governance and institutions, and critical legal theory. Her work examines evolving structures and modes of transnational regulation from interdisciplinary perspectives, giving particular attention to the role of private authorities in shaping global norms. Michele's recent writing and teaching have focused on global sport governance and feminist legal theory. 

Prior to joining the Law School, Michele was a Postdoctoral Fellow in the Max Weber Programme at the European University Institute (EUI), where she also served as an Assistant Editor of the European Journal of International Law (EJIL). Michele has worked with various UN entities and international NGOs, frequently serving as a consultant in high-profile legal cases and advocacy initiatives addressing human rights and the regulation of gender in international sport (e.g., Caster Semenya v. World Athletics). She served as a law clerk at the International Court of Justice and the Court of Appeal for Ontario. 

Michele holds a JSD and LLM from NYU School of Law, a JD from the University of Ottawa, an MA from the Norman Paterson School of International Affairs (NPSIA) at Carleton University, and a BA in Global Development Studies.
Education
New York University (NYU) School of Law
Doctor of Juridical Science (JSD), 2022
Master of Laws (LLM), International Legal Studies, 2016
University of Ottawa Faculty of Law (Common Law Section)
Juris Doctor (JD), International Law Option, magna cum laude, 2014
Carleton University Norman Paterson School of International Affairs
Master of Arts (MA), International Affairs (International Organizations and Global Governance Cluster), 2014
Queen's University Faculty of Arts and Science
Bachelor of Arts (BA), Global Development Studies, 2008
Experience
University of Chicago Law School
Harry A Bigelow Fellow & Lecturer in Law, 2023 – Present
European University Institute (EUI) Department of Law
Postdoctoral Fellow, Max Weber Programme, 2022 – 2023
Assistant Editor, European Journal of International Law (EJIL), 2022 – 2023
New York University (NYU) School of Law
Affiliated Researcher, Institute for International Law and Justice (IILJ), 2015 – 2022
Co-Convener, Feminist Legal Theory Reading Group, 2018 – 2021
Co-Instructor, Upper-Level Seminar: Football, FIFA and the Governance of Transnational Sport, 2018 – 2021
Co-Instructor,  Upper-Level Reading Group: Governance Feminism, 2020
University of Melbourne School of Government
Co-Instructor, Course: The Nature of Governing, 2020
International Court of Justice
Law Clerk to Judge Antônio Augusto Cançado Trindade, 2016 – 2017
Court of Appeal for Ontario
Law Clerk to Justices Russell Juriansz, Peter Lauwers, and William Hourigan, 2014 – 2015
Publications
"'Sport Sex' before the European Court of Human Rights: Caster Semenya v. Switzerland," Völkerrechtsblog: International Law & International Legal Thought, March 22, 2021.

www

"The Problem of 'Sport Sex': Reflections on De-Essentialising Gender and Globalising Law," Völkerrechtsblog: International Law & International Legal Thought, January 9, 2020.

www

"FIFA for Women or Women for FIFA? The Inherent Tensions of FIFA's Women's Football Strategy," Verfassungsblog: On Matters Constitutional, July 7, 2019.

www
Presentations
Workshop Organization
European University Institute
Co-Organizer, Workshop Series: International Organizations: Cutting Across Disciplinary Boundaries, 2023
European University Institute
Co-Facilitator & Discussant, Workshop: Feminist Approaches to Law, 2023
Jean Monnet Center for International and Regional Economic Law & Justice
Co-Convener & Commentator, Symposium: Football Feminism – Global Governance Perspectives, 2020
Institute for International Law and Justice (IILJ), NYU School of Law
Co-Host & Discussant, Workshop: Governance Feminism – Assessing Feminist Reform Today, 2019
Conferences and Workshops
Annual Meeting on Law and Society: Separate and Unequal
Presenter, Panel: Technologies of Governance and Their Normativities on a Digital-Physical Planet, 2023
Annual Meeting on Law and Society: Rage, Reckoning and Remedy
Presenter, Panel: International Institutional Actors: How Do They Shape International Law?, 2022
World Law Forum Conference on Human Rights in International Sport
Moderator, Panel: The Role of Governing Bodies, 2021
International Society of Public Law (ICON-S) Mundo Conference
Presenter, Panel: The Role of International Institutions in Shaping Legal Concepts, 2021
Interlocutor, Forum: Law and Gender II – LGBTI+, Queer, Feminist Studies and Identities in Academia, 2021
Humboldt University/Graduate Institute of International and Development Studies, Online
Presenter, Conference: Multiple Legalities – Conflict and Entanglement in the Global Legal Order, 2021
JSD Forum, NYU School of Law [Commentator: Professor Miguel Maduro]
Presenter, Paper: The Gendered Principles of Globality, Autonomy, and Equality in World Athletics, 2020
JSD Forum, NYU School of Law [Commentator: Professor Gráinne de Búrca]
Presenter, Paper: The Constitution of Global Gender Norms via Private Regulatory Techniques, 2020
Faculty Research Forum, Aarhus University Department of Sport Science
Invited Guest Presenter, Paper: The Evolving Approach of World Athletics to the 'Inclusion' of Women, 2020
JSD Forum, NYU School of Law [Commentator: Professor Sally Engle Merry]
Presenter, Paper: Disjointed Gendered Institutional Change in Global Athletics Governance, 2019
Institute For International Law and Justice (IILJ), NYU School of Law
Presenter, Conference: International Law and Human Rights Emerging Scholarship Conference, 2016
JSD Forum, NYU School of Law, New York, USA [Commentator: Professor Margaret L Satterthwaite]
Presenter, Paper: The Gendered Transformation of Global Sport Governance, 2018
American Society of International Law (ASIL)
Presenter, Workshop: Rights of Indigenous Peoples Interest Group Works-in-Progress Workshop, 2016
Salzburg Global Seminar
Presenter, Conference: Salzburg Cutler Law Fellows Program, 2016
Center For Human Rights and Global Justice (CHRGJ), NYU School of Law
Presenter, Workshop: Transitional Justice and Human Rights Writers' Workshop, 2015
American Society of International Law / Washington College of Law
Presenter, Conference: International Humanitarian Law and Emerging Technologies, 2014 Roundtables
Global Health Justice Partnership, Yale Law School
Lead Interlocutor, Legal Frameworks for Preventing Intentional Violence in Sport, 2020
School of Transnational Governance, European University Institute (EUI)
Invited Interlocutor, High-Level Policy Dialogue on Corruption in Sports Governance, 2020
School of Transnational Governance, European University Institute (EUI)
Invited Interlocutor, High-Level Policy Dialogue on the Rule of Law and Sports, 2019
Women and Foreign Policy Roundtable Series, Council on Foreign Relations
Invited Discussant, How Sports Can Move the Ball for Women's Rights Around the World, 2018
Guest Lectures
Hauser Colloquium, NYU School of Law
Presenter,

 

The Regulation of Gender in Global Sport Governance: Human Rights and Access to Justice, 2023
Hauser Colloquium, NYU School of Law
Presenter,

 

Football and Feminism: How FIFA Governs Gender, 2021
Duke University School of Law
Featured Presenter,

 

The Global Governance of Sex in Sport: Gaps and Overlaps in the Law, 2021
TMC Asser Institute: Centre for International & European Law
Featured Panelist, Webinar:

 

Caster Semenya v International Association of Athletics Federations, 2021
The New School Global Studies Program
Guest Lecturer, Course:

 

International Law and Governance Beyond the State, 2019
NYU Tisch Institute for Global Sport
Guest Lecturer, Course:

 

Leagues and Governing Organizations, 2018