'When There Are Sixteen'
Emily Vernon, '20, on the Milestone She Celebrated in February with 15 Other Editors-in-Chief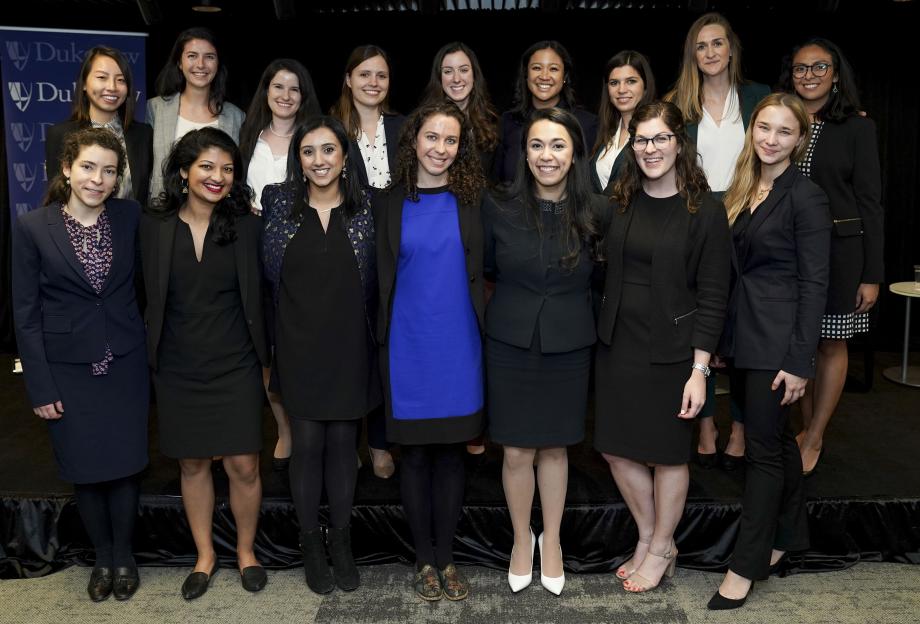 Note: This essay was originally scheduled to run in early March, but was held as the coronavirus pandemic took hold. 
Justice Ruth Bader Ginsburg has often said that there will be enough women on the Supreme Court "when there are nine." It seems fitting, then, that Justice Ginsburg was present in February when I gathered with more than a dozen of my peers from across the country to celebrate a landmark in law review leadership. This past year, women served as editor-in-chief of the flagship journals at 16 top law schools in the United States—a historic event that coincided with the 100th anniversary of the ratification of the 19th Amendment, which granted women the right to vote. 
As one of those editors-in-chief, I had the good fortune of commemorating this achievement at a February conference in Washington, DC, organized and sponsored by Duke Law School and spearheaded by Duke Law Journal's Editor-in-Chief, Farrah Bara. The 16 law schools—Berkeley, UChicago, Cornell, Columbia, Duke, Georgetown, Harvard, Michigan, Northwestern, NYU, Pennsylvania, Stanford, Texas, UCLA, Virginia, and Yale—also collaborated on a joint volume of essays written by notable women in law.
The event allowed me to reflect on my own experience, connect with my counterparts, and hear from women lawyers, legal scholars, and judges—including Justice Ginsburg, who called the milestone "a good beginning." Over the course of the day, the participants (including Dean Thomas J. Miles, who appeared on a panel with other law school deans; Chief Judge Rebecca R. Pallmeyer, '79, of the Northern District of Illinois, who contributed an essay to the volume; and Professor Alison LaCroix) celebrated women's advancement in the law and discussed the significant work that remains to achieve gender parity at the profession's highest levels.
During the "View from the Academy" panel, Professor Melissa Murray of NYU Law School pondered whether the statistically improbable occurrence of 16 women editors-in-chief in a single year reflected changes in the academy or "the individual moxie of 16 women." Dean Jane Aiken of Wake Forest Law School said that women are often portrayed as "givers, not takers," but the 16 of us each found the courage to seize an opportunity for ourselves.
Professor Murray and Dean Aiken's comments resonated closely with me and my own decision to run for editor-in-chief. If someone had told me before law school or even when I joined the Law Review that I would end up in this position, I might not have believed them. In the past 10 years, there has been only one other female editor-in-chief of the Law Review—Tara Levens, '16. She, like me, served in a year when women also led the Law School's two other student-run journals. But Tara graduated before I entered the Law School, and I had a difficult time imagining myself in such a prominent role.
Thankfully, I had the support of friends and mentors who encouraged me to apply, and I'm tremendously grateful to them. I also owe a significant debt to the law students who prepared the Women's Advocacy Project report in 2018, which shined a light on disparities in women's achievement at the Law School and undoubtedly nudged my subconscious to defy those statistics.
But I also know that what Judge Pamela Harris of the US Court of Appeals for the Fourth Circuit said at the conference is right: women shouldn't wait for someone to tell them they're qualified.
I was struck by something else she told us, too: "You don't know how great your career is going to be." Her point was that many women drop out of the legal profession relatively early in their careers—particularly when their kids are young—before realizing their immense potential. She and the other three jurists on the panel—Justice Ginsburg and Judges Cornelia Pillard and Sri Srinivasan of Court of Appeals for the DC Circuit—also emphasized the importance of supportive family members who made their demanding careers possible. I plan to keep all of this mind as I start my career.
Like many of the attendees at the conference, I'm cautiously optimistic about the future of women in the legal profession. Dean Kerry Abrams of Duke Law reminded us of some sobering statistics: while many law schools have achieved gender parity for decades, women are only 21 percent of equity partners, 24 percent of Congress, and 27 percent of federal judges. There has not been a "pipeline problem" for some time, and it will take concerted effort to ensure that talented women in my generation remain in the law.
I have good reason to be hopeful, however: I am surrounded by many incredible women at the Law School, including the editors-in-chief of the Legal Forum (Nika Arzoumanian, '20) and the Chicago Journal of International Law (Imara McMillan, '20). This year's Hinton Moot Court Board is all women: Laura Brodkin, '20, Allison Rogers, '20, and Julia Tabat, '20. And I've been inspired by the thoughtful essay Judge Pallmeyer contributed to our joint volume, "Experience on the Bench," which explores how her gender has actually contributed to her success as a judge. I had the privilege of editing it along with two of my fellow Law Review editors, Andrew Gove, '20, and Jordan Poole, '20.
Justice Ginsburg offered optimism, too, pointing to the strides that have been made since she graduated from law school more than six decades ago. I left the conference excited for what lies ahead. And I thought something Justice Ginsburg told us might well be correct: "There's really been no better time for women to enter the legal profession."