Susan Epstein, '95: Leading at the Intersection of Law and Technology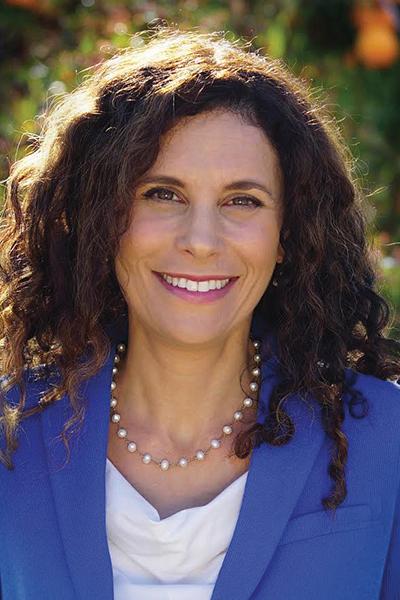 A very distinctive background at the intersection of technology, law, and organizational performance has led Susan Epstein, '95, to a pioneering role. Since the fall of 2021 she has been associate general counsel and the technology lead for civil rights at Meta, the parent company of Facebook, Instagram, WhatsApp, and many other entities.
Meta established its civil rights team in early 2021, the first tech giant to do so. "It is thrilling and simultaneously daunting to address civil rights globally at a company that impacts not just its industry but society as a whole," Epstein said. "My education and career in artificial intelligence, social justice, and management have been really instrumental."
Before she came to the Law School, Epstein earned a bachelor of science degree in symbolic systems at Stanford, where she studied computer science with a concentration in artificial intelligence. In 2021 and 2022, she was a lecturer in law at the Law School, and she has also taught data structure design and algorithmic decision making in Stanford's computer science department. She founded and directed nonprofit organizations and led a consulting business for 15 years, coaching executives and advising on strategic planning, leadership development, and values-based management.
Just out of law school, she was selected as an Echoing Green Fellow. Echoing Green supports emerging transformational leaders by providing funding, training, and mentoring to help them develop big ideas into feasible and sustainable enterprises. Epstein's big idea became the nonprofit Our Schools, Our Media, which inspired at-promise students in low-income schools to mobilize their communities in support of their education. She led Our Schools, Our Media for six years before forming her consulting business.
Board service has been a steady part of her career. She currently serves on the tech advisory board of Learning A–Z, a leading provider of digital resources for more than 500,000 educators in 140 countries, and she is a board member of Goleta Cottage Hospital Foundation, serving on the audit and finance committees.
She served for 16 years, until 2020, as an elected school board member of a socioeconomically diverse public school district, elected as the board's president three times by her colleagues. "I'm very proud of what that board accomplished, including exceptional academic achievement, innovative programs, and smaller class sizes," she said. "The board's membership reflected a range of political views existing in the community, and I think my effectiveness can be attributed to a set of skills that I developed at the Law School, from deeply analyzing a problem, to clearly communicating abstract ideas, to forging common ground with people whose views are different from mine."
While she was at the Law School, she interned at Lawyers' Committee for Civil Rights, cofounded the Illinois Clemency Project, and served as president and treasurer of the Chicago Law Foundation, raising and distributing money for grants to law students to hold summer jobs practicing public interest law.
At Meta, she builds on her experience with risk assessment and strategic optimization as she collaborates with executives, engineers, and product leaders across the company in taking products to market safely and successfully. Her most pioneering work is identifying and addressing potential civil rights issues in the development and use of generative AI, machine learning, virtual and augmented reality, and emerging technologies, especially when those technologies impact historically and systemically marginalized communities. "I call this work innovation justice," she said.
As civil rights in technology is a nascent field in academia and industry, she also leads engagement at Meta with external technology experts on developing products while instilling civil rights best practices for inclusion, fairness, privacy, robustness, and transparency.
"The technology field has significantly evolved to recognize the need to address societal and ethical issues in coursework, product design, evaluation, and return on investment. None of this was happening when I was an undergraduate studying computer science at Stanford," she said. "In the industry, there is still a long way to go, but we have already had significant wins here at Meta. Our team is building the systems, the relationships, and the culture to keep this important civil rights technology work on the right trajectory."