Siegler Honored for Work on Fake Stash House Cases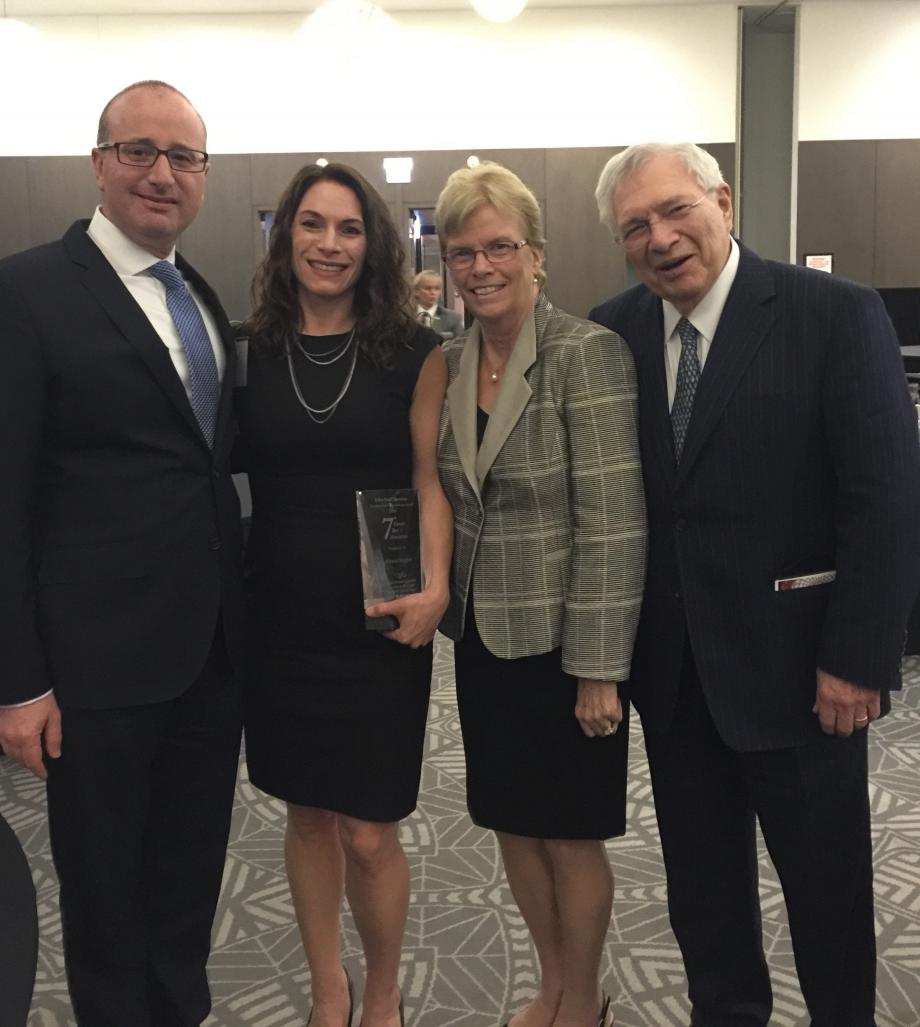 The Seventh Circuit Bar Association this week recognized Clinical Professor Alison Siegler's work on the "fake stash house" cases, honoring her with a Justice John Paul Stevens Award for Outstanding Public Service Work in the Seventh Circuit Court of Appeals. Siegler, who founded and runs the Law School's Federal Criminal Justice Clinic, received the award at the Annual Seventh Circuit Judicial Conference dinner Monday night.
Siegler is spearheading what many have called "groundbreaking" litigation in a series of cases involving clients who had been charged with conspiracy to rob non-existent drug stash houses, arguing that they have been the target of selective law enforcement practices and racial profiling. In one of the cases, U.S. v. Paul Davis, Jr., Siegler delivered an oral argument before all 10 judges on the Seventh Circuit U.S. Court of Appeals. The Seventh Circuit only sits en banc in criminal cases once every year two.
"Ms. Siegler's skilled advocacy, commitment to the issues, and mastery both of the legal argument and the statistics behind it, no doubt paved the way for the Seventh Circuit's en banc decision in 2015 recognizing that in certain circumstances criminal defendants could obtain discovery about selective law enforcement—a ruling with far-reaching impact," said Margot Klein, who heads the bar association's pro bono award selection committee. "Siegler's performance in that case is but one example of her long history of representing indigent clients charged with federal crimes. Through her innovative and well-respected clinic, Ms. Siegler not only provides passionate and highly-skilled representation to her clients, but she teaches, trains, and supervises scores of law students and attorneys to the same. Just as the case I mentioned has far-reaching impacts for federal criminal defendants, so too does Ms. Siegler's work."
Added Clinical Professor Jeff Leslie, the Law School's Director of Clinical and Experiential Learning: "Professor Siegler's work on the fake stash house cases is cutting-edge litigation at the intersection of civil rights and criminal law. She has shown remarkable creativity and tenacity in these cases, as she does in all of her work with the Federal Criminal Justice Clinic."
The Federal Criminal Justice Clinic, which is part of the Law School's Edwin F. Mandel Legal Aid Clinic, is the nation's only legal clinic devoted solely to representing indigent defendants charged with federal felonies.
Siegler, who worked as a federal defender before launching the clinic in 2008, said she was "deeply honored" by the award.
"This litigation was a true team effort, encompassing the work of colleagues and students in the Federal Criminal Justice Clinic, the Federal Defender Program, and the Criminal Justice Act Panel," she said. "It is such a privilege to serve and seek justice for those who frequently have little voice in our system, and to work alongside others who are committed to safeguarding our clients' rights and preserving their liberty."