Roderick Palmore, '77: An Advocate for Equality in the Legal Profession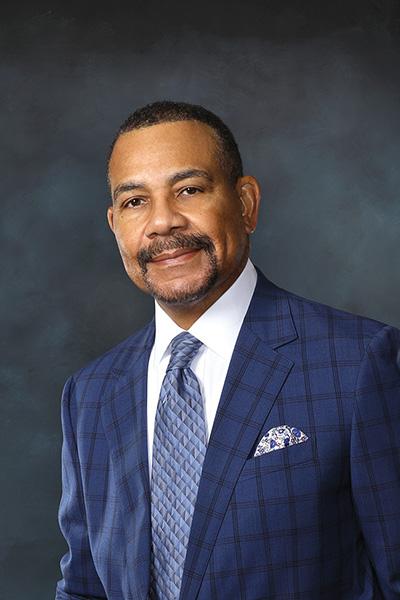 Roderick (Rick) Palmore, '77, describes himself as "semiretired," but he adds that his friends are certain that he lacks a proper understanding of what the word "retired" means. He's a senior counsel at Dentons, helping clients with governance and management issues while he also focuses on strengthening Dentons' talent development practices, with particular attention to the firm's diversity, equity, and inclusion activities. He also has a separate consulting practice, coaching executives to become more effective leaders; is a director at companies that include Goodyear and the Chicago Board Options Exchange; and is deeply engaged with a years-long effort that he propelled to achieve equity throughout the legal profession.
Retirement is a matter of context, he explained. "Before I came to Dentons in 2015, I had been on call pretty much 24/7/365, at General Mills and before that at Sara Lee. Now, if I feel a need for an hour some afternoon to work on my forehand, I can take it, guilt-free. And I don't do anything that I don't love doing." He joined Sara Lee in 1996, eventually becoming the company's executive vice president, general counsel, and secretary. At General Mills from 2008 to 2015, he became executive vice president, general counsel, and chief compliance and risk management officer.
In 2004, he authored "A Call to Action—Diversity in the Legal Profession," a statement urging corporate legal officers to commit to achieving greater equality of opportunity within their own organizations, and to holding their outside counsel accountable, too. More than 120 top legal officers signed on to that document. In 2009, he led the creation of the Leadership Council on Legal Diversity [LCLD], a collaboration among general counsels and managing partners focused on developing diverse talent. For his efforts during those years, Palmore was named by the National Law Journal as one of the 40 most influential lawyers of the decade.
Today, Palmore serves as founding chair emeritus of LCLD. The organization's membership includes more than 400 corporate chief legal officers and law firm managing partners, and through its talent development and networking programs it has prepared more than 10,000 women and people of color to succeed in legal environments. Recently, Palmore said, LCLD added a second crucial focus, which is also central to his DEI work at Dentons: improving the policies, practices, and cultural elements in legal organizations that either support or obstruct careers for minorities and women.
"As beneficial as our efforts have been," Palmore said, "it's a fool's errand to prepare people who then must try to thrive in unsupportive environments. There are still so many things that need to be done better to ensure full equality, from hiring and retention to mentorship and coaching to client assignments and partnership decisions. I'm a provocateur to help make those things happen."
He recalled an incident from his grade-school days, when he and his mother were with his teacher after a parent-teacher conference. The teacher praised him and then said to his mother, "Your son has promise. Maybe he could grow up to be a preacher." Becoming a preacher would not have been a minor accomplishment—"That was about the highest thing we could aspire to in our community at that time," Palmore said—but his mother responded angrily: "How dare you! How dare you put limitations on what my son can do with his life!"
"That message has stuck with me all these years," he said. "I was fortunate to have parents who saw no limits for me and my siblings, and I got to go to a law school that helped me develop the potential I had. The legal profession has made some valuable steps toward giving more people a better chance to become the best of what's possible for them. It's a joy for me to keep pushing things in that direction."