Regional Moot Court Win Provides 'Icing on a Cake that's Already So Delicious'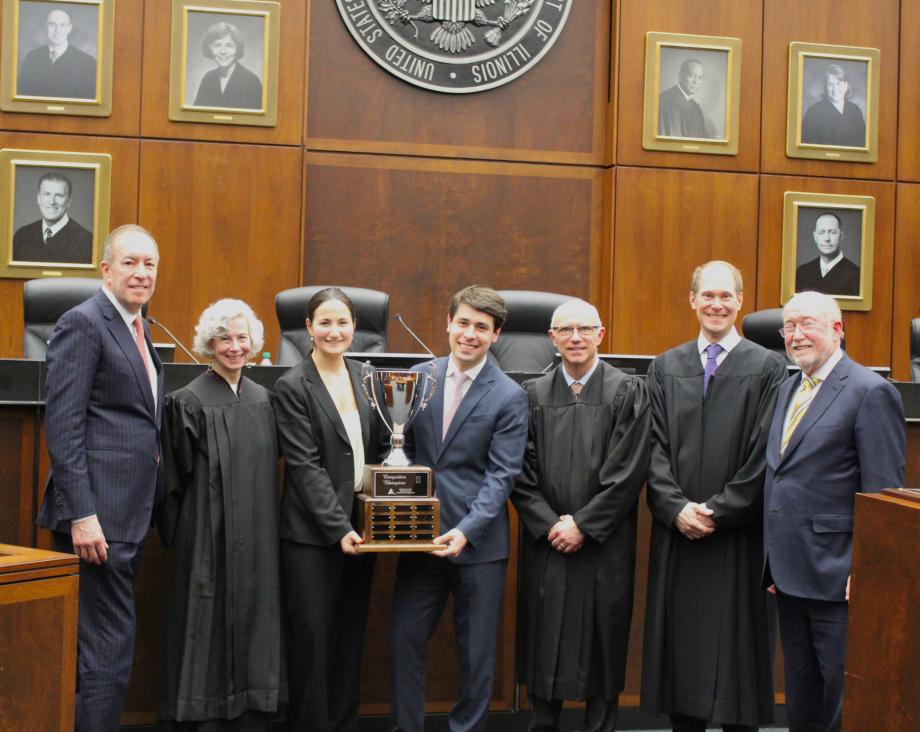 As Logan Kirkpatrick, '23, and Millie Cripe, '24, were preparing for a major regional moot court competition earlier this year, they asked for advice from David A. Strauss, the Gerald Ratner Distinguished Service Professor of Law, who has argued 19 cases before the US Supreme Court.
During the meeting, Cripe asked Strauss how they could best frame one of the core issues in their case, and Strauss provided a virtuoso rendition of how they might do that. Cripe then mentioned that it was the appeals court that had raised that issue, sua sponte. "Professor Strauss just shifted gears and wove a totally different and even more persuasive answer," Cripe recalled. "It was so easy to picture him as Assistant to the Solicitor General arguing in front of the Supreme Court—no wonder he won so many cases!"
Kirkpatrick agreed, "It was inspiring to see Professor Strauss in action. And then near the end of our meeting, he looked at us with a big smile and said, 'Advocacy is so much fun, isn't it!'"
If advocacy is even more fun when you win, then Cripe and Kirkpatrick had a grand time at the competition they entered. As a team, they won the overall competition as well as the award for the best appellant brief, and Kirkpatrick was named the best appellate advocate.
Dean of Students Charles N. Todd said the Law School is proud of the team's achievements.
"We are thrilled that Millie and Logan took advantage of this opportunity to represent the Law School," Todd said. "The competition allowed them to engage with our amazing faculty and many sitting judges. We are proud that they received such high recognition for all their hard work and dedication."
"The University of Chicago team consistently stood out for their high level of advocacy and professionalism. In a competition overwhelmingly judged by sitting federal court judges, the judges were universal in their praise of the University of Chicago team," said Tony Ghiotto, director of the Anderson Center for Advocacy and Professionalism at the University of Illinois Chicago College of Law.
The Anderson Center and the Seventh Circuit Bar Association hosted the competition, which was adjudicated by federal magistrate, district, and circuit-court judges from across the Seventh Circuit. Described by the sponsors as "the only moot court competition focused on advocacy, professionalism, and ethics grounded in issues litigators actually face in a courtroom," it was open to students from any law school within the Seventh Circuit's jurisdictional area. Briefs were submitted by the eight participating teams in February, and oral arguments were held at the Dirksen Federal Courthouse in March.
Kirkpatrick has competed in moot court competitions since high school. Last year he teamed with Ale Clark-Ansani, '23, to take first place in the Edward W. Hinton Moot Court competition. As a first-year law student, Kirkpatrick was named best oralist in a tournament hosted by the American Bar Association.
Cripe's moot court résumé was quite different. "When Logan asked me if I wanted to be his partner, I told him that if he was willing to help me, I would love to do it—I knew I was going to need a lot of help, because I had never participated in a moot court competition before. He promised he would, and he made good on that promise. I learned so much from his coaching," she recounted.
Kirkpatrick and Cripe met in Stephen Patton's law and public policy class last autumn. Patton, an accomplished litigator and former corporation counsel for the City of Chicago, engages students in robust discussions of complex case studies. "Millie excelled under that pressure," Kirkpatrick recalled. "From the first day, I knew she would make a terrific partner."
Kirkpatrick approached Todd, who said the Law School would gladly sponsor the team.
There were two issues in the hypothetical case they argued: whether a district court had abused its discretion by imposing a default judgment as a discovery sanction, and whether the judge had violated the Due Process Clause by not recusing himself after publicly chastising one of the parties in the media while the case was still pending.
In addition to consulting with Strauss, Cripe and Kirkpatrick worked with Emily Buss, the Mark and Barbara Fried Professor of Law. Among other insights, Buss advised them to frame the case's two issues as interrelated. That recommendation proved to be crucial.
"As Professor Buss had alerted us, the moot court judges asked a lot of questions about the connections between the judge's ruling and his alleged misconduct," Cripe said. "Being ready for that questioning really helped to set us apart."
The teammates' admiration for each other only grew from their experience. "Logan represents the best parts of UChicago Law School," Cripe said. "He is so very, very smart, and so generous with his help. Even though I was the rookie and he was the veteran, I never once felt anything but respect and collegiality from him. I learned so much from watching his rounds, and I can't wait to see what he does in his career."
For his part, Kirkpatrick observed, "Millie is a rare talent. She is in equal measures brilliant, articulate, zealous, and kind. It was an absolute pleasure to work with her, and I look forward to seeing how she will one day impact our legal profession for the better."
Both of the competitors said that they have loved their time at the Law School, and Kirkpatrick noted that the competition encapsulated many of the reasons for that affection: "Just like what happens at the Law School, there was a challenging legal puzzle to think about; faculty members with deep expertise who generously gave us their time as coaches and mentors; a brilliant fellow student who made my thinking better every time we interacted; and an administration that didn't just support our interests but actively encouraged them. Winning was great, but it's just icing on a cake that's already so delicious."
Student awards