The Power of Innovation and Alumni
Innovation Clinic Students Experience Bay Area Startup Culture During Law School's Inaugural Innovation Trek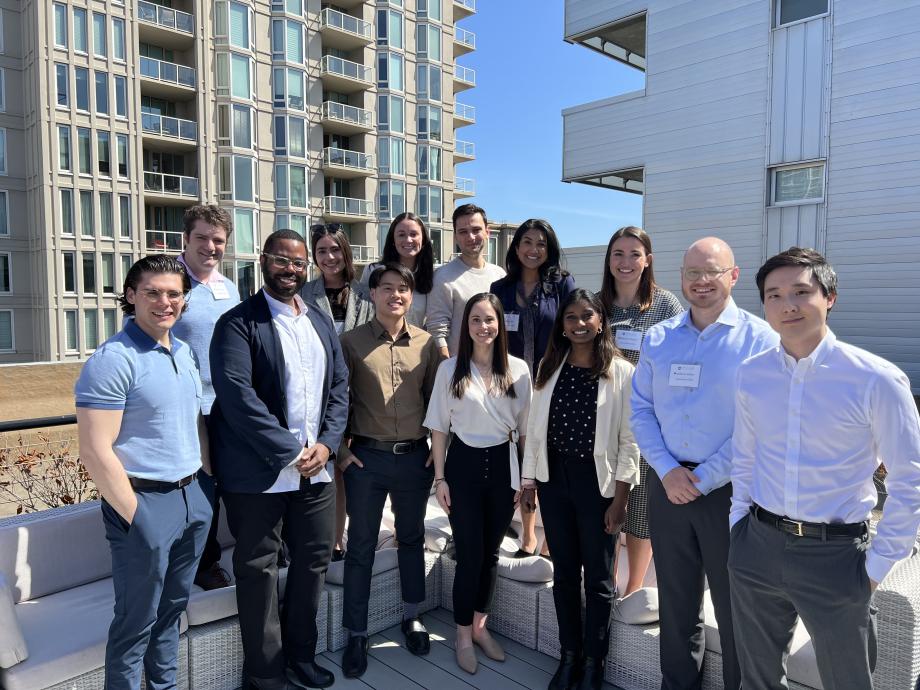 When I registered for the Innovation Clinic last autumn, I never imagined that I would end up sitting in the very room in Palo Alto, California, where Google became a company.
But in March, there I was with 11 of my clinic classmates, at the law firm of Wilson Sonsini Goodrich & Rosati, which has represented Google for years, including when it incorporated in 1998 and later in its 2004 IPO. We were listening to Kimball Parker, '13, demonstrate how technology can scale a service for consumers through his company, SixFifty, a subsidiary of Wilson Sonsini that uses artificial intelligence to write legal documents for commonly needed matters such as employment and data privacy terms.
The session was part of the Innovation Clinic's inaugural Innovation Trek, a three-day trip to the San Francisco Bay Area that was designed to immerse us in high-growth startup culture. Together, we met with founders, entrepreneurs, investors, and in-house and external legal counsel in cybersecurity, cryptocurrency, life sciences, social media, software, and other industries, many of them University of Chicago Law School graduates. We visited law firms, startup accelerators, and startup headquarters; attended panels highlighting different industries and legal specialties within the Bay Area; and connected with professionals at networking events. For me, it was incredible learning about how expansive and connected the UChicago network is in the Bay Area. Often, the panelists were just as excited to meet and learn from each other as they were to mentor and speak to us.
This immersion was what Wilson Sonsini Managing Partner Douglas Clark, '89, had in mind when he funded the Trek through a generous gift to the Innovation Clinic.
"The Valley reflects the cycles of disruption, innovation, and change present in this type of work," Clark said in his Trek opening remarks. "With what's happened during COVID, it has reminded me of how much innovation matters. Without [it], our employees could not stay connected with each other."
The Innovation Clinic, led by Associate Clinical Professor and Bluhm-Helfand Director Emily Underwood, offers students the opportunity to gain experiential credit by providing pro bono transactional and regulatory legal expertise to high-growth startups and venture capital firms mostly in the Chicago area.
"The goal of the Trek is for the [Clinic] students to bridge what they've learned in the classroom with the real world," Underwood emphasized in her Trek opening remarks. "[T]he Innovation Trek will give these students an opportunity to develop relationships and learn from experts in these industries and widen their apertures for what is possible in their careers."
I was cautiously optimistic about the Trek. As a recent transfer, I was excited about the incredibly unique opportunity. On the other hand, I was struggling with the classic law school conundrums. What does legal work look like outside of the traditional law firm space? How do I know if I want to do transactional or litigation work? How will that choice shape the rest of my career? What value do I add as an attorney at a startup or venture capital firm? These were some of the questions I was hoping to get answered during the course of this experience.
For the first day of the Trek, we were hosted by Wilson Sonsini at their Palo Alto headquarters. After opening remarks and networking with attorneys over breakfast, the day kicked off with a fireside chat with two Law School graduates who work on the Coinbase in-house counsel team. Paul Grewal, '96, chief legal officer of Coinbase, talked to us in particular about his extensive background working in BigLaw, the judiciary, and as in-house counsel at a large company to illustrate how versatile a Law School degree and University of Chicago education can be.
Next, we heard about the early-stage founder experience in Silicon Valley from two founders. When asked how attorneys and law graduates can play an important role in startups, speakers noted that attorneys should be more solutions-oriented rather than process-oriented. After networking with the panelists over lunch, we focused in on more industry-specific panels and requisite regulatory work relating to cryptocurrency, life sciences, and legal technology. The day concluded with a networking happy hour hosted by the law firm Gunderson Dettmer.
On the second day of the Trek, we visited Cloudflare Inc.'s headquarters in downtown San Francisco. We kicked off the day with a fireside chat with Jared Grusd, '00, current chief strategy officer at Chime Inc. He talked about his experience working at various high-growth companies like Google, Spotify, and Snap Inc.
The day continued with panels about venture investing and the cybersecurity industry. Peter Werner, '01, partner and co-chair of Cooley LLP's global emerging companies and venture capital practice group, emphasized in the venture panel that "we need more connectivity between the Law School and California." We concluded the day talking about Cloudflare with three Law School graduates who work at the startup in various capacities, ranging from special projects to general counsel to public policy roles, and having mentoring roundtables with junior attorneys working both at law firms and in house. One theme that emerged was the need for emerging companies and venture capital lawyers to play "more offense than defense" and to familiarize themselves with the business sides of the companies that they represent or are a part of in order to add more value.
On the last day, we went on a site visit to the StartX Accelerator in Palo Alto. StartX is unique compared to other Bay Area accelerators because they do not take any equity in the startups they admit into their program. Rather, StartX is a non-profit that focuses on building relationships and creating spaces for founders to work and bounce ideas off each other to promote mutual growth in their startup companies.
Throughout all of the panels and networking events, two main pieces of advice were repeated over and over again. The first was not to underestimate the power of the UChicago Law School network in the Bay Area. Many of the attorneys we spoke to obtained their Bay Area opportunities by staying in touch with and reaching out to fellow graduates.
"People, especially from the Law School, tend to fan out and go on to do very interesting things so keep making connections," said Alex Dyner, '00, senior vice president, special projects at Cloudflare.
The second is to be open to new and unfamiliar opportunities and always be willing to learn something new. We were encouraged to seek out "messy" opportunities that are rife with learning experiences and unique problems to quickly grow our skillsets as junior lawyers, rather than shying away from complicated transactions or regulatory issues.
I learned not to view a law degree, especially one from UChicago, in such a narrow focus. There is a wide range of utility in that degree, including in taking advantage of and constantly building a network and connections with fellow graduates, many of whom are increasingly eager to give back and mentor current and former students. One of the greatest pieces of advice I received while networking on the Trek was to not discount oneself from a new opportunity; people will always value someone willing and able to produce great work and add something new. As I flew back to Chicago, thanks to this Trek and the people I met, I came home with a new sense of optimism and open-mindedness with respect to my future legal career.
Sraavya Poonuganti is a second-year law student at the University of Chicago Law School. She is a student attorney in the Innovation Clinic, incoming managing editor of the Chicago Journal of International Law, and she will be working in Cooley LLP's Chicago office as a summer associate this year.
Innovation