Natalia Cornelio, '06: Judge Adopts Motto 'Justice Is What Love Looks Like in Public'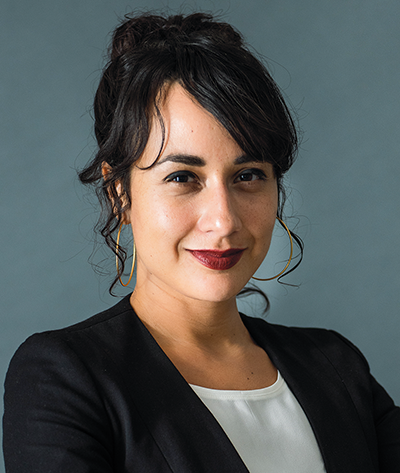 In January, Natalia Cornelio, '06, was sworn in as a criminal court judge in Harris County, Texas, where she presides over felony-level proceedings. Harris County includes Houston, and has a population that is more than 45 percent Latinx. Before Cornelio was elected to the bench, there were no Latina judges at any of the county's 38 felony and misdemeanor courts.
"I'm committed to equal justice for all communities, including those who have suffered discrimination for centuries," she said. She campaigned on a platform of promoting community-centered justice, reducing disparities in the justice system, implementing pretrial justice, reducing reliance on incarceration, and improving court processes.
Cornelio grew up in Chicago, where her commitment to justice was inspired in part by parents who were active in the fight for immigrants' rights. Her father worked as a paralegal at a legal aid organization, becoming so skilled that even though he had no college degree, a judge allowed him to represent clients in court.
At the Law School, the Criminal and Juvenile Justice Clinic had a formidable effect on her. "I saw firsthand the inequities that permeate the justice system, and I got to do something about them," she recalled. "I also gained a fantastic mentor in Randolph Stone. I haven't taken a step in my career—or many parts of my life—without consulting him." She has returned to the Law School regularly to teach in the two-week Intensive Trial Practice Workshop that Stone co-led for many years.
Not long after graduation, she took a position as a staff attorney at the US Court of Appeals for the Ninth Circuit. "The work was great, the learning was fast, the people were fantastic, and the Bay Area was a very fine place to live," she said, adding that she was also able to sustain a passion of hers by becoming a member of a local roller derby team, the Bay Area Derby Girls, or BAD Girls for short.
About four years later, the call to work as a federal public defender became irresistible to her, and she found an opening in Houston. As it happened, one of the BAD Girls had just moved there, recommended it as a good place to live, and provided Cornelio with a place to stay as she settled in. Her job was deeply satisfying but continually distressing: "Terrible, systemic injustice is right in your face every day," she said. She took up Aztec dancing. "This cultural and spiritual practice rooted in ancient Mexico allowed me to study and connect to my roots and the land that my ancestors came from, and it helped me retain some equilibrium in the face of what I was dealing with," she said.
In 2017, she was chosen to lead the criminal justice reform project at the Texas Civil Rights Project. "I was growing into another important part of who I wanted to become—not only a skilled advocate, but an authentic, grounded leader for justice," she said. She and a team of attorneys litigated cases involving, among other things, parents forcibly separated from their children at the border, medically vulnerable prisoners held in inhumane conditions in the Texas prison system, and a mother who was jailed while pregnant for being unable to pay traffic tickets.
From 2019 until after her election victory, she was the director of legal affairs for a Harris County commissioner, where she helped negotiate and draft a landmark settlement that reformed county bail practices that had led to the incarceration each year of thousands of misdemeanor arrestees who were unable to pay a cash bond.
"When you work in the criminal justice system, you can often see people in power who just don't have the background that allows them to empathize with the situations of poor people, immigrants, and other groups that have historically experienced discrimination," she said. "I want every aspect of my court to respect and honor every person who comes into contact with it. My husband is a muralist who came to the US from Mexico when he was 14 years old, and he created a campaign mural for me with a title from Cornel West: 'Justice Is What Love Looks Like in Public.' That feels right to me as an expression of what I would be proud to accomplish."