Michelle Mbekeani, '14: Using Law School to Build Policy Solutions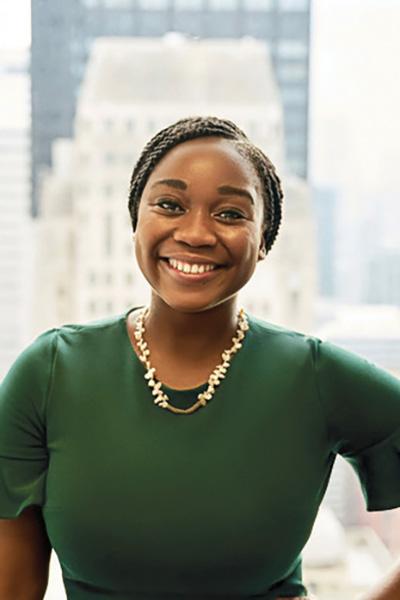 Since she graduated from the Law School, where she was a Tony Patiño Fellow, Michelle Mbekeani, '14, has had leading roles in shaping legislation, policy, and practice related to voting rights, police reform, juvenile justice, and overall criminal justice reform. As she continues that work, she is also studying toward an MBA degree and developing a high-tech solution for a major justice issue.
"My work is infused every day with lessons I learned at the Law School," she said. "One of those lessons, learned in class and outside of it, was that real dialogue, deeply listening to and engaging with the positions and interests of all stakeholders, is the best way to reach an optimal solution that can be successfully implemented. I have tried to put that into practice in everything I do."
In her current job as the senior legal and policy advisor to Cook County State's Attorney Kim Foxx, she applied her inclusive approach to coauthor and secure the passage of historic legislation, the first in the United States to prohibit law enforcement from using deceptive tactics when interrogating minors. Contributors to drafting that law included the National Innocence Project and Northwestern Pritzker School of Law's Center on Wrongful Convictions. Mbekeani engaged with organizations from across the country to join in advocating for its passage. "Conversations made a big difference in making this work," she said. "For example, the Illinois Association of Chiefs of Police strongly opposed the legislation at first, but they came around to supporting it after a series of discussions."
Mbekeani currently cochairs Cook County's "First Appearance" working group, which is charged with the task of developing procedures for the implementation of the Pretrial Fairness Act's abolition of money bail during the initial appearance and detention hearings.
In a previous position, at the Shriver Center on Poverty Law, Mbekeani coauthored and successfully lobbied for Illinois laws that established the nation's first official polling station inside a county jail and required that people leaving prison be informed of their right to vote. She also worked in coalition to develop the internal operations for its implementation. She said that this experience taught her how to get buy-in from correctional staff when implementing new internal operations. It also exposed her to the operational barriers to information and pathways to legal representation for incarcerated individuals.
Mbekeani has been on the Forbes 30 under 30 list and Crain's Chicago Business 40 under 40 list. She is also a Forbes contributor, where her articles analyze the costs and return on investment in public finance and policy.
She is now a part-time MBA student at UChicago's Booth School of Business, where she is a Neubauer Civic Scholar, receiving a full-tuition scholarship. At Booth, she expects to continue building her understanding of law and economics. "I had never thought about that intersection before I came to the Law School, and now it is a fundamental framework I use to understand every issue," she said.
She also plans to grow her entrepreneurial skills at Booth, most immediately by learning how to create the greatest success for her start-up, a subscription-based digital platform paid for by attorneys that gives people in prison free access to legal advocacy and assistance for innocence claims and post-conviction relief. "The current postal mail based system for legal mail in prison is unconscionably inefficient, severely prolonging the possibility of exoneration and post-conviction relief, while also creating substantial burdens not only for people in prison who are seeking justice but for attorneys and correctional staff," she said.
She is currently raising capital for her start-up and building her team. Consistent with her commitment to broad input and representation, the advisory board for her app is chaired by Terrill Swift, who was wrongly imprisoned for more than 15 years in the "Englewood Four" case. The board includes former leaders of correctional systems as well as Innocence Project leaders.
"Technology has tremendous potential to help us address problems in the criminal justice system," she said. "I like to think that whatever I am doing, whatever I am learning, I am increasing my ability to elevate marginalized communities, design incentives that lead to policy reform, and help eradicate the many ills of that system."