Meet the Class: Tuvshintuguldur Maralkhuu, LLM, '24
Mongolian Lawyer with a Love of Technology Law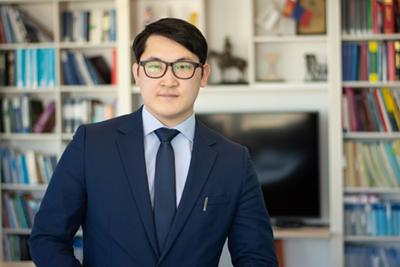 Tuvshintuguldur Maralkhuu, LLM, '24, is a graduate of the National University of Mongolia, where he obtained his LLB in 2018. In his native land, he advises innovators and is involved in the creation of legal technologies. He is most excited about the opportunity to learn from leading scholars and engage in discussions about technology law trends.
---
Please describe your background and professional path.
I graduated with my bachelor's degree five years ago, and since then I have been employed as an associate lawyer at MDS and KhanLex LLP in Mongolia. Additionally, I gained first-hand knowledge of advising innovation-based businesses and creating legal technology there.
Could you describe your practice in a little more detail?
My expertise focuses mostly on civil and administrative litigation and dispute resolution. My main area of interest is laws concerning new technology and innovations.
What is your motivation for getting an LLM?
My love for technology law is what inspired me to pursue an LLM. I've come to appreciate the necessity for a deeper grasp of the legal implications of technology from my experiences at my current workplace and creating a legal technology. I think that earning an LLM will provide me with the skills I need to effectively shape technology law in Mongolia and beyond.
Why did you choose the University of Chicago Law School as the institution at which to get your LLM?
Aside from its esteemed reputation and influential academics, I find the University of Chicago to be more personal as the class size is comparatively small from other LLM programs. Additionally, the school's diverse student body and various fun student activities will provide me with a comprehensive learning experience.
What do you plan to do with your LLM?
Upon completing my LLM, my plan is to return to my current workplace. I aim to apply the knowledge gained to enhance our clients' business models and policies, addressing legal challenges in the technology sector. Simultaneously, I intend to actively participate in legislative drafting processes and advocate for improved regulations in Mongolia's technology law field.
What are you most looking forward to in coming to the Law School, the US, and or the city of Chicago?
I'm most excited about the opportunity to learn from leading scholars and engage in discussions about technology law trends at the University of Chicago Law School. Coming to the US and Chicago will also expose me to a diverse legal environment, fostering a deeper understanding of global legal perspectives and practices. I'm particularly eager to explore the vibrant cultural scene in Chicago and engage with the city's dynamic legal community.
Any hobbies or interests you'd like to share?
From childhood, I liked playing table tennis. More recently, I started coding in my free time.
What is a "fun fact" about you?
It was not official but I basically double worked as an IT support at my workplace. I did everything from setting up emails of my colleagues to upgrading the firm's website.
Anything else you'd like to share?
I look forward to the opportunity to learn and collaborate with the University of Chicago Law School community in coming school year.