Meet the Class: Kyle Melatti, '26
Former McKinsey Analyst and Vegan Restaurant Owner Follows Mother's Footsteps into Law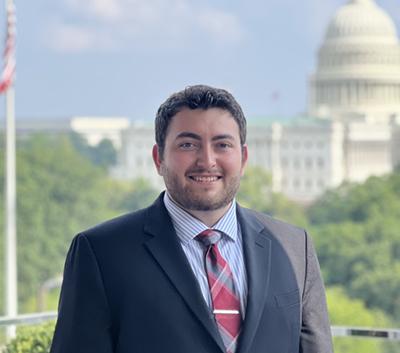 A first generation American, Kyle Melatti, '26, was born and raised in Las Vegas. A graduate of Duke University with a bachelor's degree in Public Policy, his varied CV already includes owning a vegan restaurant, a stint at McKinsey & Company, and serving as a law fellows in Washington, DC.
---
Please describe your background and professional path.
I was born and raised in Las Vegas, but no, the hospital did not have slot machines. I'm a first-generation American and the proud son of Brazilian immigrants. After starting a vegan restaurant in high school, I attended Duke University where I studied Public Policy, Political Science, and Computer Science. After graduation, I became a Business Analyst at McKinsey & Company in Washington, D.C. I then accepted an SEO Law Fellowship, which gives summer associateships in Big Law to around 200 incoming 1L's from underrepresented backgrounds, all before stepping foot in the classroom–highly recommend.
What motivates your decision to go to law school?
My mom first motivated me to get here. She moved to the United States shortly after graduating law school in Brazil, but she was never able to practice because she was ineligible for the Nevada Bar. I explored whether I could one day carry on her dream since she ultimately entered a thirty-year career in casino waitressing. When I got to see the law in action through government internships and in Public Policy coursework, it became clear that practicing law would allow me to make the best impact while repaying my family's sacrifice.
Why did you select the University of Chicago Law School?
The community, the classes, and the city of Chicago made the choice easy. When I attended Admitted Students Day, I knew I was in the right place. The highlight was sitting in a Criminal Law course watching students get called on at random to present mock oral arguments for or against a defendant's bail. If I could someday defend a position as well as they did, I knew UChicago would make me a great attorney.
What do you plan to do with your legal education?
While I see myself practicing law for a few years in DC, all roads lead back home to Las Vegas for my friends and family. I was introduced to a variety of practice groups through SEO, but constitutional law and appellate litigation have stuck out so far. Ultimately, I would like to end up in public service in Nevada.
What is the thing you are most looking forward to about being a law student?
I'm most looking forward to the camaraderie and connections I'll forge with my classmates and the faculty. In undergrad, many of these experiences were lost because of COVID-19. Now that the class sizes are much smaller and the faculty are highly accessible, I'm looking forward to getting the most out of my time at the Law School. My classmates and I will also be going through 1L and beyond with shared challenges and goals which will bring us closer together.
What are some of your hobbies or interests?
Although I do my best to avoid the Vegas stereotypes, I enjoy playing Texas Hold'Em at the casinos or with friends. I hope to host games with classmates too (proceeds will go to charity, of course). I'm also approaching an intermediate level in chess which I picked up late in high school. Lastly, I'm a huge fan of Formula 1 after watching Netflix's Drive to Survive in 2019.
What is a "fun fact" about you?
During my senior year of high school, I started a fast-casual vegan restaurant in Las Vegas with my dad. He wanted to retire from the casino hospitality industry and my FBLA advisor challenged me to start a company during summer break. We've since expanded to two locations and saved thousands of farm animals in the process. If you're in town and looking for a healthy, affordable meal, definitely check out Veggy Street!
Anything else you'd like to share?
Favorite Quote:
"Do you wish to rise? Begin by descending."

–Saint Augustine