Mark Klaiman, '88: Building a Dream Business with a Law School Foundation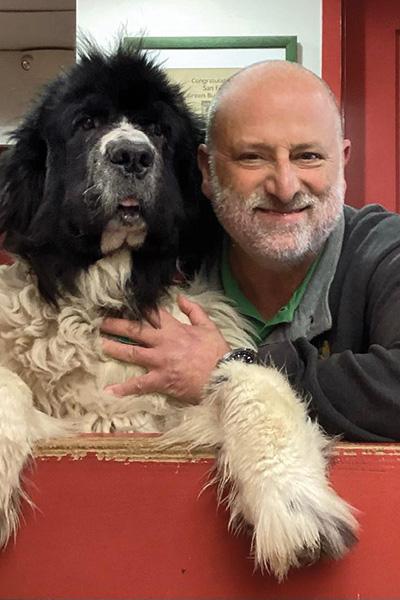 With the official job title of senior counselor at the 50-person organization he founded in 1997, Mark Klaiman, '88, serves a clientele that can fairly be described as adorable, playful, and furry. That would be the dogs and cats for which his San Francisco company, Pet Camp, provides daycare, boarding, and other services.
Klaiman and his wife, Virginia Donohue, dreamed up Pet Camp when they were working together at the US Environmental Protection Agency in San Francisco. They were both dog owners, frustrated by what was available for caring for their pets during the day or when they had to travel for work. "As surprising as it seems today, back then dogs that were boarded were kept in separate cages virtually all of the time and never permitted to play together," Klaiman said. "At that time, the major industry association for pet boarding considered socialization for dogs to be too dangerous and strongly opposed it."
What Klaiman and Donohue imagined was a place where dogs could roam, socialize, learn, and explore with supervision by expert counselors. (The separate Pet Camp serving cats was built later, opening in 2007.) The scope of their dream meant that they needed a big space, which was not going to come cheap in San Francisco. Since no one was willing to rent such a space to this couple with their far-out idea, they had to buy. Getting a bank loan for the 23,000-square-foot site they wanted was complicated by the fact that neither Klaiman nor Donohue had ever run a business.
For what would not be the last time, Klaiman's law degree proved valuable: "Our banker figured I could be trusted to make sound decisions—and I think he also trusted that if things didn't work out, I could find a good enough job to help repay the loan."
Today, Pet Camp's amenities include San Francisco's largest outdoor space for dogs, another indoor/outdoor space with a retractable roof, radiant heat, and a host of other features not usually associated with pet care. Everything is environmentally friendly. Among other things, Pet Camp was the first pet lodging facility in the country to be a certified green business, and at the time that its solar energy system was installed, it was the largest such system in the city. Cat Safari is also full of imaginative spaces and furnishings, so much so that some owners bring their cats in to celebrate their birthdays or when they want to give them a special treat.
Operationally, Pet Camp has a striking record. In an industry with an estimated 125 percent annual turnover rate for employees, some of Pet Camp's counselors and other staff have been with the company for 20 years, and about a quarter of them have been there for more than 10 years. Pet Camp consistently wins best-of awards, including being named for eight consecutive years as the best overnight pet lodging facility in the Bay Area.
Klaiman estimates that Pet Camp has served more than 750,000 pets in its 25 years, and he still actively cares for pets who come there. "It's what I love to do, still," he said.
The business hit a very big bump with the pandemic. "People weren't leaving home for work, and they weren't traveling. They didn't need us," Klaiman said. "It was brutal for a few years, but we're fully back now."
In good times and tough times, things Klaiman learned at the Law School have paid off. "From the beginning," he said, "my business decisions have benefitted from skills I got from the Law School—identifying the core issue, seeing options, questioning conventional wisdom, weighing alternatives, and all the other ways we learned for analyzing situations and creating sound solutions. The Law School was absolutely foundational in helping me and Virginia to do what so many people dream of doing—finding something we love and making a living from it."