Lyneir Richardson, '90: Applying Entrepreneurial Thinking to Urban Neighborhoods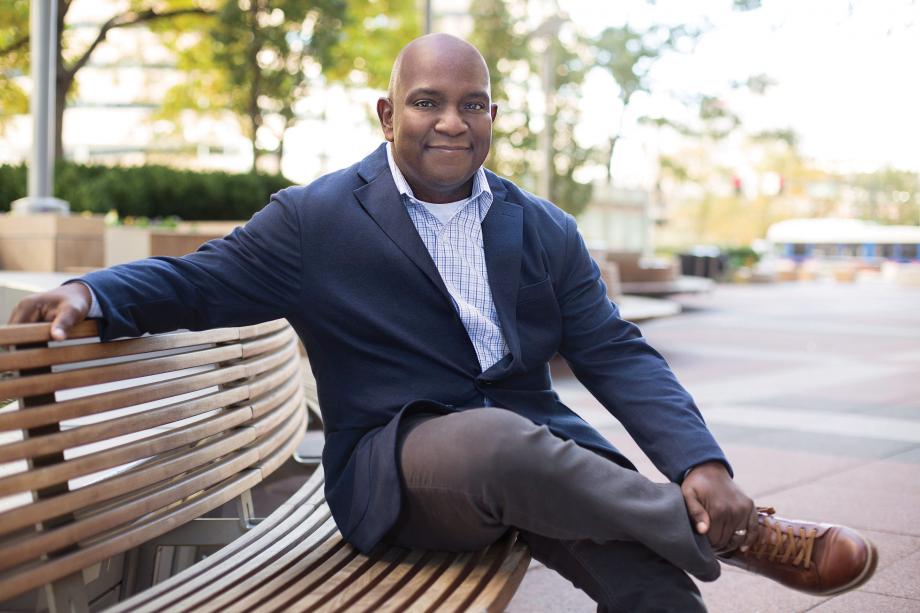 Not long after he arrived at the Law School, Lyneir Richardson, '90, selected the library cubicle where he preferred to study. "It looked out across the parking lot to Woodlawn," he recalled. "I was always very aware that there were two worlds there, Hyde Park on one side and Woodlawn on the other. And people perceived more value in one than in the other."
Much of Richardson's career has been dedicated to changing the perception and the actuality of value in disadvantaged communities. Today he's doing that in two leadership roles, as the CEO of Chicago TREND, a company that spurs the development of retail businesses to strengthen city neighborhoods, and as the executive director of the Center for Urban Entrepreneurship and Economic Development (CUEED) at Rutgers Business School in Newark, New Jersey. CUEED is the first center of its kind in the nation, integrating scholarly work with private industry, government, and nonprofits to promote entrepreneurial vitality in urban environments.
TREND (Transforming Retail Economics for Neighborhood Development) offers seed capital, predictive analytics, and financing to encourage and support the opening of retail businesses in transitioning communities. The company, which Richardson cofounded in 2014 with Robert Weissbourd, '79, launched with seven million dollars in funding from two prestigious Chicago-based foundations.
"In both of my roles, I get to enjoy the kinds of challenges that the Law School taught us all to relish," Richardson said. "There's deep, careful, innovative thinking, and there's intensely practical action. TREND uses new 'big data' analytical tools to help retailers recognize opportunities they could otherwise miss, and then we do deals—providing financing, signing leases and expediting the process. At Rutgers, I'm constantly interacting with faculty members who are doing breakthrough research on the connection between entrepreneurship and community revitalization, while I'm also teaching students how to see business opportunity in places that other people overlook or undervalue."
From 2009 until he began his current activities, Richardson was CEO of Brick City Development Corporation, the economic development catalyst created by the then-Mayor of Newark and now US senator Cory Booker. Richardson is credited with attracting more than two billion dollars of new investment through that agency, which won international recognition for structuring public-private partnerships.
He's no stranger to recognition. When he ran his own real estate company in Chicago from 1995 to 2004, growing it to 19 employees and eight million dollars in annual revenue, he was featured on the cover of Crain's Chicago Business and honored by the US Small Business Administration as the Young Entrepreneur of the Year in Illinois.  He started his career as a banking lawyer.
"Being entrepreneurial was in my genes," Richardson said. "My parents were serial entrepreneurs at the same time as they both held down full-time jobs. Among other things, they owned a bar, popcorn stores, and real estate on the west side and in the suburbs. The challenges and opportunities of running a small business came up practically every night at our dinner table—along with the expectation that my brother and I would to do big things in business."
In furtherance of that expectation, Richardson's mother—who, like his father, did not finish college—would drive him past the University of Chicago as they were on the way to church in Washington Park and tell him that one day he was going to get a great education there. "I could only barely imagine that," he said, "but she was right. I came of age at the Law School, starting with lots of doubts but ending up with the core confidence that whatever problem someone was facing, smart people could figure it out. Now, with the help of a whole lot of smart people, I'm able to help African-American entrepreneurs have a better shot at success and help community leaders create more dynamic and desirable neighborhoods. I like to imagine the day when the kinds of stark divisions that I first experienced from my cubicle in the law library will be things of the past."