Law School Clinic Secures US Supreme Court Win In ICWA Case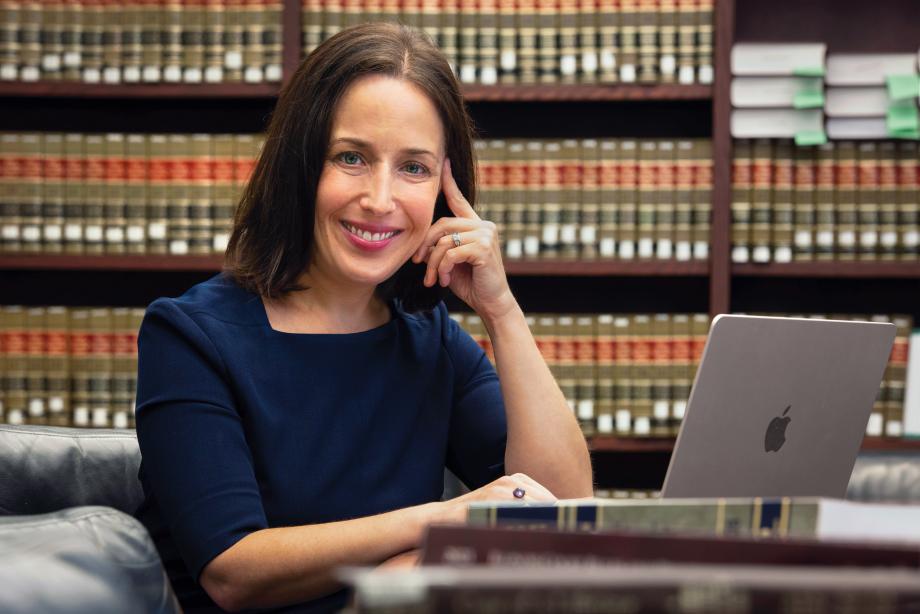 Law School students helped secure a major victory this past summer for Native American children and their families at the US Supreme Court.
Serving as co-counsel for three tribes, students and faculty in the Jenner & Block Supreme Court and Appellate Law Clinic contributed to a significant ruling in Haaland v. Brackeen, in which the Supreme Court upheld the constitutionality of the Indian Child Welfare Act (ICWA). That 1978 federal law aims to keep Native American children connected to their families.
The clinic was part of a team of lawyers representing the tribes in the Supreme Court. That team was led by the clinic's partners at Jenner & Block, including Keith Harper and Ian Gershengorn, who argued the case in the Supreme Court.
In a 7-2 decision issued in June, the Court, in an opinion written by Justice Amy Coney Barrett, concluded that Congress had the power to enact IWCA, which provides procedural and substantive safeguards, including placement preferences to tribal families, in the adoption and foster care of Native children. Justices Clarence Thomas and Samuel A. Alito Jr. dissented.
Clinic students analyzed opposing arguments, worked through strategy considerations, researched counterarguments and helped draft the 93-page brief the clinic and co-counsel submitted on behalf of their clients, the Cherokee Nation, Oneida Nation, and Morongo Band of Mission Indians. The student efforts came in collaboration with and under the supervision of clinic faculty members.
"This one stands out to me as an extraordinarily important case on a number of levels," said Sarah Konsky, clinical professor of law and clinic co-director. "The constitutional challenge to ICWA was very broad and sweeping with a number of different arguments. I see this as an important victory for tribal children and Indian families and for the implications of the ruling for tribal sovereignty."
Clinic experience in such complex matters serves as a valuable supplement to what students learn in class, Konsky said.
"These cases challenged students to think at a very high level about very challenging questions," Konsky said. "They're already learning the substantive law and how to think like lawyers and how to do rigorous analysis. And every part of what we're doing in the clinic is applying that in the real world in an advocacy setting."
This case is the latest of eleven in which the clinic has been co-counsel in Supreme Court merits cases since the pro bono clinic launched in 2016. The clinic's co-directors are Konsky, David Strauss, the Gerald Ratner Distinguished Service Professor of Law, and Matthew Hellman, a partner at Jenner & Block and co-chair of Jenner's Appellate and Supreme Court group.
As part of the experience, clinic faculty meet with students weekly to discuss cases and potential strategies and tactics. Students offer their insights and pose questions about cases.
"It's a great opportunity for our students to see and be part of great lawyering in really difficult cases. It's neat to watch that process unfold and see them grow as lawyers with us," Konsky said. "Our goal as a clinic is to give students an immersive advocacy experience where they're acting as appellate lawyers under the close supervision of faculty members."
Clinic students learn how to represent clients effectively in a setting that allows more time for teaching than would be possible once they enter the profession. Experience in making persuasive arguments and trying to move reluctant justices to a client's side is especially valuable to students who want to be appellate lawyers or litigators. At the same time, those skills are transferable, so they also benefit those who go on to work in transactional or other types of lawyering.
Students: Clinic a Unique, Collaborative Experience
Samantha Sherman, '22, said she was "incredibly excited and happy" that a Supreme Court win resulted from the combined efforts of her and other clinic students and faculty instructors.
"It's definitely a unique experience to see the opinion come out when you've been involved in working on the case. I don't think many lawyers get to experience that," Sherman said.
Through the clinic, Sherman gained real-world experience in different areas of the law as well as in legal research and writing and in the "strategizing, brainstorming, and creativity" that go into briefing and arguing a Supreme Court case.
"You have to think about how different justices might view an issue," said Sherman, now a clerk at the US Court of Appeals for the Seventh Circuit. "How are you going to get to five votes, essentially, on your clients' position?"
Crofton Kelly, '22, said he contributed to a research project on the ICWA case and, in other clinic matters, wrote research memos and parts of a petition for certiorari. He also wrote parts of a brief for a Seventh Circuit appeal and argued an appeal there. Kelly, a first-year associate in the Chicago office of Baker McKenzie, began a clerkship with a Seventh Circuit judge in August.
"The clinic emphasizes teamwork," Kelly said, "I learned so much from working with the other students and collaborating with faculty who are experts in appellate advocacy. The faculty were really invested in us; it was a great environment to be in."
ICWA Addresses "Devastating Effects" of Child Removal
The ICWA case was a direct response to the mass removal of Indian children from their families by state officials and private agencies from the 1950s through the 1970s, Justice Neil Gorsuch wrote in his concurring opinion. Gorsuch, who has emerged as a strong advocate of tribal rights, said this was the latest iteration of a policy under which federal and state officials placed a high percentage of tribal children in non-Indian foster and adoptive homes and institutions over the last 150 years.
"In all its many forms, the dissolution of the Indian family has had devastating effects on children and parents alike," Gorsuch wrote. "It has also presented an existential threat to the continued vitality of tribes—something many federal and state officials over the years saw as a feature, not as a flaw. This is the story of ICWA."
The statute, Gorsuch wrote, "installs substantive and procedural guardrails against the unjustified termination of parental rights and removal of Indian children from tribal life."
The clinic got involved at the merits stage, Konsky said, after the Supreme Court had granted certiorari and consolidated four cases. The petitioners asserted that Congress lacked the authority to enact ICWA and argued that several of the act's requirements violated the anti-commandeering principle of the Tenth Amendment. They also contended that the act employs racial classifications that unlawfully hinder non-Indian families from fostering or adopting Indian children. They further challenged a provision that allows tribes to alter the act's prioritization hierarchy, which usually favors Indian families and institutions.
In its ruling, the Supreme Court rejected all of the petitioners' challenges, Konsky said, some on the merits and some because petitioners lacked standing to bring them.
The decision is a "broad affirmation of the rule of law, and of the basic constitutional principles surrounding relationships between Congress and tribal nations," leaders of the Cherokee Nation, Morongo Band of Mission Indians, the Oneida Nation, and Quinault Indian Nation said in a joint statement. "We hope this decision will lay to rest the political attacks aimed at diminishing tribal sovereignty and creating instability throughout Indian law that have persisted for too long."
---
Todd Nelson is a freelance writer based in Lake Elmo, Minnesota.