Katherine Adams, '90, on Building a Career at the Intersection of What You Love and What the World Needs
Graduation Remarks to the Class of 2019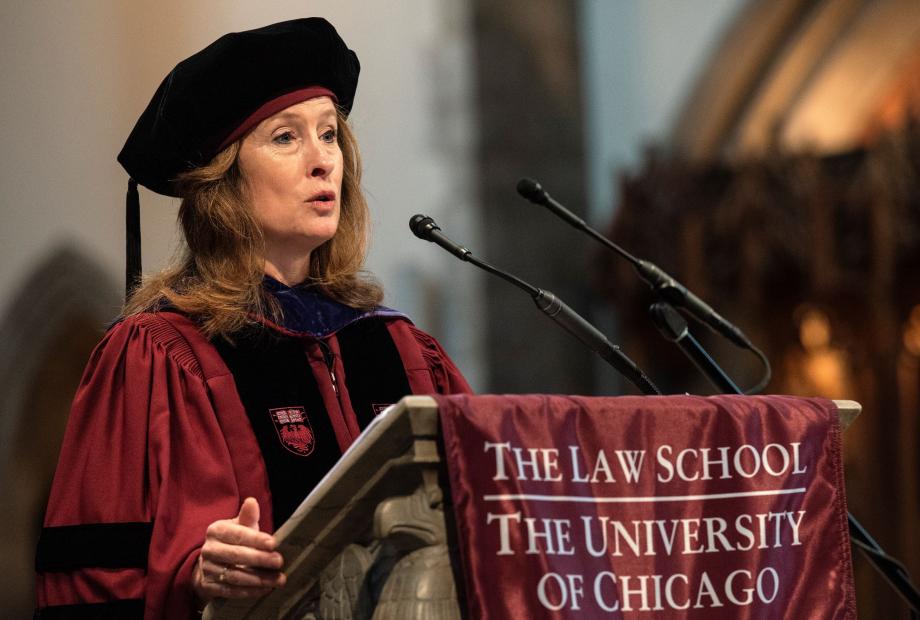 Thank you, Dean Miles, for that kind introduction.
Thank you, as well, to the faculty and administrators here today. I, and every one of the graduates, owe you a huge debt of gratitude for all that you have done for this school.
Class of 2019. Congratulations! You've done it!
Over the past three years, you've read hundreds of cases over what must have seemed like millions of hours. You've experienced the terror and the thrill of the cold call. And you've come out the other side even more impressive, more confident, and more sleep-deprived than you ever could have imagined.
So let today be a day for celebration.
And while you're celebrating, so are the people who helped make this moment possible.
The friends who studied with you. The family members who picked up those late-night, I-don't-know-if-I-can-do-this phone calls and reassured you: yes, you can do this. The professors who guided you, who explained the rule against perpetuities. And explained it again. And explained it again.
They're a big part of why you're here today. Keep in touch with them, because those professors could be a big part of whatever you do next. They certainly were in my case.
When I was at this law school, three professors—Geof Stone, Larry Kramer, and the late Paul Bator—helped secure me a clerkship with a man who was then Chief Judge of the First Circuit, a clerkship that defined the whole arc of my career. It turned out this judge had a huge impact, not just on me, but on our country: Stephen Breyer.
I also want to thank two other very important people: my parents. They weren't able to attend my UChicago graduation. So it means a lot to me that they are here today, along with my husband of 26 years, Duke.
My parents showed me at an early age what it meant to fight for something bigger than myself.
When I was eight, my parents founded the Natural Resources Defense Counsel, and I watched as they grew it from four volunteers in our living room to one of the most impactful environmental organizations in the world.
When I sat where you are now sitting, I could never have predicted how profoundly my career would be—and still is— influenced by the example they set and the sacrifices they made.
You too have made many sacrifices to get here today. The University of Chicago has developed some of the most brilliant legal minds of the past and the present. Lawyers who have achieved great success, who have shown the law can have a profound impact on the world
You are part of that community now.
And you've earned your place in it. No one handed it to you. You've also earned yourself an exciting challenge: what are you going to do with this degree, with this amazing education you've been privileged to receive here?
Your degree only means something if you use it to do something . . . To help those around you, to fight injustice, to heal our planet.
So, how do you do that? How do you build a career at the intersection of what you love and what the world needs? That's what I'd like to talk to you about today.
The paths laid out in front of you are numerous and familiar. You've been working toward them ever since you set foot on this campus.
But whatever path you choose—whether you work at a law firm or a nonprofit . . . or in government or academia—I urge you to make sure that every step you take outside these gates is an intentional one.
This is the first of two things I want to share with you today.
Always move forward—but always make sure you're moving in the right direction for the right reasons. Now, the right direction isn't always apparent. If it was, no one would ever make a misstep or take a wrong turn or feel confused. But that's all part of the journey.
Wherever you go, make sure it's not because it's expected of you, but because it holds meaning for you, and meaning beyond you . . . that it contributes to something larger and makes our world a better place.
I say this because it's hard to do.
It's hard to be intentional about each step you take.
It's hard to advance through your career deliberately.
It's hard—but it's worth it.
My own path has not been a straight line.
After clerking for then–Chief Judge Breyer, I worked at the Department of Justice . . . then had the unexpected opportunity of a lifetime to clerk for Supreme Court Justice O'Connor.
From her I learned that I could work harder—so much harder— than I ever thought possible. She showed me that commitment is only a virtue when it is balanced with compassion—compassion for the people you work alongside and compassion for the people your work will impact.
She brought a deep sense of responsibility and was always aware of the profound consequences her decision making had on the world. And she supported me, as a young woman in the law, in a way that I can never fully repay.
Every day, I try to do the same for others. To build teams. To lend support. To inspire them to make a difference.
The law is inherently adversarial; lawyers thrive on competition. But I'll tell you this: you're going to accomplish so much more when you work as a team; when you bring people together for a common purpose.
Like many of you will do, the first team I joined, after the clerkship, was a law firm. The work was thrilling. I felt like I was growing and learning.
I had the chance to work on high-stakes cases for high-powered clients. And I had the chance to help shape the firm's culture—to push our teams to become more diverse, more inclusive, and more supportive.
After eight years at the firm, doing work that I loved, supporting and being supported by colleagues I cared about, I was fortunate enough to make partner.
And I thought: this is it. This is what I've worked for; this is where I was meant to be.
And it was.
Until it wasn't.
Sometimes, what was once the right direction isn't any longer. Because life isn't static. We change and we learn and we evolve. Reorienting yourself is rarely easy, and it doesn't all happen in a single moment. It's a lifelong process.
And realizing this was uncomfortable.
Because if my job at the firm was no longer what I wanted, I wasn't sure what was.
Then I had an opportunity for a very different kind of job.
Honeywell, a multinational industrial company, was looking for a new general counsel. It wasn't what you would call a cushy job. The company was in dire straits. The general counsel position was described to me as "running into a burning building."
Which, by the way, is usually the opposite direction from where you want to go.
Not surprisingly, my colleagues at the law firm thought I was insane to consider it.
Having worked so hard to make partner, why on earth would I leave? And leave for... this?
But something about it just felt right.
I wanted to do something new. Something difficult. To take a job where I might just fail. I wanted to see if I could do my best work in that challenging environment. To see whether I could make a difference.
It wasn't part of my original plan. But suddenly it seemed like it ought to be.
And this is the second thing that I want to share with you today. I began by asking you to be intentional. But I'm also asking you to do the opposite. To open yourself to serendipity. To the surprising, even crazy opportunities that life presents you.
I know this sounds like a contradiction. But it really is possible to do both.
You've got to be intentional about what matters to you most—your goals, your values. For me, that meant feeling like I was doing my best work . . . contributing to something larger than myself . . . creating something that would last . . . and leaving the world a better place than I found it.
These were my prerequisites.
But over time, I became more open to how and where I would achieve them.
When I joined Honeywell, the company's record on the environment was so bad politicians returned its campaign donations. Of all the things in my career, one of the things I'm most proud of is the profound changes we made to the company's culture and its legacy. Honeywell is now widely recognized as an environmental leader.
And by taking a chance, I got to play a role in that.
Serendipity then led to another opportunity—really, the opportunity of a lifetime. That's the job I have now, as general counsel and senior vice president at Apple.
Apple, for me, seems like the place my path was leading all along.
It is the place where all the threads of my career draw together.
You are entering a world that is more complex than it's ever been. But I believe the problems we all face are solvable.
But they are only solvable if we commit to solving them. That's hard work, it's necessary work, and there's no one more qualified to tackle it than you.
You have all the tools at your disposal and the power of the law on your side.
Apple has shown the world that a company can be a force for good. Apple has done that in the products we create, the way we make them, and the people whose lives they touch.
We're not afraid to use the law for good—to call for tougher regulations to protect our customers' data, to stand up to  governments when we believe fundamental human rights are at stake, and to fight to change the laws when we believe they are unjust.
We are using the law to create a legacy we can be proud of.
We are showing the world that true success means leaving the world better than you found it.
It means running on entirely renewable energy, closing the loop on materials we source, pioneering new research for the greatest health challenges we face. It means standing up for groups that are facing discrimination, always being open to everyone, and it means using every tool we have, including the law, to fight for good in our world.
This is where I was always meant to be. But I never would have arrived here had I not learned to balance serendipity and intentionality. If I hadn't been willing to drive forward with purpose, while also being willing to deviate from the path.
So, that's the charge I'd like to leave you with.
Stay agile and stay open. Life will offer you some unexpected opportunities. Take them seriously. Consider whether they will allow you to grow—and allow you to give.
Ask yourself, always: "Is this how I can best help the world?"
Even if you don't know the answer, keep asking.
Graduates, you have the power to shape the future. The power to change the world for the better. The law is one of the most powerful forces in our society. Marshall it for good. The world needs you to make a difference—to protect the planet we share and the people on it.
And I can't wait to see what you will use that power to do.
Thank you and congratulations!