Katherine Adams, '90: Bringing the Family Passion for the Environment into the Boardroom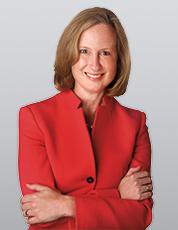 Katherine (Kate) Adams, '90, is senior vice president and general counsel of Honeywell, the broadly diversified global Fortune 100 company. Last year, The Legal 500 recognized her as one of the most powerful corporate legal advisers in the United States.
Adams has been at Honeywell for eleven years, five of them in her current position. Before joining Honeywell, she was with Sidley Austin in New York for a decade as an associate and partner. She went to Sidley after having clerked for Justice Sandra Day O'Connor. Before that she was a trial attorney in the US Department of Justice and clerked for then–Chief Judge Stephen Breyer on the First Circuit Court of Appeals.
With a staff of roughly 1,000 people (about 250 of whom are lawyers), Adams manages Honeywell's global legal strategy and its compliance, global security, and government relations activities. She is also accountable for the company's diversity and environmental sustainability programs—two areas of particular significance to her. Her parents founded the Natural Resources Defense Council in 1970 and led it for many years. Adams is proud of Honeywell's contemporary environmental record and the fact that a large number of its products contribute to sustainability.
"I have never experienced any conflict at Honeywell with the environmental values I grew up with," she says. "Private enterprise is the engine of change in our society; its capacity for fast, powerful, and lasting influence is immense, and Honeywell has in many respects led the way in environmental responsibility within its sectors."
Adams views her commitment to diversity as a way of giving back: "So many people have helped me find opportunities and grow from them; starting with Paul Bator and Larry Kramer at the Law School. Without them I would not have gained my clerkship with Judge Breyer. Advancing diversity is not just the right thing to do, and it's not just important for Honeywell's immediate and long­term success, it's a way for me to honor some of what has helped me in my career." Adams serves on the steering committee of the Honeywell Women's Council, is an active member of the Leadership Council on Legal Diversity, and has sent many Honeywell lawyers through the LCLD fellowship program. She also tracks the diversity performance of outside counsel and bases selection and retention decisions on that performance. In addition, she initiated a Honeywell program in which diverse attorneys from outside firms work within her organization.
Adams reports to Honeywell's CEO David Cote, who last year was named by Barron's as one of the world's best CEOs and by Chief Execu­tive magazine as its CEO of the year. Her training at the Law School pre­pared her to contribute on the business side as well. She says, "When a great faculty like Chicago's empties your mind of what you thought you knew—sometimes a bit painfully, but always valuably—and then teaches you how to dissect problems, find their component parts, and rearrange those parts in a better way, you're not just learning how to be a top­notch lawyer, you're learning how to think incisively about any problem, anywhere. Honeywell's leadership has welcomed the application of that skillset to business challenges and opportunities. I have tried as general counsel to be sure that lawyers' problem­solving capabilities are integrated into the business, not siloed off. I think that's been beneficial for everyone."
Adams has taught environmental law at Columbia and New York University. She is a director of the Institute for Legal Reform and a trustee of the Geraldine R. Dodge Foundation. She lives in Princeton with her husband of 20 years, Duke Wiser; their son Woods; and their daughter Harriet. "Great organizations make it possible for their employees to have full and rewarding lives, at work and outside it," Adams says. "I have been strongly supported in achieving that goal at Sidley and at Honeywell. It can be done—and we are committed at Honeywell to continuing to help people do it."