Julie Fernandes, '94: Building a Career from One Interesting Job to the Next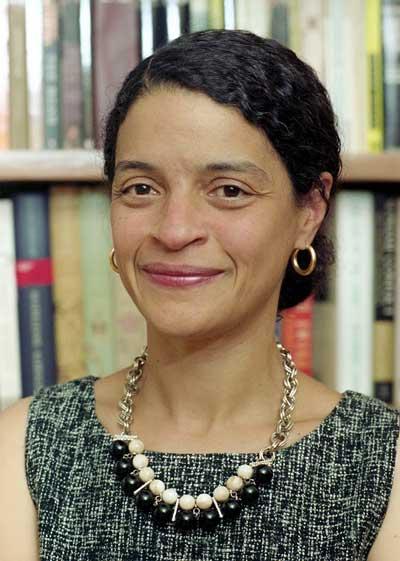 Not long after she graduated from the College at the University of Chicago in 1987, Julie Fernandes, '94, met an influential mentor, the Chicago civil rights leader Al Raby, who gave her some life-shaping advice: "He told me, 'If a job seems interesting to you, take it. If you like it, keep it. If you don't like it, find another one.' For a person just out of college, that advice was so liberating—a message to keep figuring out what wakes you up and always be doing work that makes you feel most fully alive." Fernandes has held many different positions since leaving the Law School, and each time she took on a new challenge it was to follow a louder wakeup call summoning her to action.
"My jobs since law school have each been a different mixture of law, policy, and politics," Fernandes says. "Each aspect is important, but they stretch different muscles and present different challenges."  Her first three jobs out of law school fit primarily into the "law" category. The first was a fellowship at the American Civil Liberties Union, where she was involved in litigation from the start, challenging educational discrimination, particularly in the Deep South. Next came a year clerking for Seventh Circuit Judge Diane P. Wood, and after that a few years as a trial lawyer at the Civil Rights Division in the Department of Justice (DOJ).
Her DOJ position morphed into a policy/politics role when she was assigned as a special assistant to President Clinton at the White House Domestic Policy Council, and when she returned to the DOJ, she took on a policy-focused role as an advisor to the Assistant Attorney General for Civil Rights.
Then came six years of mostly politics at the lobbying arm of the civil rights movement, the Leadership Conference on Civil and Human Rights. There, she helped lead campaigns to reauthorize the Voting Rights Act and to pass the Lilly Ledbetter Fair Pay Act. Then there were two years back at the DOJ's Civil Rights Division, as deputy assistant attorney general, primarily focused on voting rights, enforcement of Title VI of the Civil Rights Act, and international human rights issues.
Her year as the director of the Alliance to End Slavery and Trafficking, full of policy and knee-deep in politics, resulted in many accomplishments, including the signing by President Obama of an executive order strengthening protections against human trafficking.
"I'm a liberal Democrat, and proud of it," she says, "but I think the things I've always fought for are absolutely nonpartisan matters of human rights and dignity. I have worked with people from across the political spectrum in everything I've done, engaging everyone I can reach to eradicate discrimination and abuse. I owe a lot of my ability to embrace that approach to the Law School, where discussion, debate, and constructive confrontation were welcomed everywhere—in classrooms, in hallways, in the Green Lounge. Nothing sharpens your perspectives—and your wits—more than the kind of earnest encounters I had every single day with very smart people who approach legal and policy issues from a wide variety of perspectives. It was the most valuable thing that could have happened to me; it's been a large part of making me the person, lawyer, and advocate I am."
Her current position, at the Open Society Foundations, is an intense combination of law, policy, and politics. With a portfolio that includes voting rights, campaign reform, and racial justice, she examines policy options, considers changes to obstructive laws, and works the politics of making change happen. She's also on the board of directors of the American Constitution Society, and you can catch her on television shows with Chris Matthews, Chris Hayes, and others.
"I'm not going to say my work isn't frustrating sometimes, but you find a place where you can help, you bite into a piece of a problem, you do what you can, and you live to fight another day," she says. "And I have a great family, my husband and two wonderful children, who matter more to me than anything else. I wake up every day happy to be who I am where I am, and happy to be doing what I'm doing."