Engaging the Human Side of Human Rights Work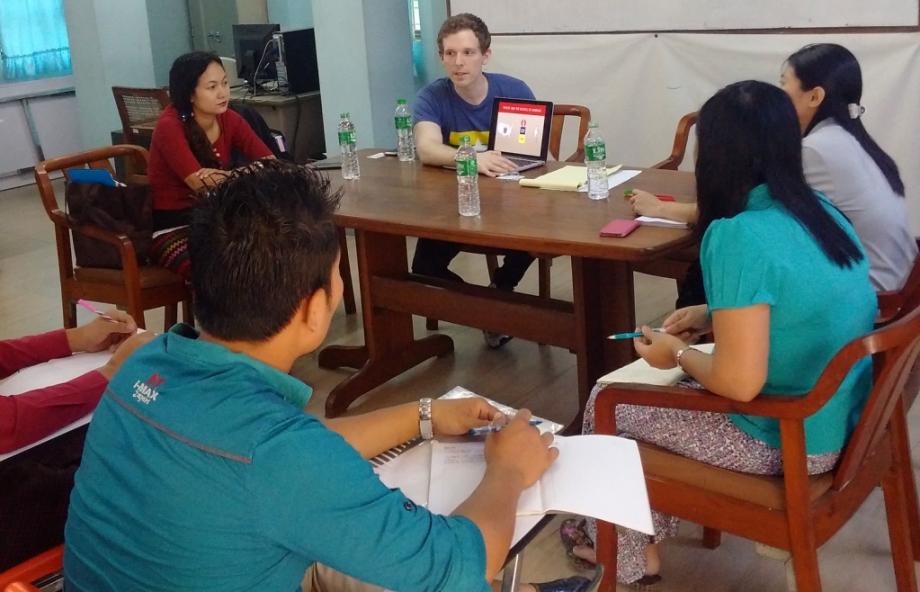 On her first morning in Zimbabwe last month, Kaitlin Beck, '17, still jetlagged from her 25-hour journey the day before, walked into a meeting with a prominent women's rights activist and learned the things her textbooks hadn't taught her.
As a member of the Law School's International Human Rights Clinic, Beck had spent months reading and writing about Zimbabwe's 2013 constitution and its impact on women's rights, delving into issues of marriage, housing, domestic violence, and gender equality for a report that the clinic would eventually share with a women lawyer's association in that country. But as she listened to Netsai Mushonga, National Coordinator of the Women's Coalition in Zimbabwe, Beck began to understand the reform efforts in a new way. Suddenly, the issues were infused with the nuances of human experience and the day-to-day realities beyond the language of the law—and suddenly, she saw challenges that weren't apparent back in Chicago.
"We'd thought child marriage was a non-issue because, in January, [Zimbabwe's] Constitutional Court had ruled that the constitution explicitly and without exception bars the practice—and so we'd taken it out of our report," said Beck, one of seven students who traveled abroad for the human rights clinic over spring break. "But one of the first things Netsai Mushonga told us was that change doesn't come from the constitution or the courts—there's little executive oversight, and the laws are enforced selectively. What you really have to do is win the hearts and minds of people. It was jarring from an American perspective that—even after the implementation of a constitutional prohibition against child marriage, and a positive judicial interpretation of that provision—there could still be work to do."
Soon, Beck's mind was swirling with new information and exploding with ideas. As she lay in bed back at the hotel compound that night, she furiously outlined her thoughts on her phone: legislation the clinic could help draft, awareness programs they might help create. Now, amid all the complexity, she also saw potential—and it was exhilarating.
Her experience underscores a central piece of human rights advocacy: desk review is only half of the work. The other half is all about understanding people and their experiences, which is why in-person meetings and first-hand experience in foreign countries can be an essential component for law students who are learning about international human rights law.
"Part of what the clinic tries to do is really think about human rights advocacy broadly—it's not just about writing reports and turning those reports over or writing legal arguments and turning those legal arguments over," said Assistant Professor Claudia Flores, the Director of the International Human Rights Clinic. "The students are actually thinking about the efficacy and the sustainability of the work they they're doing."
In addition to Beck, two clinic students went to Morocco and two went to Vietnam to do constitutional reform research for a report that will be presented on May 6 to UN Women, the United Nations Entity for Gender Equality and the Empowerment of Women. Two others traveled to Burma, also known as Myanmar, as part of a workers' rights project to assess the US State Department's reporting policies and procedures for American corporations investing in the Southeast Asian country.
The Burma students had spent several months researching the requirements—which are designed to ensure that American companies are not contributing to human rights abuses—before traveling to the country, where they spent the week meeting with local unions, NGOs, and the American chamber of commerce.
"It's one thing to write with an academic purpose—you think, 'How can I make this better?' but you don't necessarily think about the human dimension, about how it can actually be useful to someone," said Roee Talmor, '17, who traveled Burma with Cornelius Cornelssen X, '16, and Flores. (Talmor later wrote about the project on the Huffington Post). "But when you start discussing it with stakeholders, you really start to see all the opportunities for how [your work] can be useful, how you can keep advocating and pushing. I have so many ideas now about how to push the project forward."
Cornelssen was particularly struck by the stories he heard from union members about work conditions and the organized labor movement in Burma.
"We heard about employers firing union members just for being union leaders, and some of the people we met with were out of work," he said. "That's a very real and tangible takeaway to meet people who were out of work just because they'd tried to organize. On our last day, Roee and I also met with union leaders who, three years before, had been considered terrorists. Unions were outlawed at the time, and these leaders were in exile. That was pretty powerful to think about."
As part of their project, the students submitted comments to the US State Department recommending that the reporting requirements be revised to require American investors to disclose the identities of subcontractors, suppliers, and business partners to ensure transparency and accountability in all their dealings. They also recommended that companies be required to share information about their efforts to protect workers' rights throughout the supply chain.
"This is probably some of the most substantive and meaningful work I've done as a student," Cornelssen said. "I felt like I was impacting lives, and these meetings provided a context for the reports and accounts we'd read."
Flores—who traveled the world as a human rights lawyer before joining the Law School faculty last summer—said that's exactly what these trips are about.
"In the first quarter, the students working on the Burma project spent a great deal of time really learning about the legal issue—looking into the sanctions mechanism, looking into accountability mechanism, looking into the State Department's role and looking into similar report requirements in other contexts," she said. "But there was still a lot of social and political context that they didn't quite understand. In Burma, they could see what was really happening. If you don't do that second part of the advocacy, a lot of human rights efforts end up being ineffective or not nearly as effective."
Dylan Cowart, '17, who traveled to Vietnam for the constitutional reform project, said it was illuminating to engage with people impacted by the women's rights reforms he had been researching.
"We had done a very thorough desk review and these laws seemed very robust—it seemed as though there were mechanisms through which women could access these rights and redress the rights if they were wronged," he said. "But in practice it is much more complicated than that."
For instance, the law allows Vietnamese women six months of paid maternity leave. But that law only includes formal employment; a woman who works in a small pho stand on the street might not have access to that benefit—and other laws, including the minimum wage, might not be enforced.
"The streets are lined with these types of shops, and there is often a disincentive for businesses to become formal," he said. "Until the government ramps up its formalization of businesses, many women just can't access these rights."
For Cowart, the clinical experience has meant gaining skills and knowledge he might not have gotten anywhere else.
"This project allowed me to not only increase my skills as a strong legal reader and thinker but also as an advocate," he said. "It has been all about how you advocate for your client—and how you advocate for communities."