Contagious Compassion
For Elle D'Amore, 1993–2020, There Were No Strangers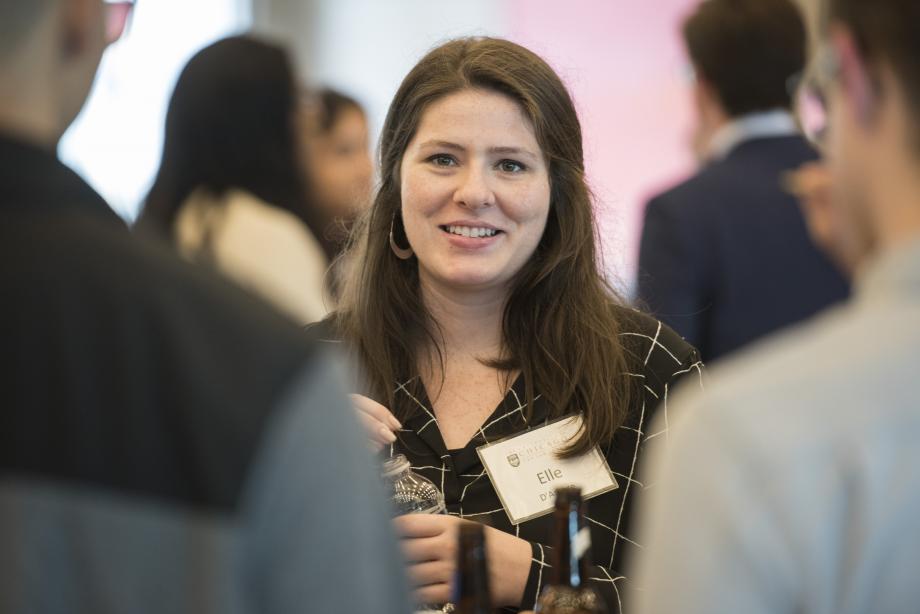 Elle D'Amore, '22, once sent a weighted blanket to a friend who was having trouble sleeping. Another time she ordered flowers for a grieving family she barely knew. And when she'd show up at a friend's home, she'd often insist on bringing an entire cheese board or multiple desserts.
"She couldn't arrive any other way," said Caroline Ferguson, '22, the recipient of the weighted blanket. "She wanted to be sure all of the guests, even if they weren't her guests, felt taken care of, no matter the cost to her."
Potential friends were everywhere for D'Amore, who entered the Law School in 2019 and quickly became one of the most active members of her class.
"She would reach out and talk to anybody and everybody," said Kelly Gregg, '22. "There were no strangers at the Law School, or probably anywhere, for Elle."
D'Amore, who grew up in the suburbs of Portland, Oregon, died of a brain seizure in late May 2020. She was 26.
"Elle D'Amore had a tremendous impact on her classmates and professors, and our entire community grieves the loss of an extraordinary student and friend," said Dean Thomas J. Miles, the Clifton R. Musser Professor of Law and Economics. "Elle engaged fully in the life of the Law School, and we are grateful for her deep commitment and compassion. Our most heartfelt sympathies go out to her family and to all who knew her."
A 2015 magna cum laude graduate of New York University, where she majored in philosophy and psychology, D'Amore came to law school after working for four years as a paralegal. During college, she held a variety of legal internships, including at the Multnomah County District Attorney's Office in Portland.
D'Amore was enrolled in the Law School's Doctoroff Business Leadership Program, and last fall she participated in the inaugural Pre-Orientation Program. She was a member of the Law Women's Caucus, the Hemingway Society, the Women's Mentoring Program and the Impact Initiative. Shortly before her passing, she was elected to serve as a 2L representative to the Law Students Association (LSA), and friends said she hoped to use that platform to improve access to disability and mental health resources on campus.
"I had the pleasure of teaching Elle in the Pre-Orientation Program," Miles said. "Our Socratic dialogue in the mock class was likely her first 'cold call.' Her enthusiasm for learning the law and fully engaging with the opportunities and community at the Law School were evident even in those earliest days."
D'Amore also had been selected to serve as an Orientation Leader in the fall of 2020. Friends said it was a good fit for someone who excelled at rallying her peers, be it to generate support for a cause, to champion an idea, or simply to drum up interest in another round of drinks.
"Elle was such a special person," Dean of Students Charles N. Todd said. "She loved her time at the Law School and loved building community. She told me how excited she was to be an Orientation Leader and help welcome the next class to the Law School. I feel very lucky to have known her this year, and I know that her classmates and professors feel the same."
Gregg said that at least two professors have remarked that the Class of 2022 seems particularly close, friendly, warm, and supportive—and Gregg can't help but think that D'Amore was a catalyst.
"Elle played a disproportionately huge role in shaping our class's culture and building that sense of community," she said.
Directness with a Touch of Humor
D'Amore's compassion wasn't simply an untethered sweetness; it came deftly entwined with purposeful candor and a clear sense for what mattered most, friends said.
"More so than anyone I've ever known, Elle possessed the ability to share her honest thoughts on absolutely anything without ever being off-putting," said David Johnson, a student in the University's social sciences master's program who had planned to share an apartment with D'Amore during the 2020-2021 academic year. "She mixed her directness with a touch of humor and a ton of honesty that was as entertaining as it was endearing."
She gave herself—and others—permission to be silly, bringing an infectious levity and, often, a dose of perspective to situations. At one point, a friend asked D'Amore, who had struggled with epilepsy, how she managed to remain so calm, especially with finals approaching. Law school, she said, wasn't just about top grades—it was about learning and questioning the law, and it was about building relationships with peers and professors.
"Nobody had their priorities straight more than Elle," Johnson said. "The way she approached each day showed that, while the goals she was striving for were meaningful and worthwhile, she deeply treasured all of the relationships she made along the way. She never for a second lost sight of how important the people in her life were. This outlook is something many people preach but very few practice. Certainly very few practice it as effectively as Elle did each and every day."
Her authenticity and determination were often apparent in class—and were on particular display during a memorable cold call last fall in Professor Emily Buss's Civil Procedure class. Throughout her response, D'Amore kept using "he" to refer to a hypothetical judge, a reflex she repeatedly corrected by adding, "Or she!"
A friend recalled D'Amore's mounting frustration as she tangled with the pronouns, an exasperation that reached its head when she announced: "I don't know why I keep doing that—I'm a feminist!"
Buss, who remembers D'Amore as "strong, with a sense of humor and independence of spirit," said the exchange was, for her, a defining moment of the fall class.
"It was raw, and human, and funny, to hear her berate herself out loud, and then ultimately to feel called upon to declare, at least once, maybe several times, 'I'm a feminist!' " Buss said. "She most certainly was, in the untidy way most of us are, and her ability to share this with the class, the passion of her commitments, encumbered by the limits of the human psyche, was precious to me."
Happy and Loving from the Start
D'Amore grew up in West Linn, Oregon, outside of Portland, with her parents, Tom and Lisa, and two brothers, Brian and Matt.
"From the moment Elle arrived, she was a sweet, easy-going, happy, and loving baby, so much so that she was given nicknames such as Sweet Pea and Angel Baby," her family wrote in a memorial. "Her temperament did not change as she grew into a toddler and young child. Elle was thoughtful, helpful and kind, and we often called her Sister Mary Elle. This lasted until she tired of the daily antics from her two brothers and so Elle developed her quick wit, sarcasm, and fierce independence."
D'Amore was disciplined and competitive, and she loved sports. She played volleyball, soccer, and basketball and could make "the most serious, unflappable coaches crack a smile," her family wrote.
In high school, peers and teachers gravitated toward her, and she created many long-lasting friendships.
When it came time for college, she headed to New York, where she "instantly fell in love as her ambition, toughness, and boldness meshed so perfectly with the big city," her family said.
She served as a resident assistant in her dorm at NYU, welcoming new students with personalized door signs. She took on projects that held meaning for her, including mentoring underprivileged high school students and serving as the education chairwoman of her sorority. During her junior year, she studied abroad in Prague.
"Many weekends her new (and forever) friends explored a new country not wanting to waste this special time," her family said. "One of these friends, and future roommate, put it best when describing Elle's impact on the group: 'She was the glue that brought our friend group together there, and it is thanks to her that we all remain friends to this day.'"
During and after college, D'Amore struggled physically and emotionally with epilepsy.
"She experienced nocturnal grand mal seizures that, at times, left her with a bruised body, swollen lip, broken nose, or dislocated shoulder," her family wrote. "Yet, being the strong, empathetic woman she was, she tended to carry her burden silently, as she didn't want the disorder to define her or for her family or friends to worry about her."
Epilepsy didn't stop D'Amore from pursuing her dream of law school, and she threw herself into studying for the LSATs while also working full time as a paralegal at King Street Capital in New York.
"She owned every LSAT book published, an LSAT watch, LSAT study guides, and probably slept on an LSAT pillowcase," her family said. "Even as her seizures continued to plague her, she remained steadfast in sticking to her rigorous study schedule. It's no surprise, all her hard work paid off."
An Ottoman Full of Greeting Cards
When she arrived in Chicago last fall, D'Amore found another new home.
She was exceptionally happy, her friends said, and she seemed determined to share it. Her classmates tell story after story about her instinctive generosity: the empathetic word that came at just right moment, the "just because" gift that arrived out of the blue, the ease with which she gave of herself to others.
"Even right after meeting Elle, she would treat you like an old friend," said Simon Jacobs, '22. "It was hard to go to the Pub with her, because she'd insist on buying all the rounds—we'd have to bargain for her to let us get something."
Jonathan Concepcion, '22, once complimented a pillow on D'Amore's couch, telling her it was the "most comfortable thing I had ever touched." A few weeks later, she surprised him with a blanket made from the same material. 
When the last Coffee Mess of winter quarter was curtailed because of the growing coronavirus pandemic, she swung by Medici and picked up a plate of pastries to share in the Green Lounge.
"She decided to hold her own Coffee Mess—she was just there handing out pastries," Concepcion said. "You just don't get many friends like Elle in life."
Her affinity for greeting cards was legendary. She had an accordion folder with cards for different occasions in her apartment—and even more stashed in a storage ottoman.
"I have a pile of letters that she wrote me in the short time that I knew her," Ferguson said. "She wore her heart on her sleeve and wanted all of her friends and the entire 1L class and Law School community to know how much she appreciated and loved us."
Gregg's most recent birthday fell during spring quarter when she and her friends were quarantining in different places—but that didn't stop D'Amore from circulating a group card.
"She wrote the kindest note in my birthday card, before sending it to California for our friend Simon's note, who sent it to David in Chicago, who signed it and delivered it to me," Gregg said. "Just the coordination alone was touching, but the sincerity and the warmth of her note to me is something I'll treasure forever."
Professor Lior Strahilevitz, who had D'Amore in his Property class, said he was delighted when he discovered that D'Amore and several of her friends were the top bidders on the item he had donated to the CLF auction—an evening of dinner, drinks, and Settlers of Catan at his home.
"She was such great company, and I anticipated the evening would be lively and go late," Strahilevitz said. "Elle D'Amore was an extraordinary student who formed many close friendships and inspired so many of us during her 1L year. She was empathetic, energetic, brave, and warm."
After her passing, Strahilevitz told his students that they were welcome to gather at his Zoom office hours.
"I was expecting a handful to show up on short notice, but 45 of her classmates joined us the afternoon before their first final exam," Strahilevitz said. "Their presence and the touching stories they told each other are a moving testament to how profoundly her loss is felt."
Professor Saul Levmore, who had D'Amore in his Torts class, and later in his Business Organizations class, remembered her as someone who was "so loved, talented, smart, and forward looking."
He came to know D'Amore well, even meeting her parents and once having dinner with D'Amore and several of her friends. He spoke with her just a few days before her death.
"One of Elle's last words to me was that she was trying hard to be optimistic about her future … it is a way of thinking that I hope she has passed on to her teachers and her friends," Levmore said. "When I think about the great personal and professional promise that is now gone, it reminds me, as I hope it does her friends and classmates, that they must strive to make the best of their lives. I think my interactions with Elle helped me appreciate her friends and her parents (and even my own life) even more than I would have otherwise."
In lieu of flowers, donations can be made to the Elle D'Amore Angel Scholarship Fund. (The link will take you to a main giving page, and donors should note under "special instructions" that the designation is for the Elle D'Amore Angel Scholarship Fund).