The Class of 2022 Achieves New Record in Pro Bono Service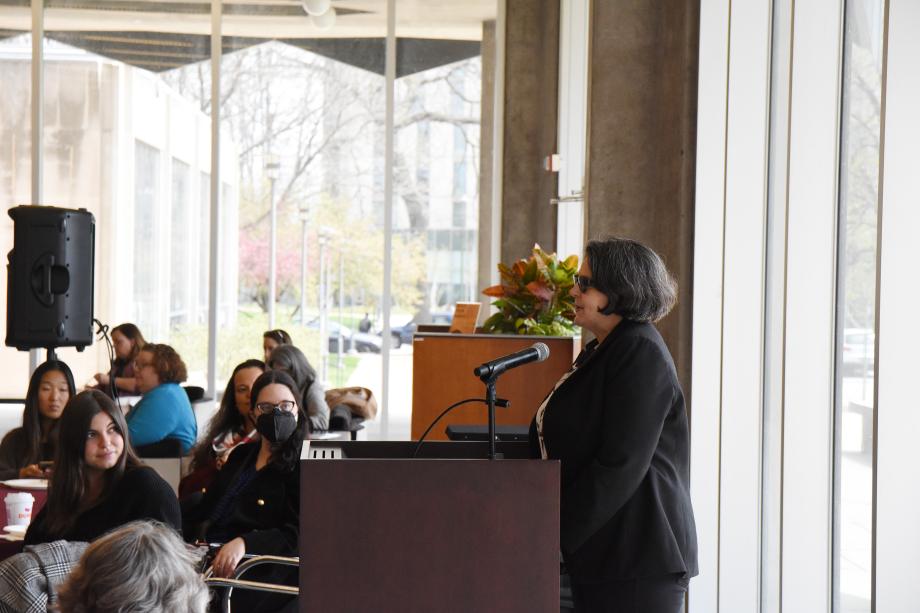 Law School students continued to demonstrate a commitment to public service through the Pro Bono Pledge this year. Eighty members of the Class of 2022 completed the Pledge to work at least 50 pro bono hours. Thirty-one members of the Class completed more than 250 hours, earning Pro Bono Honors recognition. Ninety-six students in total contributed a combined 15,932 hours during their time at Law School.
Jacqueline Horwitz, '22, earned the Pro Bono Award of Excellence, logging 1,244 hours throughout her time in Law School. Additionally, Susan Curry, senior director of public interest law and policy, and Hannah Fine, pro bono and public interest coordinator, presented public interest awards, including the James C. Hormel Public Service Award to Mikaila Smith, '22, and the 2L Public Service Award to Ale Clark-Ansani, '23. The National Lawyers Guild received the Student Organization Pro Bono Award.
Rebecca Glenberg, '97, senior supervising attorney at ACLU of Illinois, delivered a keynote address prior to students receiving their awards.
Students who earned Pro Bono Honors recognition
Wilson Boardman
Jacob Botros
Nicole Briones
Tawkir Chowdhury
Robert Clark
Jess Clay
Jason Clayton
Jonathan Concepcion
Lina Dayem
Clare Downing
Katya El Tayeb
Jake Ferzacca
Meera Gorjala
Jacqueline Horwitz
Jacob Johnson
Kimberly Johnson
Carol Kim
Rekha Korlipara
Sara Maier
Benjamin Mann
Alexander Meade
Jacob Mitchell
Eduardo Morera
Rachel Murphy
Zachary Reger
Alec Sandler
Eric Singerman
Mikaila Smith
Caitlan Sussman
Andrew Zeller
Carol Zhang
Students who completed the Pro Bono Pledge
Hannah Abrahams
Ariel Aiash
Willy Aquino
Edmund Bannister
Viranpal Batth
Nena Benavides
Brian Bornhoft
Mitchell Caminer
Ryne Cannon
Angela Chang
Jennifer Chang
Kevin Chapman
Kyra Cooper
Alexandra Cullen
Sophie Desch
Stephen Ferro
Austin Feuer
Darby Findley
Hannah Fisher
Natalie Griffin
Kiyon Hahm
James Jones
Briana Katinic
Rachel Katzin
Crofton Kelly
Jordan Kleist
Kelsey Laabs
Angel Lockhart
Katherine Luo
Mark Marzziotti
Keila Mayberry
Kelly McGee
Sophie Mirzaian
Ryann Moelis
Savannah Mora
Hallie Saunders
Karishma Shah
Samantha Sherman
Adam Simon
Tamara Skinner
Lauren Spungen
Summer Stevens
Amy Tang
Luz Tur-Sinai Gozal
Cullen Tyndall
Caroline Veniero
Kaylee Yocum
Chloe Zagrodzky
Erik Zimmerman