Civil Rights and Police Accountability Clinic Wins Consent Decree to End Chicago Police Practice of Incommunicado Detention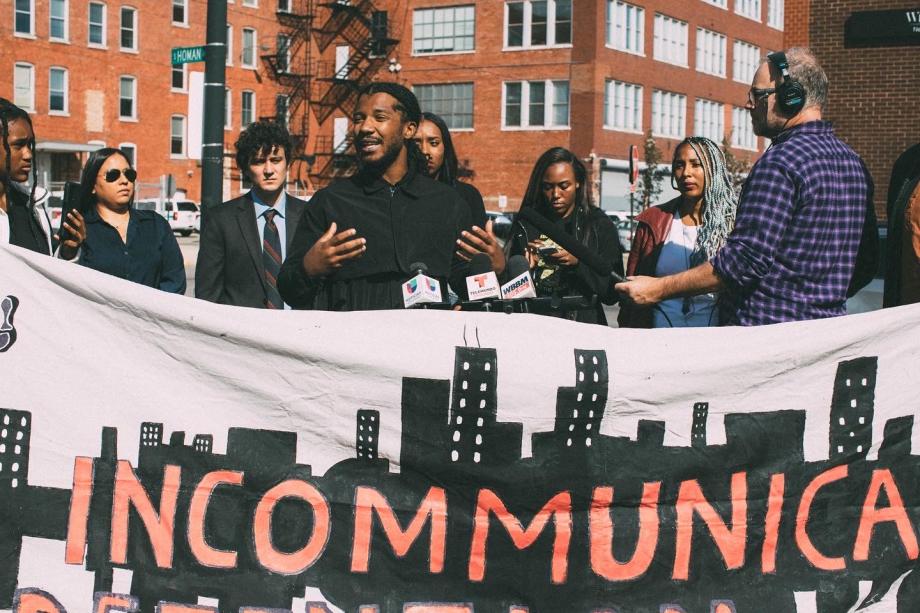 The Law School's Civil Rights and Police Accountability Clinic won an historic Consent Decree that will ensure that each person in Chicago police custody receives prompt, free access to an attorney and a phone—a move lauded as a critical step toward ending the Chicago Police Department's (CPD's) decades-long practice of holding people in incommunicado detention.
The Consent Decree requires that people in custody be able to consult privately with family members and a lawyer within three hours.
"This Decree could not be more needed in Chicago," said Clinical Professor Craig Futterman, the founder and director of the Civil Rights and Police Accountability Clinic and one of the plaintiffs' lead attorneys in the lawsuit. "When we first created this Clinic 22 years ago, we asked people how a law school clinic could make the greatest impact on eliminating systemic police abuse in Chicago. The number one answer was to ensure that people at police stations had access to counsel. Incommunicado detention had long been established as the de facto practice of the Chicago Police Department, making Chicago infamous as a home to police torture of Black people and the false confession and wrongful conviction capital of the nation. By ensuring that everyone in CPD custody will have prompt access to counsel, the Decree gives us the power to end this pernicious practice that has done immeasurable harm to the people of Chicago."   
The Decree, overseen by Judge Neil Cohen of the Circuit Court of Cook County and signed September 28 is the result of the Clinic's lawsuit, brought on behalf of a broad coalition of community organizations led by young Black people and the Cook County Public Defender's Office and National Lawyers Guild, attorneys who provide free legal representation to people in Chicago police custody. The lawsuit challenged the City's practice of denying phone calls and access to counsel to people held by police. Clinic graduates Erik Zimmerman, '22, and Mikaila Smith, '22, and Clinic students Vatsala Kumar, '23, and Martin Martinez, '23, played leading roles in this landmark case. 
"This is a hard-won and historic agreement that goes a long way to protect the rights of people who are detained by the police in the City of Chicago," said Cook County Public Defender Sharone R. Mitchell, Jr, who was represented by the Clinic in this case. "Our region has a sad tradition of forced confessions and wrongful convictions, and the fight to overcome these abuses continues today."
Mitchell added that the "Cook County Public Defender's Office is committed to doing our part to help anyone who is detained exercise their constitutional right to remain silent and have access to counsel. Anyone who is in custody, or their loved ones, should call 844-817-4448 to reach our 24-Hour Arrest Hotline Police Station Representation Unit and we will send an attorney to the police station to represent them free of charge."
In the wake of the COVID-19 pandemic and the 2020 citywide protests charging police brutality and racism, violations became more widespread, the plaintiffs said. Each community group represented by the Clinic in the suit, including the #LetUsBreathe Collective, Black Lives Matter Chicago, STOP Chicago, Ujimaa Medics, and GoodKids MadCity, has members who were detained and denied their right to make a phone call and contact their attorneys. During that same time, members of the Cook County Public Defender's Office and the National Lawyers Guild were routinely denied access to their clients in police stations.  
"This is a longstanding practice in the City of Chicago," said Alexa Van Brunt, director of the Illinois office of the MacArthur Justice Center and one of the plaintiffs' attorneys. "It has been starkly illustrated by CPD practices at the notorious Homan Square black site and by years of police torture in interrogation rooms under the regime of Jon Burge. CPD has coerced confessions from hundreds of people in custody, especially Black and Brown youth, contributing to Chicago's legacy as the false confession capital of the nation."
Such police misconduct has cost taxpayers millions of dollars in legal settlements and jury verdicts.
The Consent Decree represents an important personal moment for many.
"Since 2020, I've been healing spiritually and physically from my traumatic encounter with the Chicago Police Department in what is now being called 'the battle for Hyde Park,'" said Clinic client Isiah ThoughtPoet Veney, a photographer and writer from the Chatham and Burnside area. "This moment is historic for so many reasons. But the most important one is that the journey to uplift and better our community is never ending. We have to take care of each other and truly put resources where they are needed most. I'm tired but I'm still going, this truly does mean a lot."
 Under the terms of the Consent Decree, the CPD must:
Provide every arrestee or person in custody—regardless of whether or not they are charged with a criminal offense—the right to consult with an attorney, in private, by telephone or in person, within three hours of being placed in CPD custody; 

Install phones and put up signs informing people of their rights with the Cook County Public Defender's free 24-hour Arrest Hotline number in every interrogation room in the City, and

Create private and confidential rooms in every single Chicago police station for people to call and meet with their lawyers, including in the detective divisions.
The Decree prohibits CPD from interrogating people in custody until they have been given the opportunity to use the phone and talk with an attorney. 
The Consent Decree gives the plaintiffs the ability to monitor and enforce the city's compliance. The City of Chicago will provide the Clinic data on a monthly basis, allow Clinic attorneys and students to visit and inspect CPD facilities to monitor the CPD's compliance with the terms of the agreement, and enforce the agreement in court if compliance is not established.
"This was absolutely the most rewarding work I contributed to at the Law School," said Zimmerman, '22, who recently began work as an associate at Weil, Gotshal, and Manges, LLP in New York. "When I began working in the Clinic in June 2020 I assumed—based on all the things I saw on TV—that every person who was arrested got their 'one phone call' to a lawyer or a family member. To my surprise, the first case I was assigned to in the clinic involved legal research on the issue of arrestee phone access for people who were held in CPD custody. I was astounded as I researched recent cases and stories in Chicago where arrestees were held for more than 24 hours in interrogation rooms and denied access to a phone the entire time. Working this case gave me insight into litigation strategizing, motion practice, and working with a team of lawyers, but more importantly it meant working tirelessly to prevent marginalized Chicagoans from experiencing violence and rights violations at the hands of Chicago police."
Futterman provided this perspective on the importance of the work of Zimmerman and his fellow Clinic students: "Fifty-six years after the US Supreme Court announced its famous decision, we are finally about to make Miranda real in Chicago. We have not solved systemic police abuse and racism, but by ensuring that everyone held in the bowels of Chicago police stations has prompt access to an attorney, we will make it very difficult for CPD to coerce false confessions from desperate people. Someone will be watching."
The Clinic collaborated with the MacArthur Justice Center and the Community Justice and Civil Rights Clinic at the Northwestern Pritzker School of Law, First Defense Legal Aid, and the People's Law Office in reaching this victory.