Chris Eisgruber, '88: Selection Process Improvement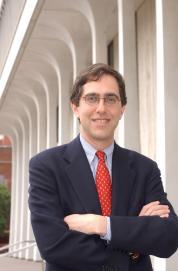 It was in a sophomore-year class at Princeton that Chris Eisgruber, '88, then a physics major, discovered his passion for constitutional law. That passion led him, as scholarly passions for the law often will, to the University of Chicago Law School. Last year it also led him to compose a book, The Next Justice, which aims to right what he sees as the wrongs of the selection process for Supreme Court justices.
When Eisgruber determined, at some point between that sophomore-year class and the conclusion of a year at Oxford as a Rhodes Scholar, that studying and teaching law was to be his vocation, it greatly streamlined his decision about which law school to attend. "I wanted to be at a place that combined interdisciplinary legal scholarship with a deep commitment to teaching; that put Chicago right at the top of my list," he says. "It didn't hurt," the lifelong Cubs fan adds, "that Wrigley Field is in Chicago."
After graduating from the Law School he clerked for Court of Appeals Judge Patrick Higginbotham and Supreme Court Justice John Paul Stevens, and then he taught at New York University's law school for eleven years. In 2000, he returned to Princeton to be part of the university's new program in Law and Public Affairs, which he headed from 2001 to 2004. Today, he is Princeton's provost as well as its Laurance S. Rockefeller Professor of Public Affairs in the Woodrow Wilson School and the University Center for Human Values.
He says that his work at Princeton, where he was charged with bringing the best legal minds to campus to provide insight on academic and contemporary issues, also reflected his Chicago experience: "Chicago is famous for the intensity of its intellectual engagement, as exemplified by the faculty roundtable and reflected in arguments that often spring up in the Green Lounge. Some of my best memories of the School involve informal conversations about the law with classmates and professors like Geoff Stone, Dennis Hutchinson, and Cass Sunstein. It's the kind of thing I have tried to facilitate at Princeton." His connection to the Law School is strong in another way, too—he met his wife, Lori Martin, '88, during their first year there. She is currently a partner at WilmerHale.
In The Next Justice, which is his third book, he argues that the Senate's evaluation of potential justices has become little more than political theater, driven by a false dichotomy that depicts nominees as either impartial "umpires" or ideological "activists" and providing virtually nothing of substance to illuminate the senators' decisions or advance public understanding of fateful legal matters.
He offers three primary recommendations for improving the confirmation process. First, "We have to get past empty slogans like 'judicial restraint,' which suggest that a justice will never intervene in a legislative or executive decision. The Constitution as it is written demands that justices make political judgments; the correct question is about the specific circumstances in which a justice believes that it is proper for the judiciary to trump another branch."
Second, "The Senate has to put the burden on the nominee to show that his or her views are not extreme. There's no way to do that through 'Gotcha' questions about how a nominee might rule in a particular circumstance; it would be done best by asking open-ended questions." For example, Eisgruber recommends that senators ask nominees to identify some clear examples of times in their public lives when they have crossed party lines or broken ideological ranks. "If a nominee will not satisfactorily answer questions like that, then a Senator has every right to vote against confirmation," he says.
Third, "We should all be interested in seeing more moderates appointed to the Supreme Court, even if we are not moderates ourselves. There are no sound arguments, either constitutional or practical, for requiring deference when presidents nominate persons whose judicial philosophy is ideologically rigid or extreme."
From the glowing evaluations of The Next Justice—including Sunstein's description of it as "superb and provocative . . . careful and exceptionally illuminating"—it is plain that Chris Eisgruber's commitment to scholarship and teaching may advance his colleagues' thinking as it also captivates a broader public with the kind of appreciation of the law that he first experienced in a Princeton classroom and nourished so importantly at the University of Chicago Law School.