The Big Pivot
How the Law School's Office of Career Services Kept Students Calm and Employed in 2020—and Created Programs that May Outlast the Pandemic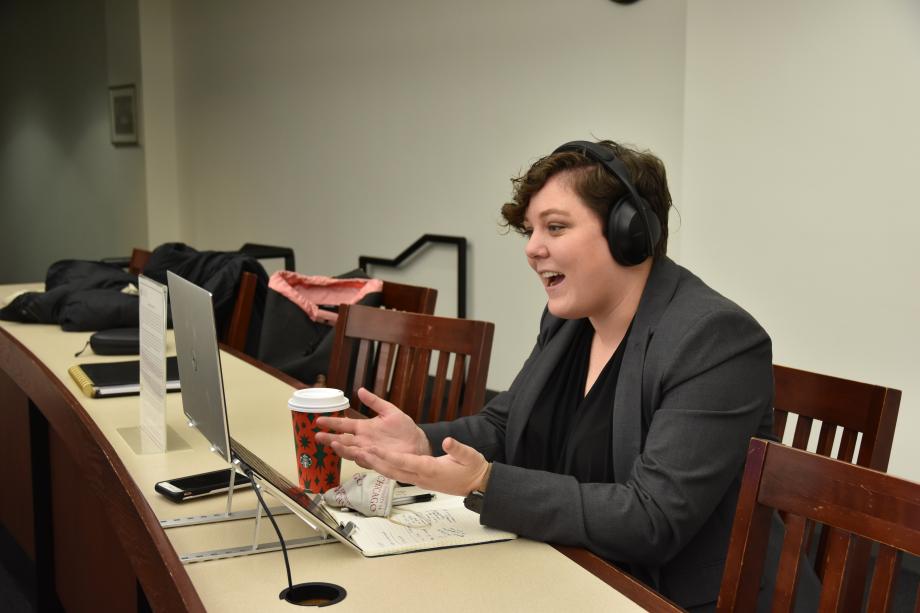 In the early days of the COVID-19 pandemic last spring, the Law School's Office of Career Services corresponded with hundreds of employers in every segment of the legal job market, drummed up nearly 100 new job postings for students whose summer work plans had been cancelled or curtailed, communicated regularly with anxious job seekers, and created systems for tracking how law firms, government agencies, courts, and nonprofit employers were responding to the crisis. They worked with the Financial Aid Office to adjust summer public interest grant requirements to allow for the realities of remote work and sent regular emails updating students on the state of the legal market, pointing them toward resources and offering reassurance and advice. (One email even included tips on how and when to ask about the status of one's job).
Those steps, the first pitches in an extra-inning effort, paid off. In 2020, every University of Chicago Law School student who wanted a summer job had a summer job—and there were opportunities to spare.
But some programs were shorter than usual—employers, after all, were grappling with their own shifts and crises—so the team, led by Associate Dean for Career Services Lois Casaleggi, built a list of experiential and pro bono opportunities and worked with the D'Angelo Law Library to create a skill-sharpening legal research and writing workshop. As the crisis continued to unfold, Casaleggi's team helped members of the Class of 2020 navigate uncertainty around postgraduate employment, produced a steady stream of virtual career resources covering both the usual topics and new ones related to the pandemic, and continued to devote hours to one-on-one advising via Zoom.
It was a monumental swivel, and one that touched nearly every aspect of the department's work—including the on-campus interviewing program that anchors its yearly calendar. In what may have been the department's biggest swing of 2020, the Law School's Office of Career Services completely reimagined OCI, moving the massive recruiting program to an online platform and holding it about four months later than usual.
That, too, was a solid hit: The roughly weeklong December event drew 360 employers who conducted 3,300 remote interviews with roughly 200 second-year students—and produced hiring outcomes that were on par with previous years.
"One of our goals when we first shifted to working from home was to ensure that students received the same high level of service as they had when we were in the building," Casaleggi said. "What I'm proudest of is that we were able to do that, and on so many vectors."
The department even innovated—capitalizing on the Zoom boom to build the Law School's first-ever Public Service Interview Program.
"We'd always wanted to have what would essentially be a 'public service OCI,'" said Susan J. Curry, the Law School's Senior Director of Public Interest Law and Policy. But time and travel costs had always been an impediment for cash-strapped nonprofits and government agencies; the traditional OCI had only ever drawn about eight to 12 employers from those categories.
But when workplaces and classrooms went virtual, everyone began to think differently about recruiting—and as late summer approached, Curry and her colleagues saw their chance.
"Other law schools start their classes in August, but we don't—so we started thinking, 'Wait a minute, our students are available to participate in virtual interviews then, and we know a lot of these employers are still looking,'" Curry said.
They built the program in less than a month: two virtual sessions in which 24 employers conducted 72 virtual interviews with dozens of Law School students seeking jobs in 2021.
"It was this lightbulb moment—employers were open to virtual interviewing, and we decided to strike while the iron was hot," Casaleggi said. "We had an astonishing response, and now that there's employer buy-in, it's something that will continue—and that's exciting."
The accumulating successes, however, required an all-hands-on-deck effort unlike anything Casaleggi had ever experienced. A nearly 20-year veteran of law school career counseling—more than 16 of them spent at the University of Chicago—Casaleggi immediately responded to the crisis by drawing on the systems, processes, and relationships that she and her office had meticulously built. She applied lessons she'd garnered during other challenging periods, including the 2009 economic downturn. But she and her team also found themselves navigating situations for which there was no precedent and no playbook.
Which meant, time and again, taking a deep breath and returning to the office's guiding values: empathy, preparation, and individualized student support.
"The situation was difficult and stressful for everybody, and for our students this was, on top of everything else, threatening to impact their future careers," Casaleggi said. "Whether they were worried about summer jobs or postgrad jobs, this was significant and meaningful to them. So we communicated as clearly as possible: here's what we do know, here's what we don't know, and here's what we're doing for you. We focused on being there for them in as many ways as possible."
For Casaleggi that meant spending 80 to 90 hours a week in the home office she'd set up using half of her dining room table.
"It was," she said, "a huge undertaking on so many dimensions."
Keeping Careers on Track
Pre-pandemic, Kelly Gregg, '22, had planned to spend her summer in Dublin, Ireland, working for a housing rights organization.
But then things began to shut down—flights to Europe, in-person learning at the Law School. Even before the organization reached out to say the internship was off, she knew she needed to shift gears.
Ultimately, she was one of about two dozen first- and second-year Law School students who lost their original summer jobs in 2020—news that dribbled in between April and June as employers assessed the pandemic's impact on their workload, finances, and remote capabilities.
"More than anything, I was just bummed—I'd been looking forward to the summer in Ireland," Gregg said. She secured a position as a research assistant for Professor Adam Chilton in the spring and summer. She wondered, though, if it was enough.
She met via Zoom with Director of Career Services Tamara McClatchey "just to talk things through." In the end, Gregg supplemented her job with Chilton by taking projects through the D'Angelo Law Library's summer research assistant program, which matches Law School faculty with student RAs for shorter projects of 10 to 20 hours.
There were hundreds of different stories like this, in every variation imaginable, filtering through Casaleggi's office in the early months of the pandemic. First- and second-year students who, like Gregg, had lost summer jobs. Students, including 3Ls on the cusp of graduation, who worried that they might. Each student had a different degree of need, a different set of concerns and questions. Some, like Gregg, found solutions relatively quickly. Others found themselves gripped by prolonged uncertainty.
"One piece that was huge for us was managing student anxiety, and that got to be more of an issue [as summer approached]," McClatchey said. "The students were in communication with their employers, but employers, especially the larger firms, held back for quite a while on giving final decisions about what was happening with their summer programs—in some cases waiting right up until the program was supposed to begin."
Casaleggi and her team knew from the beginning that they needed to secure two things for their students: information and leads on potential safety nets. It was critical, Casaleggi said, to stay on top of developments and move quickly to compile those lists of new job postings. That meant working their phones and inboxes.
Susan Staab, the director of judicial clerkship outreach and support, compiled information on judges' plans for their incoming clerks, and Casaleggi and others talked to private sector employers, gathering information on their plans and concerns.  
"I have a lot of history with these firms and a lot of relationships," Casaleggi said. "We were able to have some very meaningful and candid conversations, even though there were a lot of questions they couldn't yet answer."
The already data-driven office created spreadsheets to track information gathered from employers, students, media reports, and other sources. The sheets revealed a landscape in flux: early uncertainty, delayed postgraduate start dates, shortened or cancelled summer programs, employers replacing in-person summer jobs with remote work or skill-building experiences.
Curry, who was particularly worried about the impact on students entering nonprofit and government jobs for the summer or after graduation, sent more than 400 emails to check in with public service employers.
"I swung into action, had the staff run a report for me on every employer who had hosted one of our students in the past couple of years, and sent out all these emails with my cell phone number," Curry said. "Almost half of those people responded to me. A lot of them wanted to talk, and they were glad someone had reached out. It contributed to a bunch of new job postings—we even had people who had already hired our students decide to hire more. Not only did we have 1Ls applying because they'd lost their original jobs, but we had 2Ls applying because they were planning to work remotely at a law firm for a few weeks and wanted substantive legal jobs at the back end of the summer, too."
Career Services staff emailed the Law School's faculty to ask if any had additional openings for research assistants and received "just a fantastic response," Casaleggi said. The Law School's Office of External Affairs also turned up several new opportunities by reaching out to alumni who might have summer or postgraduate jobs to offer.
In addition to nearly 100 summer job postings, the overall campaign yielded almost two dozen entry-level postings.
Meanwhile, the team counseled soon-to-be graduates on an array of percolating worries. Would their jobs begin remotely or in person? How would they deal with health insurance and lost income if employers delayed their start dates? What if an employer decided to withdraw an offer altogether? (To Casaleggi's knowledge, the latter was a fear that never materialized. And firms that delayed start dates often offered salary advances).
Confusion swirled around the bar exam, too, ratcheting up the anxiety considerably. Some states postponed the exam, others held it remotely, some limited who could sit for their exam—and several changed plans multiple times.
"There was a lot of stress, and there were a lot of moving targets," Casaleggi said of the bar exam uncertainty. "We were involved, the dean was involved, the dean of students office and the registrar's team were involved, all of us working to advocate on our students' behalf. In the meantime, we tried to reassure them. Some just wanted certainty. Others wanted to know, 'Can I take this exam safely?' Some wanted to know if they could take the bar exam in a different state. It was complicated and messy and really, really challenging for the students."
Another major effort involved building that stable of supplementary opportunities that would enable first- and second-year students to gather work experience, hone legal skills, and build confidence.
"As we saw in the last market downturn, if you lose your job or your job gets deferred, you can't stay marketable if you're not doing anything—you need to keep building your legal skills," Casaleggi said. "So we focused first on jobs, but we knew that if the jobs weren't there, we'd want to provide students with experiences."
The list included internal and external options: the Law School's Kirkland & Ellis Corporate Lab Transactional Challenge; a summer webinar series by the Community of Legal Interns; virtual experiences offered by law firms like Latham & Watkins and White & Case; and the new Passport to Practice program, a free professional development boot camp designed to help law students and recent graduates who were impacted by the pandemic. (Professor Randal Picker, the James Parker Hall Distinguished Service Professor of Law, was among the program's guides).
As it turned out, most students ended up with jobs so the experiential opportunities mostly supplemented summer programs that were shorter or less robust than usual. But early on, Casaleggi didn't know quite what the need would be—and she wanted students to have every possible option. This is why, in early spring, she began kicking around ideas for an in-house skills program.
On April 16, 2020, Casaleggi met with Sheri Lewis, the director of the D'Angelo Law Library, and Ariel Scotese, the D'Angelo's associate director for user services, to hash out what eventually became the Library Summer Program, a research-and-writing workshop that drew about 16 participants. (This program was in addition to the Summer Library RA program, which already existed).
"I had this concept in my head, and they were able to operationalize it in a really creative way," Casaleggi said. "They said each student could pick a topic on a legal issue related to the pandemic and they would work with them on research and writing and, at the end, publish their papers in Chicago Unbound. And so that was just fantastic."
By May 22, 2020, library staff had drawn up a proposal that included five research areas—tax, labor and employment, human rights, privacy, and contracts—each led by a D'Angelo librarian. By June 9, 2020, they'd posted the program for students. Todd Ito, the library's head of instruction and outreach, oversaw the summer program while Scotese continued to oversee the library RA program.
As all of this came together, the worries about 2020 employment began to subside. But a big question remained: what about the next wave of job seekers? The ones who'd need summer employment in 2021—and in most cases had planned to secure it during a mammoth, in-person event in August 2020?
From the very beginning, Casaleggi had worried about OCI. Cancelling wasn't an option—it is the major route to employment for the majority of students. A postponed but in-person OCI was still uncertain—who knew when the pandemic would end? And taking the entire event online seemed daunting—practically, logistically, and, frankly, emotionally.
Would there be enough time to revamp? Would a remote or rescheduled event yield the same employment outcomes? How would the department meet students' needs without the live OCI Help Desk they'd staffed in the middle of the Green Lounge in previous years?
Casaleggi wasn't interested in waiting until the last minute to investigate. In mid-April, even as she and her team tended to the long and growing list of pressing needs, she quietly gave McClatchey an assignment:
Start planning for an online OCI, just in case.
When Recruiting Goes Virtual
The night before the Law School's first-ever online OCI began, Meera Gorjala, '22, and her younger sister, Asha, an undergraduate student majoring in fashion, opened Gorjala's closet, searching for the right outfit to carry her through 17 online interviews. They settled on a black blazer and black slacks with gold-button details for most of her interviews, with a rotation of blouses in white, blue, and mauve, colors they thought would work well on camera and communicate sharp professionalism. Their mom loaned Gorjala her pearl earrings, and "I wore my lucky gold necklace that was given to me by my grandma," Gorjala said. 
The family fashion exercise was one advantage to the unconventional event that, for months, everyone had hoped to avoid. Summer OCI always had been the first choice—it doesn't conflict with classes and offers plenty of time for callback interviews—and, pre-pandemic, everyone, including Gorjala, had been expecting in-person screening interviews. It wasn't easy to make the mental shift to interviewing in front of a screen.
But in December, as Gorjala prepared for virtual interviews at home in Atlanta, it didn't seem too bad. She had full access to the comforts of family life: her mom's cooking, her sister's clothing expertise, the chance to have them physically present for a momentous occasion.
"It's just nice to have people to talk to you when you're stressed, to sort of take your mind off things," Gorjala said.
She felt reasonably prepared, too. She already had participated in the Public Service Interview Program in late summer, though she'd gone into that event worried about the format.
"I think I interview better in person, so the prospect of doing it [remotely] was definitely a bit concerning," Gorjala said.
Gorjala, who participated in PSIP from her Hyde Park apartment, met that concern with preparation and practice. Before the summer event, she worked to slow her speech, something that is particularly important when talking to a stranger on video, and she thought about ways to connect without the social and body language cues of in-person engagement.
"That was the hardest aspect of being online—not being able to see [the interviewer] in person," she said.
In the end, both PSIP and OCI went well. The technology worked, the conversations flowed, and Gorjala ultimately accepted offers to spend the first half of her summer at Schiff Hardin and the second half at the Natural Resources Defense Council.
This was the reality: success was possible, but it required adjustments and preparation that hadn't been necessary in the past. Before the 2020 OCI, students needed to test their equipment, familiarize themselves with the recruiting platform, and create quiet, neutral interview spaces at home—rearranging furniture, remembering to silence phones, sequestering pets.
"I moved my couch so I had a white wall behind me, and I created this whole set up on my coffee table with a tissue box with a light on top of it to try to maximize my lighting," Gregg said. "I tried to create a very professional environment."
Behind the scenes, Casaleggi's team worked to anticipate concerns and dispense useful advice. They sent around tips and reminders and offered practice Zoom interviews and one-on-one advising sessions. The sheer volume of considerations at every level was one reason Casaleggi had invested in plans without knowing whether she'd need them—without that lead time, the whole project might have felt untenable at worst or frantic at best.
As it happened, in July, when the Law School announced plans to postpone OCI until December, Career Services staff already had spoken extensively with employers and other stakeholders, mapped out logistics, and even vetted recruiting software in preparation for a virtual event, which was still being discussed. Casaleggi, Dean Thomas J. Miles, and other Law School officials had worked through long lists of considerations and concerns, and McClatchey had captured the details in an OCI planning chart. In August, when they made the final decision to go remote, the team was ready to contract with Flo Recruit, a platform that allows for video interviews, complex scheduling, and a secure, organized way for employers to gather transcripts and resumes.
It was still, of course, a heavy lift.
"In a typical year, OCI takes nearly all of our team's time over the summer, and 1L advising takes almost all of our time during autumn quarter," McClatchey said. "This year, we did [these things] concurrently in the fall, while creating and providing several new job search programs for 2Ls to prepare them for changes in the timing and format of OCI . We had to deliver excellent service to both classes simultaneously, and that was definitely a challenge in terms of bandwidth."
Casaleggi, a former high-stakes litigator who thrives under pressure, managed the increasingly complicated juggle by calling forth the state of deep focus and relative calm she'd used to navigate crises as a lawyer.
"Give me a complex problem with lots of moving pieces and lots of things to think about, and my brain just starts filtering and organizing," she said. "At the beginning of this, I thought, Okay, we have a huge issue with lots of component parts, lots of sub problems, lots of technical pieces to figure out, but also human pieces to figure out. I just went into that [calm crisis] mode and started working."
McClatchey said Casaleggi's empathetic and focused leadership set the tone for the department's effort.
"I can't tell you how grateful I am that she's the person who runs our department—she's unflappable," McClatchey said. "When things were at their craziest, Lois maintained composure, she didn't panic. She was able to think carefully through the potential implications for every decision that we had to make. This entire time, she has been in the weeds with us and just very hands-on and supportive, even though I know that she has a million other things going on."
As OCI approached, the team tried to anticipate trouble spots. They worked with IT to ensure the Law School network's firewall wouldn't interfere with Flo Recruit. They taught students the platform, and they sent training documents to employers and encouraged them to set up test calls with Flo Recruit.
When the first day of OCI arrived, the team braced for issues—and were relieved when it turned out to be what McClatchey called "uneventful from a technical perspective."
"We were able to monitor our OCI interviews in real time via the Flo Recruit dashboard and, for the most part, nip issues in the bud," she said.
The other major worry—staffing a Help Desk without an actual desk—also turned out to be unfounded. Although their drop-in Help Desk on Zoom didn't draw as much traffic as they'd anticipated, students still reached out, mostly through email and individual Zoom appointments.
"What was important was that students had a variety of options for getting their needs met—and they did," McClatchey said. "Our team was communicating with students almost non-stop throughout OCI, as we reached out to each and every participant to check in with them about their progress and questions."
Looking to the Future
As 2020 drew to a close, Casaleggi marveled at what her team had been able to accomplish—and what that might mean going forward.
Curry was thrilled by the Public Service Interview Program and buoyed by the response she'd received from public interest employers; the 400 emails she'd sent in the spring had yielded not just job postings but connections that may well aid future students.
"We have a renovated relationship with those employers," Curry said. "They know that we really jumped into the void to try and make something happen."
McClatchey was heartened by the success of OCI and the knowledge that the Career Services team had faced the challenge without ever losing sight of each student's unique situation.
"I feel like our team really came together to ensure that all of our students' needs were met leading up to and during the OCI process," she said. "Many students thanked me for all that we were doing to support them, and several expressed that they felt like we were very accessible to them. That was one of our primary goals for a virtual OCI program. We did not want students to feel isolated, and I believe the combination of direct individual outreach from advisors, timely responsiveness to student inquiries, the availability of the Help Desk, and the availability of one-on-one coaching and advising allowed us to meet it. OCI is an exciting process for students, but it can be very stressful and exhausting. I think that we made it a bit easier by providing the same level of customer service that we would have provided in person, although in different formats."
The pivot will leave an indelible mark, Casaleggi said, although its exact shape remains to be seen.
This year, OCI will remain a virtual event but return to summer; December made sense in 2020 but wasn't ideal, Casaleggi said. Once the pandemic has ended, though, it is possible that virtual recruiting will remain a part of the process, perhaps with screening interviews taking place online and callbacks happening in person.
"Employers are realizing that this is a viable way to recruit people, and it saves so much money and so much attorney time," she said. "There are wins for everybody. I think when the public health crisis gets to a point where people are back in their offices and we can have in-person interviews, my prediction is that we may have a hybrid system."
The piece, of course, Casaleggi will always remember is how her team rose to meet the crisis, repeatedly exceeding expectations, even while working from home under tremendous pressure.
"It was hard to describe how busy we were—I would tell people, 'I have my regular job, which is more than full time, and I have my COVID job,'" Casaleggi said. "The volume of what we did is quite astonishing, and my team was amazing. I'm so, so proud of them."