Global Human Rights Clinic Student Experience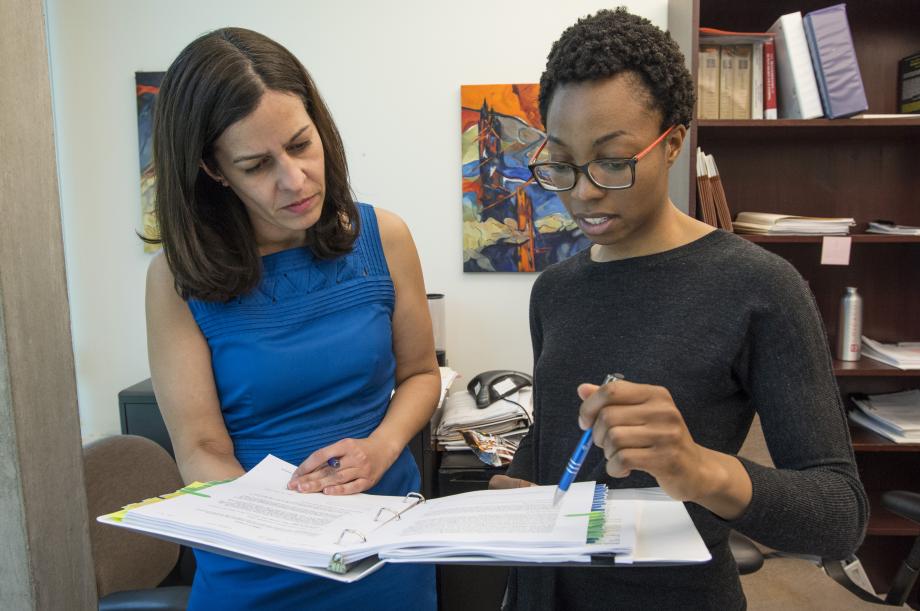 Clinic Rounds
The students' time in the clinic is dedicated to clinic rounds and advocacy projects, which students undertake as part of a team. Most weeks, students convene for project rounds. During rounds, students are introduced to the basic concepts of international human rights law and its development. Students learn about the structure of international, regional, and domestic institutions that monitor, interpret, and enforce international human rights law. Rounds are used to build skills around human rights advocacy as necessary for clinic project work. During these sessions, readings are assigned and class discussions are focused on the relevant topics within the context of clinic projects. Team facilitators are designated for each session, and the designated team leads skills-building workshops to discuss the development of skills as applied to their project work. Clinic sessions later in the year are dedicated to project rounds that are meant to approximate staff meetings in human rights organizations.
"The [GHRC] was my most valuable experience in law school.  It was halfway between the role of a student and the role of an attorney:  I developed projects, worked with clients, and felt like I made a tangible contribution.  All the while, I had great professors who were engaging and provided meaningful guidance."

— Cornelius Cornelssen, '16
Fieldwork
For most projects, student teams travel internationally and domestically to conduct work in the field, such as interviewing stakeholders and documenting and gathering evidence. Student travel depends on the needs of the client and project work. In most cases, students travel to the country where their client is located or upon which their research is focused. Students travel with and are supervised by GHRC faculty. Over the last several years, students have traveled to Myanmar, Pakistan, Tunisia, Kenya, Zimbabwe, Vietnam, Mexico, Northern Ireland, England, and within the United States.   
"Working with the [Global Human Rights] Clinic was my favorite part of my time in law school. It allowed me to keep perspective on why what we were learning in class mattered, to complement the theoretical classes with real-world practical experience, and to stay grounded about the limits of the power of the law when it is not buttressed with meaningful political will and enforcement mechanisms. I was fortunate enough to partner with human rights activists working on land reform in Myanmar, fighting against the abuse of farmworkers in Mexico and the US, and implementing shelters to protect victims of violence against women in Pakistan. Each of these experiences introduced me to the unique human rights challenges facing different corners of the world, as well as the cross-cutting skills, knowledge, and approaches that allow us to provide support to activists in all of these areas."

— Alli Hugi, '18
Advocacy
Student teams engage in national and international advocacy through public report writing, submitting briefs before national and international bodies, engaging with the press, writing op-eds, and providing presentations and testimonies before relevant bodies and audiences. The Clinic's goal is to expose students to international human rights law and the mechanisms for its domestication in order to develop students' skills in the practice of human rights law and legal analysis and advocacy more generally. These skills include client-centered lawyering, research and writing, collaboration, professionalism, factual investigations, legal strategy development, documentation, lobbying, and media advocacy. 
"I went to law school to learn the legal technicalities, methods, and best practices involved in advocating on behalf of marginalized populations, and the [Global] Human Rights Clinic at the University of Chicago taught me all of that and more. My participation as a student in the clinic was the most engaging and instructive learning experience I had during my three years, and each day I was part of actively contributing in the fight against some of the most pressing issues facing the country and the world today."