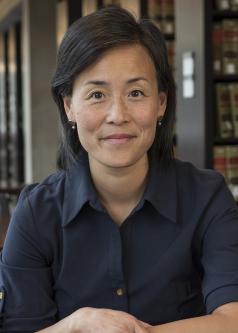 Academic Faculty
Full Time Teaching Faculty
Jennifer Nou
Professor of Law
Biography
Jennifer Nou is Professor of Law at the University of Chicago Law School. Her main research interests are in administrative law, executive branch dynamics, regulatory policy, and constitutional separation-of-powers. She is currently a senior fellow of the Administrative Conference of the United States and on leave as a senior advisor at the White House Office of Information and Regulatory Affairs.
Professor Nou is a graduate of Yale College and Yale Law School, and received an MPhil in Politics from Oxford University as a Marshall Scholar. After law school, she was a law clerk to Judge Richard Posner of the US Court of Appeals for the Seventh Circuit and then to Justice Stephen Breyer of the US Supreme Court.
Education
Yale Law School
JD, 2008
Projects editor, Yale Law Journal
Coker Fellow (Constitutional Law)
Olin Fellow in Law, Economics and Public Policy
Paul and Daisy Soros Fellow
Oxford University
MPhil Politics, with distinction in thesis and exams, 2004
Marshall Scholar
Yale University
BA, summa cum laude, Economics and Political Science, 2002
Arthur Hadley Prize for highest rank in social sciences
Philo Bennett Prize for best senior essay in political philosophy
Louis Laun Award for economics major with outstanding course record
Truman Scholar
Experience
The University of Chicago Law School
Professor of Law, July 2018-present
Neubauer Family Assistant Professor of Law, July 2013-June 2018
Public Law Fellow, January 2012-June 2013
Office of Information & Regulatory Affairs
Senior Advisor, February 2022-present
Special Assistant to the Administrator (Cass Sunstein) and Policy Analyst, Washington, DC, August 2010-December 2011
Hon. Stephen Breyer, US Supreme Court
Law Clerk, August 2009-July 2010
Hon. Richard Posner, US Court of Appeals, Seventh Circuit
Law Clerk, 2008-2009
Jenner & Block
Summer Associate, Washington, DC, July - August 2007
Williams & Connolly
Summer Associate, Washington, DC, May- June 2007
US Attorney's Office, Southern District of New York
Legal Intern, Civil Division, New York, NY, summer 2006
Publications
Note, "Regulating the Rulemakers: A Proposal for Deliberative Cost-Benefit Analysis", 26 Yale Law and Policy Review 601 (2008).

ssrn cu

"Dismissing Decisional Independence Suits," 86 University of Chicago Law Review 1187 (2019).

www

Note, "Privatizing Democracy: Promoting Election Integrity through Procurement Contracts", 118 Yale Law Journal 744 (2009).

ssrn cu www

"Agency Lumping and Splitting," University of Chicago Law Review Online __ (2020).

www

"Canonizing the Civil Rights Revolution: The People and the Poll Tax," 103 Northwestern University Law Review 63 (2009) (with Bruce Ackerman).

ssrn cu www

"Regulatory Diffusion," 74 Stanford Law Review 897 (2022) (with Julian Nyarko).

www

"How Do Changes in Welfare Law Affect Domestic Violence: An Analysis of Connecticut Towns, 1900-2000," 34 Journal of Legal Studies 445 (2005) (with Christopher Timmins).

ssrn cu

"Constraining Executive Entrenchment," 135 Harvard Law Review Forum 20 (2021).

www

"Agency Self-Insulation Under Presidential Review," 38 Administrative & Regulatory Law News 15 (2013).

www

"Cost-Benefit Conventions," Yale Journal on Regulation: Notice & Comment __ (2021).

www

"Submerged Independent Agencies," 171 University of Pennsylvania Law Review __ (2023) (forthcoming) (with Brian D. Feinstein).

ssrn

"In Tribute: Justice Stephen G. Breyer," 136 Harvard Law Review 18 (2022).

Response, "Agency Coordinators Outside of the Executive Branch", 128 Harvard Law Review Forum 64 (2015).

ssrn cu www

"Why Should We Be Beggars with the Ballot in Our Hand? Veto Players and the Failure of Land Value Taxation in the United Kingdom, 1909-14," 36 British Journal of Political Science 575 (2006) (with Iain McLean) (reprinted in Iain McLean, What's Wrong with the British Constitution? 2009).

cu www

"Strategic Rulemaking Disclosure," 88 Southern California Law Review 773 (2016) (with Jed Stiglitz).

ssrn cu www

"Regulatory Bundling," 128 Yale Law Journal 1174 (2019) (with Jed Stiglitz).

www

"The Marginal Revenue Rule in Cost-Benefit Analysis," 160 Tax Notes 1507 (2018) (with David A. Weisbach & Daniel Hemel ).

ssrn cu

"Civil Servant Disobedience," 94 Chicago-Kent Law Review 349 (2019).
"Agencies as Governments," (2022)(forthcoming).

"Strategic Subdelegation," (2023)(forthcoming) (with Brian D. Feinstein).
"The SEC's Improper Subdelegation (Statutory, not Constitutional)," Yale Journal on Regulation: Notice & Comment, April 11, 2018.

www

"Improving the Efficiency of the Paperwork Reduction Act," The Regulatory Review, October 30, 2018 (with Gisselle Bourns & Stuart Shapiro).

www

"Administering Democracy: Policing a Partisan Census," Yale Journal on Regulation: Notice & Comment, April 22, 2019.

www

"Policing a Partisan Census," Take Care, April 22, 2019.

www

"Internalizing Cost-Benefit Analysis," February 18, 2014.

www

"Census symposium: A place for pretext in administrative law?," SCOTUSblog, June 28, 2019.

www

"Texas' Poll Tax in Disguise," Los Angeles Times, July 15, 2012 (with Bruce Ackerman).

"Bureaucratic Power," Yale Journal on Regulation: Notice & Comment, August 6, 2019.

www

"Hey, What About the 24th?," Slate, May 2, 2008 (with Bruce Ackerman).

www

"Symposium: Depoliticizing the census through administrative process," SCOTUSblog, November 24, 2020.

www

"The FCC just received a million net-neutrality comments. Here's what it's like to sort through them all," Washington Post, July 18, 2014.

www
"The Possible Dream (reviewing John W. Patty and Elizabeth Maggie Penn, Social Choice and Legitimacy (2014))," The New Rambler, May 4, 2015. www

"Bureaucratic Resistance from Below," Yale Journal on Regulation: Notice & Comment, November 16, 2016.

www

"The CBO-CBA Analogy, or What Wonks Could Learn from Each Other," Take Care, March 17, 2017.

www

"Taming the Shallow State," Yale Journal on Regulation: Notice & Comment, February 28, 2017.

www

"The SEC's Subdelegated Appointments Power," Yale Journal on Regulation: Notice & Comment, December 1, 2017.

www

"Bureaucratic Exit and Loyalty under Trump," Yale Journal on Regulation: Notice & Comment, January 9, 2018.

www

"Census Smoke Signals," Take Care, March 29, 2018.

www

"How Agencies Should Use Waivers and Exemptions," The Regulatory Review, March 9, 2018 (with Aaron Nielson).

www
Presentations
2022-present (on government leave)
2021-2022: Gray Center Research Roundtable on "Agency Independence After Seila and Collins"; Yale Law, Economics, and Organization Workshop; AALS Conversation on the Administrative State; University of Chicago Political Science Department American Politics Workshop; National Conference of Constitutional Law Scholars at University of Arizona (commenter); Administrative Law New Scholarship Roundtable, Yale Law School (commenter)
2020-2021: Northwestern Public Law Colloquium; Loyola Law School Faculty Workshop; Bureaucratic Power Workshop; University of Ottawa Administrative Law & Governance Colloquium; C. Boyden Gray Event on "The Future of White House Regulatory Oversight in the Biden Administration" (panelist); University of Chicago "First Mondays" Program; Stigler Center Conference on "The Theory of Economic Regulation" (panelist)
2019-2020: DePaul University College of Law Faculty Workshop; Emory Law School Faculty Colloquium; University of Texas-Austin Law School Faculty Workshop; C. Boyden Gray Research Roundtable on "Bureaucracy and Presidential Administration"
2018-2019: Chicago-Kent College of Law Faculty Workshop; Colorado Law School Faculty Workshop; Yale Law Journal Contemporary Issues Workshop; UChicago Works-in-Progress Workshop; University of Wisconsin-Madison Law School Conference on "The Empirical Study of Agency Policymaking"; Chicago-Kent Symposium on Trump Administration and Administrative Law; C. Boyden Gray Research Roundtable on "New Normals? The Trump Administration and Administrative Law"; University of Connecticut Law School Political Economy and Public Law Conference (commenter); Berkeley Law School Roundtable on Appointments
2017-2018: University of Wisconsin Law School Conference on Executive Power and Administrative Law; Antonin Scalia Law School Roundtable on "Beyond Deference: Judicial Review and Agency Accountability" (commenter)
2016-2017: NYU Colloquium on Constitutional Theory; Cornell Law School Political Economy and Public Law Conference; American Association of Law Schools (AALS) New Voices Program; Fordham Law School Faculty Workshop; Ohio State Moritz School of Law Faculty Workshop; Michigan State College of Law Administrative Law New Scholarship Roundtable; University of Chicago Law School Works-in-Progress Workshop
2015-2016: Emory Law School "Law and the Social Order" Conference; Washington University Law School Conference on Empirical Legal Studies; Berkeley Law School Public Law Workshop; University of Chicago Law School Works-in-Progress Workshop; "Federal Agency Decision-Making Under Deep Uncertainty" Conference, University of Chicago Law School; Conference on "How do Constitutions Succeed?", University of Chicago Law School (commenter)
2014-2015: Northwestern University Law School Public Law Colloquium; University of Chicago Law School Faculty Works-in-Progress Workshop; University of Chicago Coase-Sandor Law and Economics Institute Conference on the "Law and Economics of Consumer Protection and Risk Regulation in China"; Yale Law School Comparative Administrative Law Conference; Chicago Area Junior Faculty Workshop; University of Chicago Law School Visiting Judges Sidebar Workshop; Federalist Society Student National Conference, "Innovation and the Administrative State," University of Chicago Law School (panelist); "Constitutional Interpretation at the Roberts Court," First Mondays Alumni Series, Washington D.C. (panelist)
2013-2014: Northwestern Law School Faculty Workshop; George Washington Law School Faculty Workshop; Harvard Law School Faculty Workshop; Duke Law Journal Annual Administrative Law Symposium on "A Happiness Approach to Cost-Benefit Analysis," Duke Law School; "Centralizing White House Control," ABA Section of Administrative Law and Regulatory Practice Administrative Law Conference (panelist); U Chicago Law School Conference on "Developing Regulatory Policy in the Context of Deep Uncertainty: Legal, Economic, and Natural Science Perspectives" (commenter)
2012-2013: New York University Law School Faculty Workshop; Duke Law School Faculty Workshop; U Pennsylvania Law School Faculty Workshop; UChicago Law School Works-in-Progress Workshop; Yale Law School Faculty Workshop
Memberships and Professional Affiliations 
Administrative Conference of the United States: Senior Fellow, 2022-present; Public Member, 2016-2022; Chair, Committee on Administration and Management, 2017-18; Consultant on Qualitative Research Methods Guide, 2019 (with Greg Huber)Member, Administrative Conference of the United States, 2016-present
Area Organizer, Administrative Law, 2017
Bar admissions, New York State and US Court of Appeals for the Seventh Circuit
Service
Appointments Committee (Co-Chair, 2020-2022; Member, 2016-17)
Independent Review Committee (Chair, 2020-2022) (university police force oversight body)
University Women's Leadership Council (2019-2021)
Clerkship Committee (2019-2020)
Diversity Committee (2019-2020)
Journals & Law Review Symposium Committee (2014-2019)
Public Law & Legal Theory Workshop Co-Organizer (2013-2019)
Works-in-Progress Workshop (2013-14)
Events
Program Committee, American Law and Economics Association Annual Meeting (2021)
Conference Co-Organizer, Political Economy and Public Law, University of Chicago Law School (dates TBD) (with Adam Chilton)
Program Committee, American Law and Economics Association Annual Meeting (2021)
Conference Co-Organizer, Public and Private Executive Power, University of Chicago Law School (October 12-13, 2019) (with Tony Casey)
Conference Co-Organizer, Federal Agency Decision-Making Under Deep Uncertainty, University of Chicago Law School (May 8-9, 2015) (with David Weisbach)
Awards and Honors
Voted as one of four faculty hooders by graduating students, 2015
Editorial Work
Reviewer/Referee: Harvard Law Review; Journal of Legal Studies; Journal of Law, Economics, and Organization; Political Science Quarterly; University of Chicago Law Review; Yale Law Journal