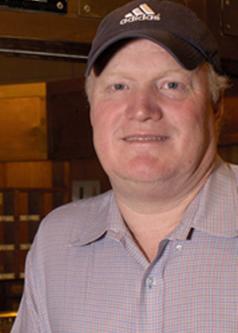 University Faculty
Kevin Murphy
George J. Stigler Distinguished Service Professor, Economics and the Booth School
Biography
Kevin Murphy is the George J. Stigler Distinguished Service Professor in Economics at the Booth School and the Law School. He has been a member of the Chicago faculty since 1983. Born in 1958, he received a BA in economics from the University of California at Los Angeles, where he was Phi Beta Kappa, in 1981. He received a PhD in economics from the University of Chicago in 1986, writing his thesis on specialization and human capital.
He is the recipient of the 1997 John Bates Clark Medal of the American Economic Association, which is given once every two years to the most outstanding American economist under the age of 40. Murphy was cited for his study of the causes of growing income inequality in the United States between white-collar and blue-collar workers. His findings link the growth in income inequality to growth in the demand for skilled labor.
Professor Murphy is the recipient of numerous other awards and fellowships, including a Sloan Foundation Fellowship and an Earhart Foundation Fellowship. He is a Fellow of the Econometric Society, a Faculty Research Fellow at the National Bureau of Economic Research, a member of the American Academy of Arts & Sciences, and the author of more than 50 published articles. His most recent research has focused on returns to education and skill, unemployment, human capital and growth, and income inequality. Articles about Murphy's research have appeared in the New York Times, the Wall Street Journal, and many local papers.
Professor Murphy's research has covered a wide range of topics including economic growth, income inequality, valuing medical research, rational addiction, and unemployment. Professor Murphy teaches microeconomics in both the MBA and PhD programs.
EDUCATION
The University of California-Los Angeles
AB in economics, 1981
The University of Chicago
PhD, 1986
EXPERIENCE
The University of Chicago
George J. Stigler Distinguished Service Professor in Economics, the Booth School of Business, and the Law School, 2005-present
George J. Stigler Professor in Economics and the Graduate School of Business, 2002-2005
George Pratt Shultz Professor of Business Economics and Industrial Relations, 1993-2002
Professor of Business Economics and Industrial Relations, 1989-1993
Associate Professor of Business Economics and Industrial Relations, 1988-1989
Assistant Professor of Business Economics and Industrial Relations, 1986-1988
Lecturer, Graduate School of Business, 1983-1986
Teaching Associate, Department of Economics, 1982-1983
Unicon Research Corporation Santa Monica, California
Research Assistant, 1979-1981
MEMBERSHIPS AND PROFESSIONAL AFFILIATIONS
American Academy of Arts & Sciences (1998-present)
Faculty Research Associate, National Bureau of Economic Research
HONORS AND AWARDS
John Bates Clark Medalist (1997)
Fellow, The Econometric Society (1993)
Sloan Foundation Fellowship, University of Chicago (1989-1991)
Earhart Foundation Fellowship, University of Chicago (1983-1984)
Fellowship, Friedman Fund, University of Chicago (1981-1983)
Phi Beta Kappa, University of California-Los Angeles (1980-1981)
Earhart Foundation Fellowship, University of California-Los Angeles (1980-1981)
Department Scholar, Department of Economics, University of California-Los Angeles (1979-1981)