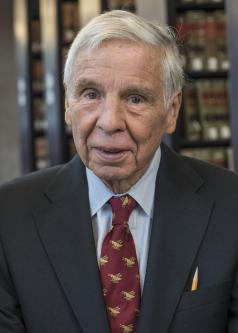 Academic Faculty
Emeriti
R. H. Helmholz
Ruth Wyatt Rosenson Distinguished Service Professor Emeritus of Law
Biography
Dick Helmholz came to the University of Chicago in 1981 after teaching for ten years at Washington University in St. Louis. A graduate of Harvard Law School, he also received an AB in French literature from Princeton University and a PhD in medieval history from the University of California at Berkeley.
In the course of his career, he has been awarded a Fulbright Scholarship, a Guggenheim Fellowship, and an Alexander von Humboldt Research Prize. In the academic year 2000 to 2001, he served as the Arthur Goodhart Professor of Law in Cambridge University where he was also elected to a fellowship at Gonville and Caius College. He is a Fellow of the American Academy of Arts and Sciences, a Fellow of the Medieval Academy of America, a Member of the American Law Institute, and a Corresponding Fellow of the British Academy.
Professor Helmholz's teaching interests have been centered in the law of property and in various aspects of natural resources law. His research interests have been concentrated in legal history. In the latter, his principal contribution has been to show the relevance of the Roman and canon laws to the development of the common law.
Education
Washington University in St. Louis
LLD, honoris causa, 2021
Cambridge University
MA, honoris causa, 2000
Trinity College
LLD, honoris causa, 1992
University of California at Berkeley
PhD, 1970
MA, 1966
Harvard Law School
LLB, 1965
Princeton University
AB, 1962
Experience
The University of Chicago Law School
Ruth Wyatt Rosenson Distinguished Service Professor of Law, 2000-present
Ruth Wyatt Rosenson Professor of Law, 1984-1999
Professor of Law, 1981-1984
British Academy
Corresponding Fellow, 1998-present
Washington University in St. Louis
Visiting Professor of Law, 2007-2008, 2019
School of Law National Council, 1995-2007
Olin Library National Council, 1986-1994
Assistant Professor of History to Professor of Law and History, 1970-1981
Cambridge University
Arthur Goodhart Professor and Fellow, Conville and Caius College, 2000-2001
Maitland Lecturer and Visiting Fellow Commoner, Trinity College, 1986-1987
All Souls College, Oxford
Chichele Lecturer, Trinity Term, 1999
Visiting Fellow, Michaelmas Term, 1998
Memberships and Professional Affiliations
International Consortium for Law and Religion Studies, Advisory Board (2014-present)
European Society for Comparative Legal History, Board of Advisors (2011-present)
Institute for Medieval Canon Law, Board of Directors (2008-present)
Revista General de Derecho Canónico y Derecho Eclesiástico del Estado, International Advisory Board (2007-present)
American Law Institute, Member (2000-present)
Medieval Academy of America, Fellow (1997-present)
Wentcher Educational Foundation, Board of Directors (1997-present)
Association internationale d'histoire du droit: Vice President (2000-present), Executive Committee (1992-2000) 
American Academy of Arts and Sciences, Fellow (1991-present)
American Society for Legal History: Honorary Fellow (2004-present), President (1991-1993), Vice President (1989-1991)
Royal Historical Society, Fellow (1978-present)
Selden Society, Council Member (1980-present)
American Council of Learned Societies, Delegate (1992-2000)
Charles Homer Haskins Society, Council (1988-1993)
North American Conference on British Studies, Council (1985-1990)
American Bar Foundation, Legal History Fellowship Committee (1980-1986)
International Commission for Parliamentary and Representative Institutions, President, American Section (1981-1986)
Awards and Honors
Alexander von Humboldt Foundation Research Prize (1992-1993)
Guggenheim Fellowship (1986-1987)
Fulbright Scholarship (1968-1969)
Editorial Work
Governance Editorial Advisory Board, Polycentricity: Studies in Institutional Diversity and Voluntary (2017-present)
International Editorial Board, Comparative Legal History (2016-present)
Editorial Board, Cambridge Series, Christianity and the Law (2014-present)
Editorial Board, Brill Publishers, Series on Medieval Law and its Practice (2006-present)
External Editorial Board, Journal of Law, Philosophy and Culture (2005-present)
Editorial Advisory Board, Ecclesiastical Law Journal (2000-present)
Co-editor, Comparative Studies in Continental and Anglo-American Legal History (Berlin) (1997-present)
Editorial Board, Journal of Legal History (London) (1980-present)
Associate Editor, New Dictionary of National Biography (1998-2004)
Editorial Board, Law and History Review (1982-1989)