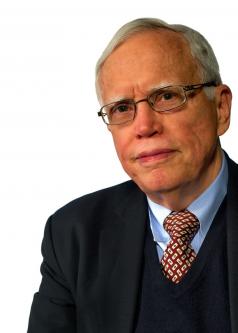 University Faculty
James J. Heckman
Henry Schultz Distinguished Service Professor, Economics
Biography
James J. Heckman is the Henry Schultz Distinguished Service Professor of Economics at the University of Chicago, where he has served since 1973. In 2000, he won the Nobel Prize in economics. Heckman directs the Center on Human Flourishing at the University of Chicago in the Division of Social Sciences, the Center for Social Program Evaluation at the Harris School for Public Policy, and Center for the Economics of Human Development. He is Professor of Law at the University of Chicago Law School, Senior Research Fellow at the American Bar Foundation, and Research Fellow at the Institute for Fiscal Studies. He is also Director of the Human Capital and Economic Opportunity Global Working Group, a project of the Institute for New Economic Thinking, supported by the Becker Friedman Institute for Research in Economics.
Heckman's research is devoted to understanding and addressing major social issues such as inequality, social mobility and effective policies for promoting human opportunity. He has placed special emphasis on the economics of early childhood but also considers the economics of the entire lifecycle. Heckman is co-editor of The Myth of Achievement Tests: The GED and the Role of Character in American Life and Global Perspectives on the Rule of Law, and author of Giving Kids a Fair Chance as well as over 300 articles. He has received numerous awards for his work, including the John Bates Clark Medal in 1983, the Jacob Mincer Award for Lifetime Achievement in 2005, the 2005 and 2007 Dennis Aigner Award for Applied Econometrics from the Journal of Econometrics, the Ulysses Medal from the University College Dublin in 2006, the 2007 Theodore W. Schultz Award from the American Agricultural Economics Association, the Gold Medal of the President of the Italian Republic, awarded by the International Scientific Committee of the Pio Manzú Centre in 2008, the Distinguished Contributions to Public Policy for Children Award from the Society for Research in Child Development in 2009, and the Frisch Medal from the Econometric Society in 2014.
Heckman is a member of the National Academy of Sciences, USA; a fellow of the American Philosophical Society; the American Academy of Arts and Sciences; the Econometric Society; the Society of Labor Economics; the American Statistical Association; the International Statistical Institute; the American Association for the Advancement of Science; and the National Academy of Education. Heckman is the past president of the Western Economics Association, the Midwest Economics Association and the Econometric Society, the leading world-wide organization for the study and promotion of quantitative economics. 
Education
Princeton University
PhD in economics, 1971
MA in economics, 1968
Colorado College
BA in math, 1965
Experience
University of Chicago
Professor of Law, University of Chicago Law School, 2011-present
Henry Schultz Distinguished Service Professor, 1995-present
Director, Center for Social Program Evaluation, Harris School of Public Policy, 1991-present
Harris School of Public Policy, Affiliated Faculty, 1990-present
Professor of Economics, 1977-present
Associate Professor, 1973-1977 (tenured, 1974)
Henry Schultz Professor, 1985-1995
Director, Economics Research Center
Yale University
Alfred Cowles Distinguished Visiting Professor, Cowles Foundation, 2008-present
A. Whitney Griswold Professor of Economics, 1988-1990
Professor of Statistics, 1990
Yale Law School Lecturer, 1989-1990
University College Dublin
Professor of Science and Society, 2005-present
American Bar Foundation
Senior Research Fellow, 1991-present
National Bureau of Economic Research
Associate, 1971-1985; 1987-present
Research Fellow, 1972-1973
Peking University
Changjiang River Scholar Professor, 2004-2008
University College London
Distinguished Chair of Microeconometrics, 2004-2008
RAND Corporation
Consultant, 1975-1976
Columbia University
Associate Professor, 1974-1974
Assistant Professor, 1970-1973
New York University
Adjunct Assistant Professor, 1972
Council of Economic Advisors
Junior Economist Advisors, 1967
Memberships and Professional Affiliations
Senior Advisor, China Development Research Foundation (October 2012-present)
Director, Human Capital and Economic Opportunity Working Group (2011-present)
Research Council, Becker-Friedman Institute for Research in Economics (2011–2014)
Director, Center for the Study of Childhood Development, Harris School of Public Policy, University of Chicago (2009-present)
1997 National Longitudinal Survey of Youth Advisory Panel, NORC (2008-present)
International Statistical Institute (2007-present)
Science, Technology and Economic Policy Board, National Research Council (2000-present)
Director, Center for Social Program Evaluation, Harris School of Public Policy, University of Chicago (1999-present)
Director, Economic Research Center, University of Chicago Department of Economics (1998-present)
The Econometric Society
Past President (2014)
Executive Committee (2010-2014)
Council (2000-2006)
Awards and Honors
Frisch Medal, Econometric Society (2014)
Bank of Sweden Prize in Economic Sciences in Honor of the Memory of Alfred Nobel (2000)
Distinguished Contributions to Public Policy for Children Award, Society for Research in Child Development (2009)
Gold Medal of the President of the Italian Republic, Awarded by the International Scientific Committee of the Pio Manzù Centre (2008)
Theodore W. Schultz Award, American Agricultural Economics Association Foundation (January 2007)
Dennis J. Aigner Award for Applied Econometrics, Journal of Econometrics (2007)
Sun Yefang Economic Science Award (2007)
Ulysses Medal, University College Dublin (2006)
Jacob Mincer Award for Lifetime Achievement, Society of Labor Economics (2005)
Dennis J. Aigner Award for Applied Econometrics, Journal of Econometrics (2005)
Medal of Excellence, Centres of Excellence for Children's Well-Being, Montreal University (May 2004)
Statistician of the Year, Chicago Chapter of the American Statistical Association (2002)
First Annual Louis T. Benezet Distinguished Alumnus Award, Colorado College (1985)
John Bates Clark Medal, American Economics Association (1983)
Honorary Degrees and Professorships
Honorary Doctorate of Science (Economics), University College London (September 2013)
Foreign Member, Brazilian Academy of Sciences (May 2012)
Honorary Professor, Renmin University, P. R. China (June 2010)
Honorary Professor, Beijing Normal University, P. R. China (June 2010)
Doctor Honoris Causis, Pontifical University, Santiago, Chile (August 2009)
Honorary Professor, Harbin Institute of Technology, P. R. China (October 2007)
Doctor Honoris Causis, University of Montreal (May 2004)
Doctor Honoris Causis, Bard College (May 2004)
Honorary Professor, Wuhan University, China (2003)
Doctor Honoris Causis, UAEM, Mexico (January 2003)
Doctor Honoris Causis, University of Chile (fall 2002)
Honorary Doctor of Laws, Colorado College (2001)
Honorary Professor, Huazhong University of Science and Technology, China (2001)
Honorary Member, Latin and Caribbean Economic Association (1999)
Honorary Professor, University of Tucuman, October (1998)
Fellowships
Fellow, The Society for Economic Measurement (2013)
Corresponding Member, Brazilian Academy of Sciences (2011)
Honorary Academician, Academica Sinica, Republic of China/Taiwan (July 2010)
Member, National Academy of Education (2010)
Lifetime Member, Irish Economic Association (2009)
Fellow, American Association for the Advancement of Science (2009)
Fellow, International Statistical Institute (2008)
Resident Member, American Philosophical Society (2008)
Fellow, Society of Labor Economics (2004)
Fellow, Journal of Econometrics (2005)
Fellow, American Statistical Association (2001)
Elected Member, National Academy of Sciences (1992)
Senior Research Fellow, American Bar Foundation (1991)
Fellow, American Academy of Arts and Sciences (1985)
Fellow, Econometric Society (1980)
Graduate and Undergraduate Academic Honors
Phi Beta Kappa
Woodrow Wilson Fellow
NDEA Fellow
NIH Fellow
Harold Willis Dodds Fellow
Service
Member, Advisory Committee of the China Institute of Income Distribution Studies, Beijing Normal University (2011-present)
Member, Faculty Steering Committee, University of Chicago Beijing Center (2013–2016)
Member, Advisory Board and Dean's Search Committee, School of Public Policy, University of Chicago (1985-1988)
Member, National Academy of Sciences Panel on the Status of Black Americans (1985-1988)
Member, National Academy of Sciences Panel On Statistical Assessments as Evidence in the Courts (1982-1985)
Member, Board of Overseers, Michigan Panel Survey of Income Dynamics (1981-1984)
Social Science Council Research Committee on Research Methods for Longitudinal Data (1976-1979; 1981-1982)
Editorial Work
Associate editor, IZA Journal of Labor Economics (2012-present); Econometrics Reviews (1987-present); Journal of Labor Economics (1982-present); Review of Economics and Statistics (1994-2002); Evaluation Review (1991-1996); Journal of Economic Perspectives (1989-1996); Review of Economic Studies (1982-1985); Journal of Econometrics (1977-1983)
Co-editor, Journal of Political Economy, Co-Editor (2011–present); Annual Review in Economics (2007–2011); Journal of Political Economy (1981–1987); Handbook of Econometrics Vol. 5,Vol. 6A, Vol. 6B
Advisory Board, Journal of Applied Econometrics (2007-2013)
Academic Press Editor of Labor Economics Series (1980–1984)
Editor, Journal of Econometrics, Special Issue on Panel Data (1981)
Editor, Annals of Economic and Social Measurement, Vol. 5, No. 4 (1976)