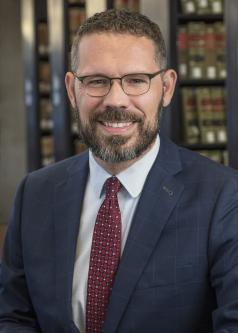 Senior Administrators
Staff
Charles N. Todd
Dean of Students
Dean of Students Office
Biography
Charles Todd is the Dean of Students at the University of Chicago Law School, guiding the school's student affairs, academic services, diversity, and registrar teams.
An experienced student affairs professional, Mr. Todd has been working at the University of Chicago in various departments and positions, ranging from student life to admissions to residential communities, since 2005. Prior to joining the Law School, Mr. Todd served as Deputy Dean of Students and Chief of Staff for the Dean of Students in the College. He managed the College's advising and curricular programs, as well as the office of student conduct and care. Mr. Todd helped create and oversee the College's office supporting first-generation and low-income students, and managed the diploma ceremonies. In that position, he provided academic advising for students majoring in Fundamentals and Interdisciplinary Studies in the Humanities.
In addition to his prior responsibilities in the College, Mr. Todd worked for three years in University emergency response and support as a Dean-on-Call. He also served for two years in undergraduate housing as a Resident Head. In a prior role, he was the Sr. Associate Director for Admissions and Financial Aid at the University of Chicago Pritzker School of Medicine. He also worked for three years teaching and advising in the University's Master of Arts Program in the Humanities.
Mr. Todd received his PhD and MA in Philosophy from the University of Chicago and an additional MA in Philosophy from Tufts University. His teaching and research interests are in the areas of ethics, philosophy of action, irrationality, and ancient philosophy.