Thomas J. Miles Appointed Next Dean of University of Chicago Law School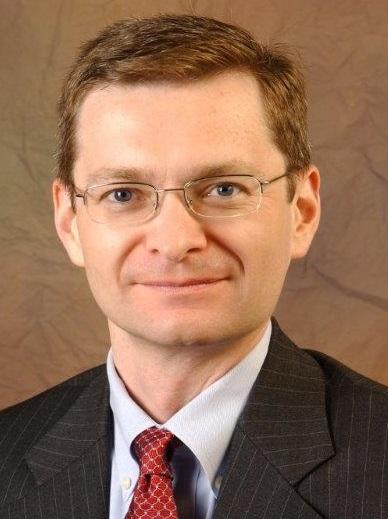 Thomas J. Miles, a leading scholar of criminal justice and judicial behavior and an expert in a wide range of contemporary issues such as race and immigration enforcement, has been appointed the next dean of the University of Chicago Law School.
Miles, PhD '00, who is the Clifton R. Musser Professor of Law and Economics and Walter Mander Research Scholar, has served on the Law School faculty since 2005. His appointment as dean will begin on November 1.
Miles has been widely published in economics and legal journals, with extensive expertise on such varied topics as judicial diversity, immigration, mail fraud, and wiretapping. He is a widely admired educator and a recipient of the Law School's Graduating Students Award for Teaching Excellence.
"Tom's deep experience at the Law School, along with his outstanding record as a teacher, colleague and legal scholar, make him an excellent choice to continue and expand the Law School's legacy of intellectual leadership and interdisciplinary focus," wrote President Robert J. Zimmer and Provost Eric D. Isaacs in a message to the Law School.
"I am excited and humbled to serve as dean of the Law School," said Miles. "The Law School is my intellectual home. In addition to my personal connections as a faculty member and a graduate, my scholarship is steeped in ideas that were developed here. The continuation and extension of the Law School's leadership in legal thought and education therefore have a particular personal importance to me."
Miles' primary research focus is in the areas of criminal justice and judicial behavior, and he has looked extensively at issues of race through a variety of legal perspectives. His work makes creative use of the tools of law and economics — an approach that originated at the Law School, which maintains leadership in the field through such initiatives as the Coase-Sandor Institute for Law and Economics. Frequently, Miles' work uses the methods of law and economics to investigate social questions not conventionally thought to fall within that field. For example, he and Adam Cox at New York University School of Law published an article in 2008 that examined how African-American judges tended to decide voting rights cases differently than white judges. Their research was the first to use robust statistical evidence to show that the racial identity of judges matters in how voting rights cases are decided, and highlighted the importance of diversity on the bench. 
"Quantitative evidence often provides surprising insights and can spur new ideas in law," Miles said.  "For this reason, legal scholars have become increasingly interested in such evidence during the past decade."
Before joining the faculty, Miles was the Olin Fellow in Law and Economics at the Law School. He has served in several leadership roles during his time on the faculty, including chairing the appointments committee and the accreditation review committee.
Miles received his PhD in economics from the University of Chicago and his JD cum laude from Harvard Law School. Upon graduation, he served as a law clerk to the Hon. Jay S. Bybee of the US Court of Appeals for the Ninth Circuit. From 2005 to 2013, Miles was an editor of the Journal of Legal Studies. He graduated summa cum laude with a BA in political science and economics from Tufts University.
"Part of the joy of doing the dean search is the chance to talk to colleagues, staff, alums, students, and interested outsiders about the Law School," said Randal C. Picker, James Parker Hall Distinguished Service Professor of Law and chair of the Dean Search Committee. "Everyone sees the Law School as the search committee does: a singular place devoted to the energetic pursuit of the next great idea and the shared excitement and struggle of figuring that out and explaining that to our students as part of the process of educating them to be great lawyers. Tom Miles will bring exactly the right sense of keen intelligence, engagement, and decency to leading the Law School in that mission in the coming years."
Martha Nussbaum, Ernst Freund Distinguished Service Professor of Law and Ethics and member of the search committee, said that, "Tom is like that 'mild-mannered reporter for a great metropolitan newspaper.' When he puts on his cape, he flies out to 'fight a never-ending battle for truth, justice'—and the University of Chicago Law School! He will be a terrific dean."
"Tom is a person of sharp intellect and thoughtful judgment who embodies the values that make our Law School great," said Geoffrey R. Stone, interim dean and Edward H. Levi Distinguished Service Professor. Stone, a member of the search committee, continued, "In the words of Edward Levi, Dean Miles will 'radiate the values of our institution.' I am delighted."
Miles succeeds Michael H. Schill, who became the president of the University of Oregon on July 1. His appointment follows a national search, led by a faculty committee chaired by Picker.
In their note to the Law School, Zimmer and Isaacs extended their gratitude to Stone, a former dean of the Law School and provost of the University, who has served as interim dean and will continue in that role until November 1.