Schwartz Lecturer Ramo, '67, Says Lawyers Must Protect Constitution Even Outside Courtroom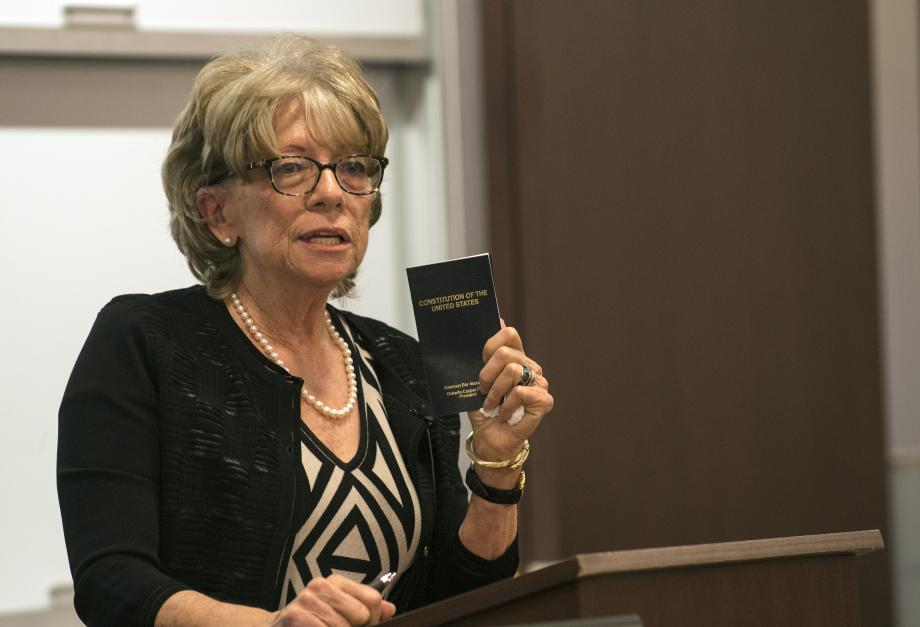 Lawyers were the prime architects of American democracy during the founding—and today they are critical foot soldiers, sworn to protect the US Constitution at a time when many of the nation's most fundamental values are under attack, Roberta Cooper Ramo, '67, told members of the Law School community during the Ulysses and Marguerite Schwartz Memorial Lecture last week.
During a talk in which she recalled inspiring events from her own half-century legal career as well as the highs and lows of American legal history, Ramo urged future lawyers to consider the impact of their own choices, both personally and professionally. She said she had originally planned to talk about the ethical obligations of lawyers in private practice but now wanted also to focus on the responsibilities of lawyers working in government and politics. She referenced several recent events, including the January executive order barring refugees and citizens of seven countries from entering the United States as well as President Donald Trump's comments about the federal judiciary. Ramo also expressed concern about the impact of the 2010 Supreme Court decision Citizens United v. Federal Election Commission, which classified political donations as free speech by extending First Amendment protections to businesses and corporations.
"Today I'm deeply concerned about attacks on the pillars of our Constitution and the social contracts that flow from its protection," said Ramo, a shareholder at Modrall Sperling in Albuquerque who was the first woman to serve as president of the American Bar Association, as well as the first women to serve as president of the American Law Institute, a post she has held since 2008. "I think some of these attacks, and the language and the popularity with which they are received in some quarters, illuminate a profound and troubling lack of understanding of the constitutional democracy, of our history—and they pose a challenge to the legal profession, sworn to uphold the Constitution. … I fear that democracy will founder from the constant attacks on the independence of the court and the integrity of judges, and the impact of money on electing judges—and the attacks on facts as being optional or illegal or evil when it suits a political need."
But even in the face of challenges, she said, lawyers have a long history as fierce protectors of democracy—whether they are bringing pivotal cases, deciding those cases as judges, making tough decisions to uphold professional ethics, or simply showing up, case by case, to protect those who need protecting.
Ramo recalled the time, as a young lawyer at a civil firm, that she'd been appointed to represent a woman who had been accused of a serious felony. She didn't feel prepared, and there wasn't time between the appointment and arraignment to find an experienced criminal lawyer to handle the case. So she called a lawyer she'd met at a bar function to seek his advice. He spent two hours with Ramo over coffee that day, explaining the law and procedure, and promised to make some calls the next day to help find the client a proper criminal lawyer. Ramo, however, still needed to handle the arraignment, and she worked into the night to prepare.
"The next morning, as I sat in court at the counsel table with my client, I had this feeling someone was staring at my back," Ramo said, drawing laughter as she added: "I had two children by then so I had eyes in the back of my head." When she turned around, she saw the lawyer who had helped her prepare the day before.
"Just in case I put the client in jeopardy, he was there to come to her defense," Ramo said. "When I teased him about it later, he said that of course he'd had full confidence in me and was just there to enjoy the fruits of his good teaching. But we both knew better. It was one American lawyer making sure that one indigent criminal defendant did not face the danger of incompetent counsel. No one was paying him, no court order demanded his presence. He knew he was an officer of the court and had a license to practice that gave him privileges but also serious personal responsibility to the American justice system."
She also recalled the law firm partner who responded seriously when she shared concerns that a client's request would push her into ethically gray territory, and the time she overheard Martin Luther King, Jr. at a kitchen table in Chicago telling supporters not to give up because they had lawyers and the Constitution on their side.
"I've seen the work of our profession make democracy work in the most profound ways, even though the help was often for a single citizen and came from a single lawyer," she said.
The key, she said, is for lawyers to view their ethical obligations as broader than what they do in the courtroom.
"When you raise your hand, as I hope you all do, to take the oath to protect and defend the Constitution of the United States, you must do just that—and not just in cases in front of the Supreme Court, but in your carpools and at your dinner tables," Ramo said. "Sometimes your oath will require that in court you defend odious people, (and sometimes it will lead you) to rush to the airport to defend people who are being kept out of the country if you think that is unlawful."
This may be the most important time for American lawyers since the formation of our nation, she said.
Our Founders "were brave and smart and principled, and they put country over money and power and political benefit," she said. "Now it's our turn (to put) country over money and power and political benefit."