Pro Bono Students of the Month: Bringing the NLG Back to the Law School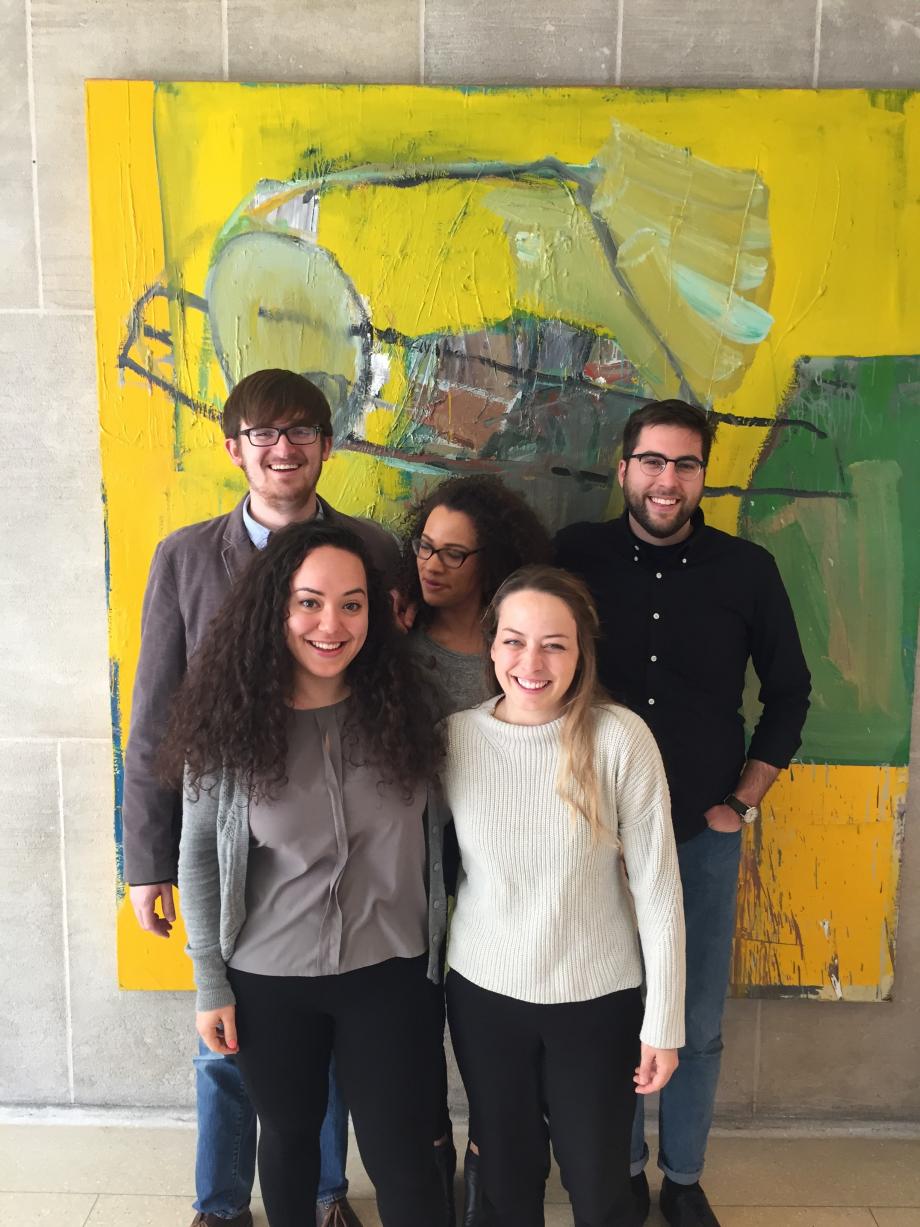 Editor's note: The Pro Bono Board, a student group committed to expanding pro bono knowledge and opportunities to students, names a Pro Bono Volunteer of the Month. There are five winners for April: Simon Wiener, Mariah Garcia, Lucia Goin, Joseph Nunn, and Laurel Hattix, all '19. Chris Bobby, '18, a member of the board, wrote this story on their work.  For more information on pro bono work, visit the Pro Bono Service Initiative website or contact Nura Maznavi in the Office of Career Services.
Simon Wiener, Mariah Garcia, Lucia Goin, Joseph Nunn, and Laurel Hattix, all '19, each came to the Law School with a mission: to not only identify big problems, but also do something about them. Particularly after the tumultuous campaign and election, these five students wanted to go beyond merely talking about issues in their classes. However, being first-year law students without their 711 licenses, they needed to find a proactive way to channel this energy. That's when they partnered with the National Lawyers Guild (NLG).
NLG is the nation's oldest and largest progressive bar association, and was the first to racially integrate in the United States. This year, these five students rejuvenated the formerly defunct University of Chicago student chapter. Part of their service has included a focus on legal training, helping those who are imprisoned while protesting, and engaging in "legal observation," which involves watching police interaction with protestors, specifically in Chicago. As Garcia, the group's co-president, has pointed out, NLG differs from other progressive organizations in that it provides community lawyering rather than cherry picking its cases.
Such motivation is why these students initiated this valuable pro bono service. Wiener, the other co-president of the Law School's NLG chapter, takes NLG's approach to heart in treating the protestors they work with as "clients," and sees his mission as being part of a movement rather than addressing a single issue. Similarly, Garcia sees the NLG as both "providing forums and facilitating movements of marginalized communities." Unlike single-issue pro bono initiatives, these students are attempting to fill another much-needed space. While the current focus of their work has been on providing legal observation at protests, they have plans next year to initiate more trainings, workshops, and touch on other issues as needed for communities in Chicago.
The five representatives from NLG have diverse plans after law school, all with the unifying theme of social justice and community-impact work. Wiener is interested in public defense and legal work that fights against injustice generally. Garcia wants to work against state-sanctioned violence and stand up for women who fight against criminal abusers. Additionally, Hattix wishes to return to academia someday and bring critical race theory to the field, as well as prison abolitionism. Nunn wishes to work on issues of international human rights and constitutional reform while Goin is interested in topics of immigration and migrant worker's rights.
The experience of partnering with NLG has been transformative for these students and the others who have joined their work. For Hattix, her experience providing legal observation for protestors was a powerful opportunity to watch people willing to risk arrest to further justice. This opportunity has provided those involved with the chance to distinguish between what "the law says and what justice really is," she said. A particular instance of this power was the night the NLG provided legal observation at O'Hare airport for the protests against President Trump's travel ban.
The power of community lawyering has been particularly salient for Wiener: "At a press conference for the shooting of Joshua Beal they asked for NLG support," he said. "It was a powerful instance of what it looks like to stand in solidarity, to stand with people who are different than you in support of a common goal."