My Chicago Law Moment: Five Graduating Students and the Experiences That Helped Shape Them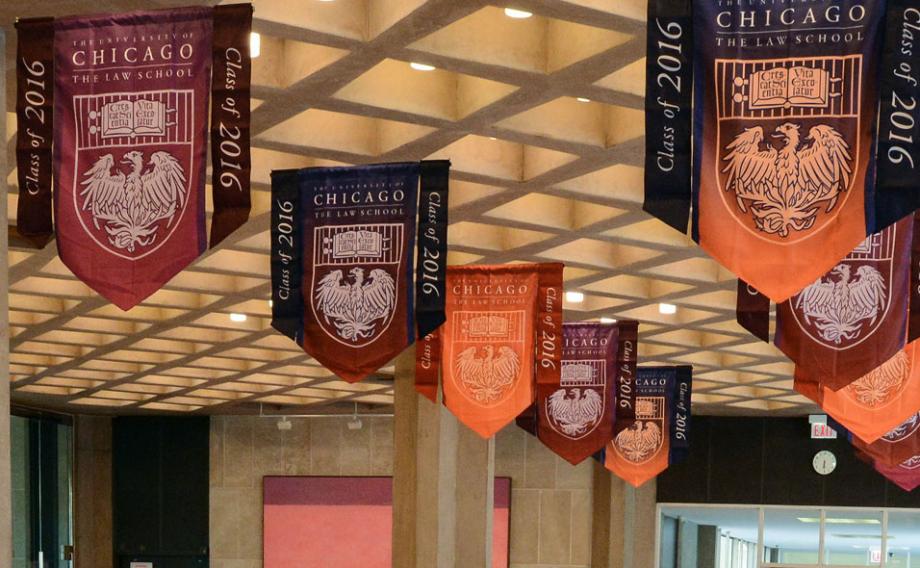 Three years in law school changes a person. You learn to look at the law—and sometimes life—in new ways, you connect dots that you never knew could be connected, and you rise to new challenges.
For graduates of the University of Chicago Law School, these turning points can come from many places: experiences in a clinic or on a student journal, feedback from professors, and debates with classmates in the Green Lounge. Sometimes it comes from pushing themselves to accomplish something that inspires them. Regardless, these moments become ideas that Law School alumni carry with them into their careers.
For the past year, we have been sharing the Chicago Law Moments of our alumni. Today, five members of the Class of 2016 discuss the ideas, experiences, and relationships that resonated during their time at the Law School—from the Law Review job that helped nurture a growing appreciation for legal scholarship to the moot court experience that helped a student prepare for one of the most meaningful victories of his Law School career.
Sam Jahangir: Connecting Different Areas of Law
During law school, Jahangir, '16, who will be working at Jenner and Block in Chicago, learned to connect different areas of the law—even when the links weren't immediately apparent. In one memorable case, he applied an aspect of patent law to a Freedom of Information Act issue he was pursuing during his work in the Civil Rights and Police Accountability Project, which is part of the Mandel Legal Aid Clinic. It helped the case. "If you're so focused on one way of thinking, you can't really come to a solution," he said. "But if you think about how other areas of the law handled it … it can change your way of thinking and give you another way to approach it."
Caroline Wong: Digging into Scholarship
Wong, '16, who will be clerking for a judge on the US District Court for the Northern District of Illinois, developed a deep appreciation for legal scholarship while working on The University of Chicago Law Review, first as a staffer and then as the Executive Editor. "You [read] scholarship proposing ideas that you never would have dreamed of," she said. "Seeing how many ideas different people can bring to the table has helped me remind myself to question assumptions that I'm making."
Ken Thomas: Blending Knowledge and Compassion
Thomas, '16, who will be working at Skadden, Arps, Slate, Meagher & Flom in Chicago, was pushed to think about both justice and the importance of blending legal knowledge and compassion during his time on the Law School's Prosecution and Defense Clinic. While working with a teen client one day, Thomas found himself giving personal advice, encouraging the student to get back on the right path and take advantage of educational opportunities. "It was a really nice moment were I was able to reflect on why I took this path to go to law school," he said. The clinic pushed Thomas to think about big-picture goals. "They tried to get us to think … what is the criminal justice system attempting to accomplish and how do we think about that on a day-to-day basis?"
Darell Hayes: Arguing a Point
Hayes, '16, who will be working at Milbank, Tweed, Hadley & McCloy in New York after spending the fall at Lambda Legal, learned to argue a point and answer questions clearly, concisely, and confidently while participating in the Hinton Moot Court Competition. And he felt the power and payoff of that experience last month when he and two classmates became the first all-Law School team to win Booth's annual Social New Venture Challenge, a competition that required them to present their legal-advocacy venture before business leaders and venture capitalists. Hayes and his teammates, Michael Savage and Vanessa Brown, both '16, had to answer tough questions about the viability of their venture. "Being able to cite exactly the right piece of information to address a concern or answer a question … that's what people expect out of lawyers," Hayes said.
Stephanie Spiro: Communicating with Clients
Spiro, '16, who will be working at Irell & Manella in Los Angeles, had a powerful experience working as a child advocate through the Law School's Young Center for Immigrant Children's Rights. Spiro, who drew on a master's degree in trauma studies and her Spanish fluency, would interview immigrant children who were being held at detention facilities in Chicago. Through the Young Center, Stephanie was appointed by the federal government to serve as an independent child advocate, similar to a guardian ad litem. After several meetings, the child to whom she was appointed told her about a history of abuse and violence—details he hadn't shared with anyone else but that ultimately helped him be removed from detention and pursue a safe life in the United States. She also integrated international law and principles in her advocacy on behalf of the child. The clinic, Spiro said, helped her develop interviewing, interpersonal, and writing skills that are essential not just in advocacy, but in many areas of law. "I think I'm going to carry this experience in everything I do," she said. I gained "the ability to communicate with clients—no matter who they are—[and] to be able to listen to their needs, their hopes, and what they are saying … directly and implicitly."
My Chicago Law Moment is a series highlighting the Law School ideas, experiences, and approaches that have impacted our students and alumni. Video produced by Will Anderson.